After the release of 'Out of Darkness' we sat down with John to discuss his illustrious and varied career within the music industry. He gave us a fascinating insight into his journey up to this point and delved into the different crossroads within his life.
When did you first know you wanted to be a musician?
I didn't know I wanted to be a musician ever, except all I wanted to do is play guitar and play in a band. So when I was about 14, I was in school, a boarding school. There's about 400 boys there. Every Saturday night, the school band would perform to the whole school. The band who were two years older than me were incredible, they were called The Knot. They had just the most amazing guitarist and bass player, who was called John Illsley. He went on to the Dire Straits. By the time they left, we were 16 year olds and we played every Saturday night for two years – the hits of the day. I just knew I wanted to do this, whatever this was.
What were your early influences?
I was heavily influenced by The Kingston Trio. My brother had their albums and I just loved their harmonies, I loved the banjo, I loved all the picking. I went from The Kingston Trio to Booker T Jones, The Kinks, The Who. I discovered Nick Drake when I was in University in France, ever since I've been trying to write Nick Drake style songs. When I went to University in Canada for four years after that, I began playing The Coffeehouse Circuit.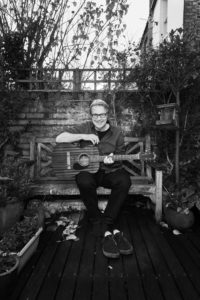 You've had quite a long and varied career within the music industry, how did you start out in the industry and how did it shape your music?
When I came to leave University in Canada, I wrote to various people back in London in the music industry – this is 1974 – asking for a job. I got a response from Polydor. John, who ran Polydor, had a plan for me, a graduate training scheme kind of thing. I was based in the Midlands, doing regional promotion with my Ford Cortina taking artists from radio London, to radio Leicester, radio Nottingham, radio Derby, radio Stoke. When John left, no one knew of his plans for me at Polydor and I was stuck in Rutland. I decided I needed to be in London. So I started doing Radio One, Capital Radio and Radio Luxembourg for Polydor, I was working on Johnny Bristol records, The Osmonds records, Slade and The Who. The label was releasing eight singles a week, chucking it out there. I got head hunted by Island Records who wanted someone to work on the Exodus, Bob Marley album. I went to work there and ended up becoming label manager at Shelter Records, they had Tom Petty, JJ Cale, Matthew Moore. I did that for about a year and a half, but I wanted to know why I wasn't making much progress on the songwriting front. So I quit and became a freelance journalist and I became a reviews editor which was fantastic to get all these free records, at the end of the week I'd take them down to Piccadilly and flog the ones I didn't want haha! I was making 200 quid a week from selling records in 1976. The editor of the magazine, a guy called Paul Phillips had a top ten single at the time and a manager, I said, I'll make you a record, can you get me a deal on it? So I booked a studio and some session guys and made a single called Rendezvous. I thought I was Britain's answer to Bruce Springsteen so I called the band the East Side Band. The song got hammered on radio but it didn't get hammered on the sales chart. I recorded more demos but after six months I got dropped from the label. I didn't know what to do next, I had left the journalism world and the record label world to become an artist. That's when I got into artist management. A friend of mine, Paul Smith introduced me to this band called Blancmange. So the two of us managed them together. That's around the time I also began producing Radio One live sessions, I had the likes of Simple Minds and The Cure on the same day. I was interested in how a record was made and I decided that what I actually wanted to be was an A&R man and I did that from 85 to 2012 and I wrote songs still but I was pretty busy. I was working with some of the biggest acts in the world as their A&R manager.
What's been your proudest moment in the industry?
I think having a number one album. As an A&R man and producer I think I've had about five or six albums go to number one. Manchester Calling which went to number one last year for Paul Heaton, that was pretty fantastic because I've worked with him throughout much of his career. I produced the Housemartins albums and so that was like the icing on the cake. Caravan of Love going to number one was pretty decent too as was signing Gary Jules' 'Mad World' which was number one at Christmas.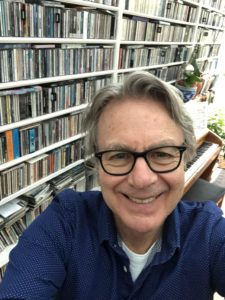 Can you tell me more about the creation of 'Out Of The Darkness'?
I went to work every morning at 4.30 I used to be so buzzed by what I was doing. When Lockdown happened I couldn't work on producing bands because no one was allowed in the studio and I realised I had 40 or 50 songs in bits and pieces. So I came down to my studio and demoed them, I sang them myself and played guitar and keys, programmed the drums and it sounded pretty good. I got some help from artists like Petula Clark and Amber Prothero. I had never met Amber before, we did it all down the line remotely. I went for some blood tests and the girl who was doing the tests asked me what i did, I told her I was a record producer and she said her brother was a rapper called Slicko DiCaprio and I just thought it was the coolest name and I had to work with him! A friend of mine from school, Tim Hobart has done a different painting for every song as well.
My favourite song on the record is 'New Flag' can you tell me the story behind that song?
Each track has a tribute hammer on, hammer off in the guitar riff as a nod to Nick Drake. New Flag was the first song I wrote for this project, I had this riff for a few years. When lockdown hit, I had this thought that we're all in this together, it was a song of hope, adapting to new circumstances, being positive, brave and optimistic, and appreciating the simple things in life.
What's next for you?
I still think there's life in this record so I intend to carry on creating a ripple and making sure it's heard by as many people as possible. I intend to do a volume two as well.