Lady A have dominated the country charts and award stages for 15 spectacular years now. As a child, I begged to get my first iPod so I could walk round the house with my earbuds in, practicing singing along to songs such as 'Love Don't Live Here' and 'I Run To You' off their very first album. The sound of their wonderful harmonies was an inspiring sound and something I'd not really heard before at 12 years old whilst their brand of country was catchy without losing the detail or weight of the lyrical content.  
First songs  
Hillary Scott reflects on the band's early days together, "I think in a weird way we did know we had something special. We couldn't have ever fathomed what it would lead to, but when we started writing songs, and when I heard all of our voices in harmony together on that demo, there was something special." The daughter of country singer, Linda Davis, was the last to join the group. "'All We'd Ever Need' was the first song we ever wrote together – it's off that first record. Dave and I were kind of chasing the music thing in Nashville as solo artists, we didn't really know what the journey was. When I played that song for my dad, he goes, 'you better hold on to that girl.'" The two school friends, Charles and Dave took his advice and Lady A was formed.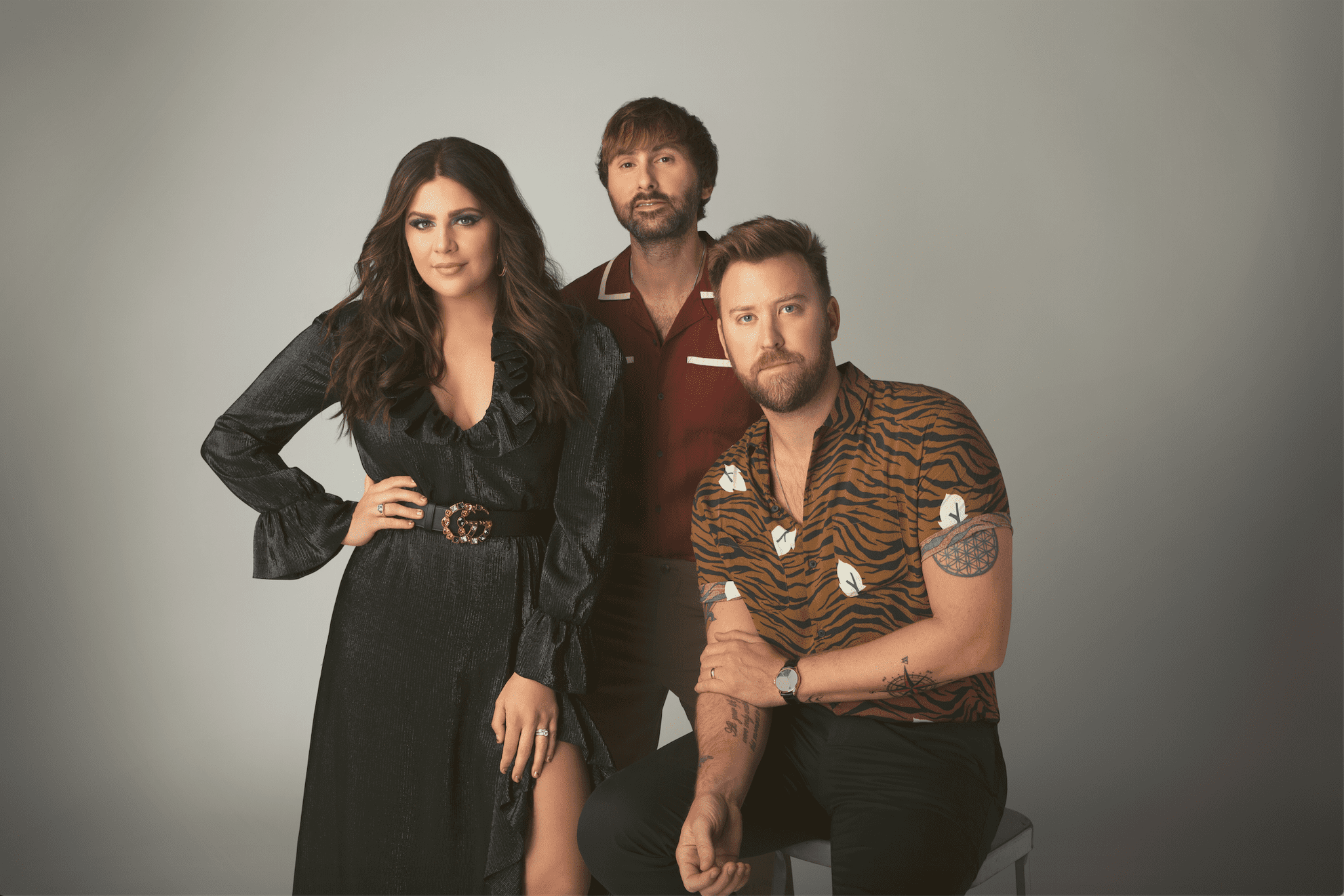 "Around that time, we were kicking around this idea of starting a band and that song and 'Love Don't Live Here', when we heard our voices on that, it reminded me of some of my favourite artists, like it had a little bit of a Fleetwood Mac feel to it, or a little Allman Brothers feel to it. I knew we had something, I didn't know how big it was going to be, of course," Charles reflects as Hillary adds, "You just never know how voices are going to blend either. That's the other thing, I think it's so intangible, because sometimes voices really work and sometimes they really don't!"  
That debut album was the first album by a new duo or group to go straight in at number one on the Billboard Top Country Albums chart. All but two of their studio albums have topped the charts since, with those couple of albums coming in at number 2. 11 of their singles have also topped the charts.  
This is our year 
2009 was a special year for the group. In the May Luke Bryan released a song, 'Do I' which he had co-written with Charles and Dave and enlisted the help of Hillary on backing vocals. The song slowly climbed the charts and became Bryan's first big hit as it spent a number of weeks at number 2. "That was a good old country music story. We wrote it on the front porch of his house," Dave begins. "He was not this giant star at the time that you see now and that was what was so cool." Charles adds, "The crazy thing I remember about that song was it was on the charts right around the same time Need You Now was, we had 'Need You Now' at number one, and 'Do I' at number two on the country charts." The week of December 5th 2009 'Need You Now' was enjoying its second week at number one on the Hot Country Songs chart, whilst sitting right behind it at number 2 was Luke Bryan's 'Do I' and it stayed in that order for three consecutive weeks. It was a similar story on the airplay charts as well. 
"That was an idea that Luke had," Charles continues, "He had a decent amount of it written and he played it for Dave and I and we were like, 'Man, there's something special in there.' He said it was an idea he had and he was struggling to finish and I feel so grateful and lucky that that day he just decided to let us be the two guys to finish it. He said he couldn't wrap his head around how to button it up, you know, and I think that's the beauty of co-writing is sometimes you have a great idea but you need the help of an outside perspective. That was kind of our first cool, big outside cut. Then you know, he had Hillary singing on it. So we all had a part of that first hit for him." Hillary adds, "I was just excited to be invited to the party." The song went on to be certified 3x platinum! 
'Need You Now' came out just a few months after 'Do I'. The song spent five weeks at number one on the country charts, won four GRAMMY Awards, and was certified 9x platinum having become the most downloaded country song in history. It charted all around the world and helped the band reach a global audience but the mega-hit wasn't obvious as such to the band when they first wrote it with Josh Kear. Hillary reflects, "It was the second song we wrote that day with our co writer, Josh Kear. We had a really… there's really no other word, pitiful work tape. It didn't sound like it sounds now and we went into the A&R department, to our label meeting and it was the last song we played. Two of the A&R staff, Melissa Spillman and Autumn House they heard something and they said you've got to go in and you've got to try this and so then, Paul Worley, all of the session players, it just took on this whole new life. I think when we heard it in the studio, we felt that it was something but that work tape, it's kind of funny to listen back to it now and see the transformation that it took." 
Charles agrees, "That song kind of took on a life of its own for us, I think even to this day playing it, to hear that reaction from the fans. It did a lot for us especially introduce our music to a whole new audience you know, overseas especially in the UK, it's just interesting. It's almost a little bit of the inspiration of the song 'What A Song Can Do' that's off this project, that title track because what that song has done for us, the power of that song, I had never been outside of Georgia really and it showed me the world." 
For me as a young school girl, I remember Gary Barlow and Cheryl Cole performing their own version of the smash hit for the Queen's Diamond Jubilee concert some three years later. I was telling my friends the next day to check out the original as they raved about the song they had just discovered. "To think that the Queen heard that song, even just being able to say that sentence!" Hillary exclaims. "Do you think she follows me on Instagram?" Charles laughs. The song was a life changer for the band and as Charles previously states, the inspiration behind this new record – it showed them 'What A Song Can Do'.  
Collaborating across the miles 
Their eighth studio album is a love letter to fans, a light in the darkness of the past two years, it was a creative outlet for the trio who had been separated by the pandemic and forced off the road. Together, through the use of technology, they found what the power of music could do and delivered when their fans needed it most. 
"A lot of it we've put our heads down and wrote together over the pandemic." Dave begins, "We obviously had to cancel the tour and stay at home and be safe for 2020, so we just put our heads down and started writing. We'd write over zoom with another writer too. Or come over to my house, I have a basement studio in my house and we'd work from there when it was safe, that was the only thing we knew how to do. I think that's what got us through the pandemic was being able to be creative, and work on music. I don't know what we would have done otherwise, it's just kind of who we are and what we love." 
"It almost kind of just came out of necessity, there were times Dave and Hillary couldn't write that day so it would just be me." Charles continued as he reflected on how the different tracks on the 14-song project came about. "Then there was a time I remember with 'Worship What I Hate' I wish I could have been there for that. I can't remember what I was doing, I was travelling or maybe playing golf or something, they sent me this song and I was like, 'Oh my gosh, I wish I was in the room for that one'." Charles says with a regretful smile. Hillary picks up the story, "Yeah we wrote that one with Natalie Hemby and Amy Wadge, she was on zoom at her house in Wales so that was across the atlantic and we made it happen."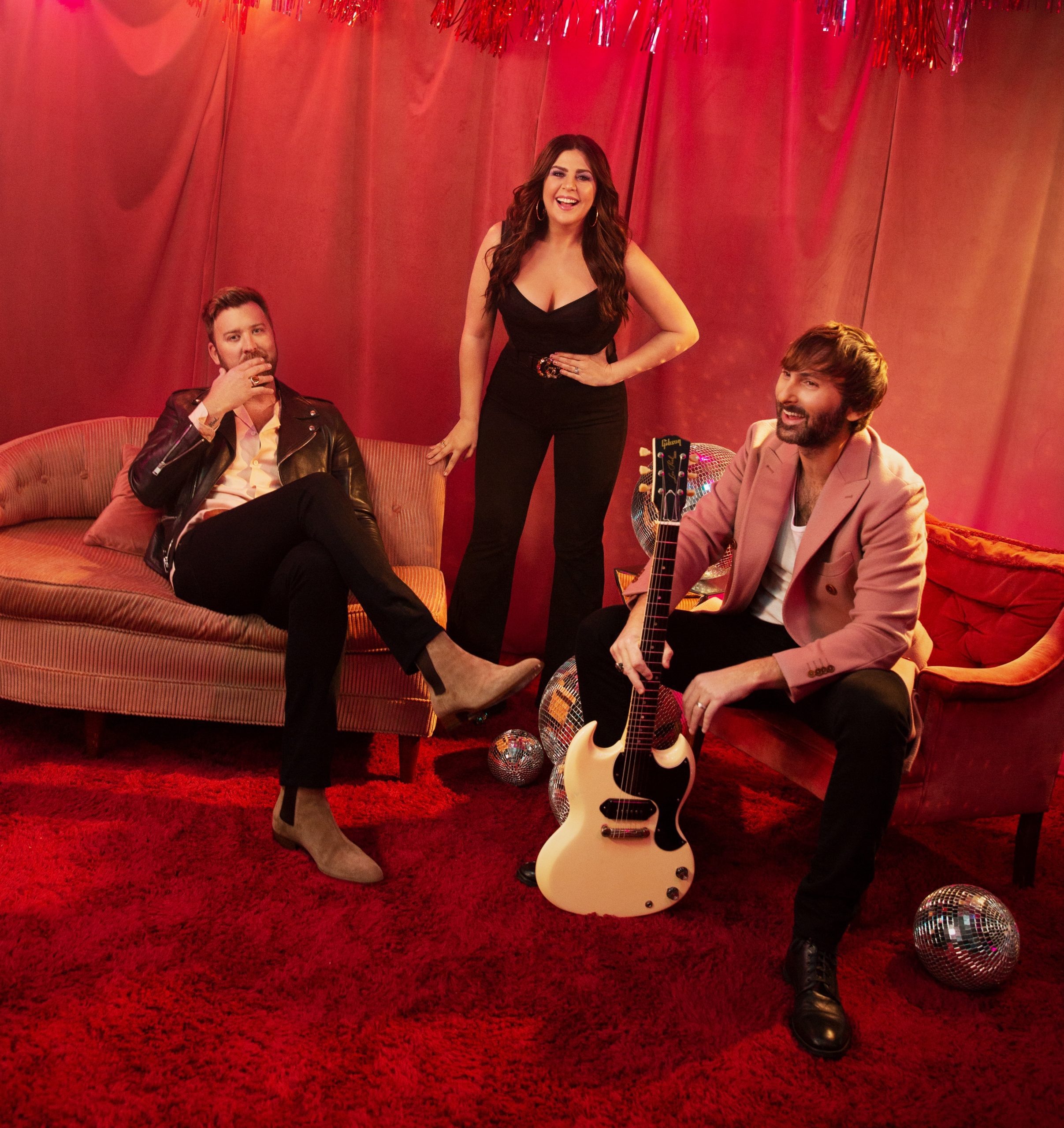 Music and technology 
There were two key things that kept people connected through the pandemic, one was technology and the other was music. The One World: Together at Home live-stream concert hosted by Global Citizen and curated by Lady Gaga saw artists from all around the world entertain us from their own homes. one of those artists was Lady A who sang 'What I'm Leaving For' separately from their own homes and through the power of technology their harmonies were brought together from across the miles. "My college technology degree kicked in, I guess for the pandemic." Dave laughs, "I'd play guitar to something, send it to them, they'd send me like a video of them singing it and it was just a matter of putting it together. Obviously, being in a trio is normally fantastic but it was challenging just trying to sync the time and get everything to sound okay, together. We were all just at home, trying to figure out what to do and we wanted to stay active with the fans. Everyone was in this completely unknown, uncertain time, especially at the beginning, so we were just like, how can we stay connected? How do we try to give people hope? We just wanted to stay connected with our fans. That's where it was all born from." 
The record is full of songs that wrap their arms around the listener and fill them with hope. Songs such as 'Fire' really resonate and inspire. The second verse in particular pulled me in, "He was climbing/the ladder/til he lost his job and it shattered/all the plans that he thought made up a good life/Until he remembered that dream left on that shelf/Doing what he loved, working for himself/He wouldn't be where he is now/If he had never gotten knocked down" Hillary sings.  
She explains the thought processes behind the song, "We wrote 'Fire' with our good friend Justin Ebach. I think human beings in general are very resilient and we find this inner strength, especially when we gather together and love one another through it. I think that's what that song really is about, to me it's resilience, a situation that is really challenging, that's really heartbreaking, that makes you feel like you don't know where to turn, using it to your advantage, making an opportunity out of it. The resilience that I think we have as human beings is something that we need to remember now more than ever and that second verse is my favourite one too, I really love that you said that, because there's just something so beautiful about the story of someone going after the dream that they thought was over, out of the heartbreak of losing their job. That's one of the coolest success stories you could ever read or write about." 
This album also sees the trio release their first true collaboration 'Friends Don't Let Friends', which welcomes Thomas Rhett, Carly Pearce and Darius Rucker to share the stage with the band. "It was funny, I was down at the beach in Florida with Thomas Rhett," Charles says, "We were with our families, the kids were all running around together. We both had a beer in our hands and he said 'Friends don't let friends drink alone', he said he'd always wanted to write that. I was like, let's do it. We literally wrote the chorus, just sitting there watching our kids run around. Later that night, I had a couple other songwriter buddies that just happened to be down there as well and we knocked it out. I played it for Darius Rucker, I think we were on the golf course or something. I said, 'Dude, you gotta check this out. Would you want to sing on it?' Then we got our good friend Carly Pearce, who we've had all this summer out on the road with us and I just wanted really strong, powerhouse vocals on there and all three of them are just so uniquely themselves, you know it's their voice when they come in. Hopefully we get to perform it live on some big stage at some point." 
A new voice 
Back in 2015 the band went on a short Hiatus and during that time, the two lead vocalists Charles and Hillary released solo albums. Charles' 'The Driver' came out in February of 2016 and featured collaborations with Dierks Bentley and Miranda Lambert to name a few. It charted at number 2 on the country albums chart. Meanwhile, Hillary teamed up with her mother, father and sister to release a christian country record called 'Love Remains' in July of that year. It topped the Christian albums chart and took home two GRAMMY Awards for Best Contemporary Christian Album and the lead single 'Thy Will' won the award for Best Contemporary Christian Song. 
Having heard so much of the vocal prowess of Charles and Hillary and seeing Dave excel in a more instrumental and backing vocal role, it was both surprising and refreshing to hear Dave take the lead for the very first time on this record on a song he penned himself, 'Workin On This Love'. "I think we're always looking for different ways to round out records. When we're putting together an album, we all end up agreeing on all the music, but we want to find different characters, different flavours, getting a good mix of the hard stuff and the stuff that's fun to perform live."  
The song began life as a poem for his wife for Mother's Day, "I had this song I had just written by myself for my wife for Mother's Day this year, as just a gift to her. It was literally just instead of buying a gift I wrote a song. It was my sort of personal story about the kind of love that we're trying to build and work on each day. I showed it to Charles and Hillary and I was like, if people know our journey and kind of what we do, I think some of the fans would enjoy seeing a different sort of texture and they were totally on board. I was really honoured and flattered that they dug it. We had fun piecing together the vocals, they were coaching me pretty well on that part."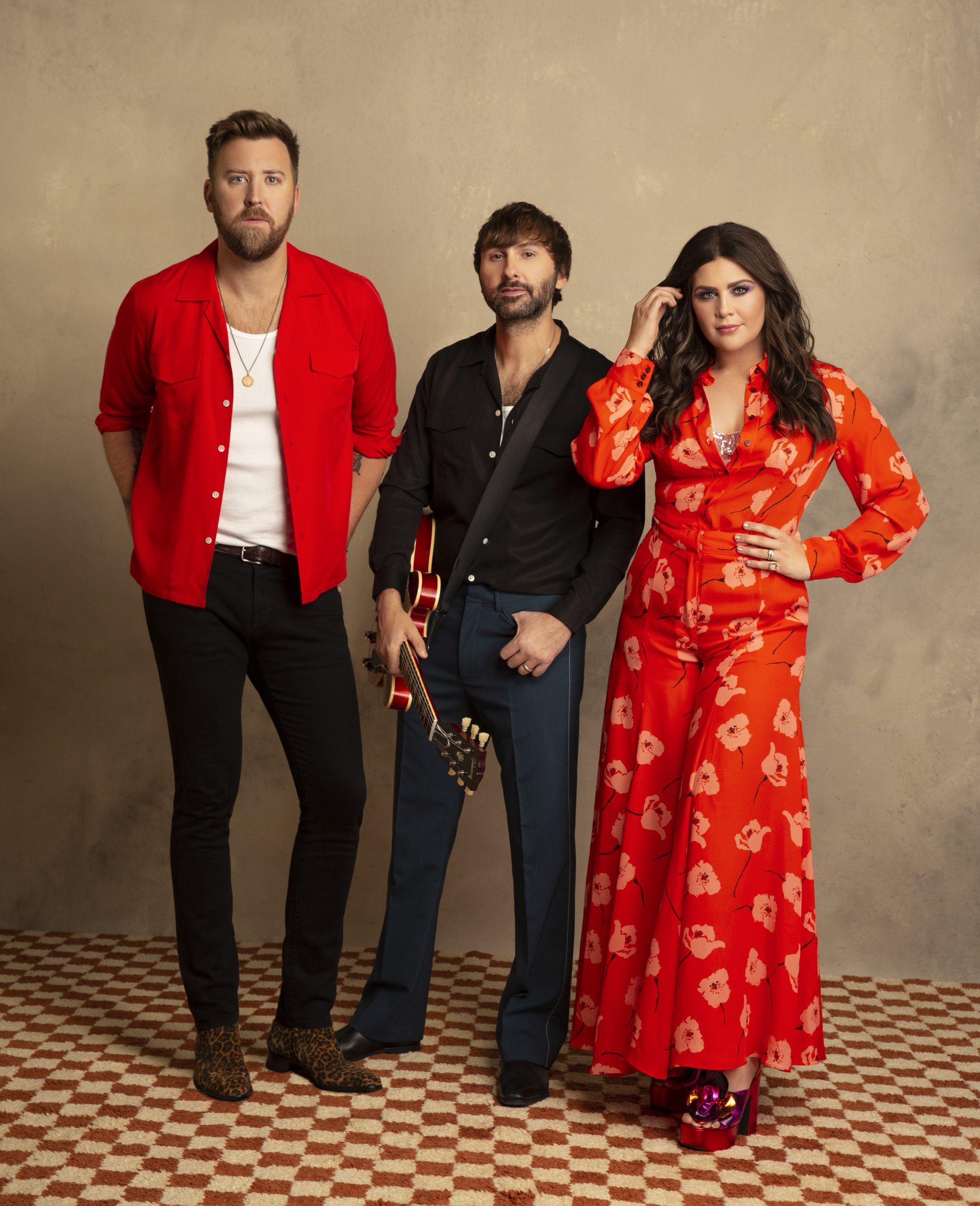 The Grand Ole Opry 
This record rounds off what has been a fabulous 12 months for the band. With the uncertainty in the world during 2020, they sought solace at the home of country music – the Grand Ole Opry. As the world began to open up again, they were invited to become members, one of the highest honours bestowed upon a country artist, and you could see what it meant to them in the video taken by the prestige establishment. "Becoming members of the Grand Ole Opry is perhaps our proudest moment," Charles begins. "This past year was obviously hard for everybody. It was a nice, bright, shining moment for us to feel like we've reached that milestone in our career, and that everything was going to be okay. We've been a band for 15 years so it came at a perfect time for us. There's obviously been the big night we had at the Grammys for 'Need You Now' which was pretty huge. But at that time, it felt like everything was working, you know? It's nice to have during a time where you feel like, you're most scared – Will this ever come back again, will we be touring again, and to get that Grand Old Opry nod at a time like that was pretty cool." 
Hillary adds, "They're inviting you to become a part of a family where you always have a stage to sing on. That was just the most beautiful, priceless gift, not only because of everyone who's gone before us, but going back to Charles' point, the Opry was the only real stage we played on all year because of the pandemic. So I think what was already such a special place for us took on an even deeper meaning." 
With a new record under their belt and the band back on the road, the trio are in a very good place. Charles, who has just celebrated another milestone, turning 40, gushes over how good it is to be back on the road with their fans, especially since a bout of appendicitis delayed their already delayed tour. "I've always said that the music business keeps you young, until I turned 40!" Hillary, Charles and Dave have delivered the most beautiful record that truly defines just what an illustrious career they've had and exemplifies the power of a song. 
YOU CAN READ THE FULL COVER ARTICLE IN THE NOVEMBER/DECEMBER ISSUE OF MAVERICK, MAKE SURE YOU SUBSCRIBE HERE!
To stay up to date on the latest country music news, please register to receive our newsletter here.
Media contact
Zoe Hodges,
Editor, Maverick Magazine
Tel: +44 (0) 1622 823920
Email: editor@maverick-country.com