"When the pandemic hit, I did some fishing and really became hooked," Clark remarks in jest.
How did 19 X CCMA Award winner, 3 X JUNO Award winner, inductee into the Canadian Country Music Hall of Fame and only Canadian female member of the Grand Ole Opry Terri Clark spend her time while there was nowhere to perform?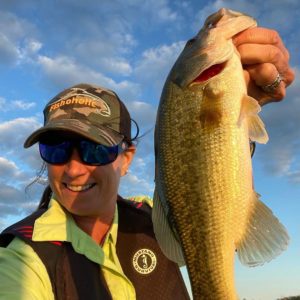 "Fishing. I've been fishing on Lake Erie most days. My dining room table is piled high with tackle, reels and rods. The guys who work at Bass Pro Shop are getting used to seeing me. I also bought a fishing boat. You may have seen some of my catch pics on Instagram lately; wait, there'll be more!
I respect the hard work of those artists who have been busy writing, creating and performing online but I just found comfort in standing still; no planning. I didn't realize how much I needed it. I decompressed while I spent time with my dogs and three solid months with my family; the most time that I have ever had with them at once since I've been on the road.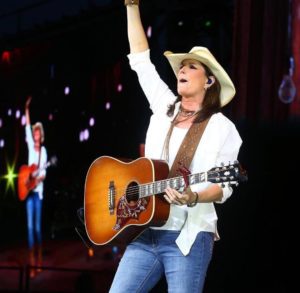 There was never a moment that I felt as if I were losing my mind during this past year and a half, because I used this time off to take care of myself. For me, sitting on the water fishing brings me a sense of peace unlike any other activity. It was good for me to have the time to connect with everything and everybody important to me.
During my time off from touring over the past 17 months, I did support my friends Ty Herndon and Corb Lund with initiatives that were important to them, to me. Myself and other talented artists collaborated with The Road Hammers on a track titled All My Friends, from their new album Back At It. I've also been having a blast working out the harmonies with Suzy Bogguss and Pam Tillis while performing as Chicks With Hats. We've scheduled some fun upcoming performances together."
Q. Do you have a dream collab?
Absolutely. I'd love to work with Pink and Lady Gaga.
Q. Evenings of July 9-13 you were the headliner at The Calgary Stampede; Canada's first and largest festival to return, since the onset of the pandemic. How did it feel to be back on stage?
I was excited to get back on stage. This was the first time that I performed on the Stampede's Grand Stage. I wasn't nervous about performing in front of a large live crowd again; what I was nervous about was being prepared. Restrictions prevented my band from crossing the border, so there was no opportunity to practice together. Fortunately my friend Dallas Smith offered his band for all of my performances at the Stampede. They really worked hard to learn my set in a really short amount of time.
Q. What or who inspires your music?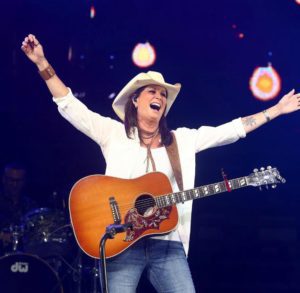 If I Were You was of course personal, but otherwise I take my inspiration from talking to people and living life. Most of my inspiration is a mystery really; it varies.
Q. You already have a full schedule ahead. What's the goal for 2021–2022?
I am focused on each set becoming a well-oiled machine again. It takes a couple of shows to get your legs steady beneath you. Live shows are a journey that's mapped. Everything is paced until you achieve perfection.
There are some make-up festivals to do as well that were previously cancelled.
And, I'll be writing again by the end of this year.
Q. How do you sum up the past year and a half?
I am really grateful for this time off; life feels richer.
Earlier this year I wrote The Highway. This one was my idea of shared thoughts, inspired by the pandemic. It's a feel-good song, reminding people that we'll all get back out there; here we come.
By Michele Bogle

Photography by Jim Wells
To stay up to date on the latest country music news, please register to receive our newsletter here.
Media contact
Zoe Hodges,
Editor, Maverick Magazine
Tel: +44 (0) 1622 823920
Email: editor@maverick-country.com