I jump in my car, turn the radio on and what's playing? Toby Keith's debut single 'Should've Been A Cowboy,' 28 years after it was first released, the song still populates the airwaves in numerous territories. It was the beginning of an illustrious career for Keith who went from strength to strength in the nineties and early noughties.  
Delighted by his first number one and unaware of the road that lay ahead, Keith was determined to make the most of this success. "I knew the song was doing well. I was playing at nightclubs, just as I got my first record deal, but I didn't know what the future held. This is 93 and the booking agent came to me and said, "You've got a number one song and I can book you out, I can get you 5-10,000 a night in the nightclubs." And I said, "Well, how many nights are night clubs open?" He said "They'll take an act with a hit every night so how many do you want to work?" I said all of them, because I wanted to make sure that I got as much out of this as I could because there's no guarantee that I was going to have a second number one!" 
Early beginnings 
Keith was always destined for a life in music, discovering his love for classic country very early on. "My Grandmother managed a bar for years, a supper club. They had a band, and they served dinner and drinks and there was dancing. I would go and stay with her when I was a kid and I was just fascinated with the band. When I was eight years old, she bought me a guitar. I learned enough chords on it that one night a week, they would let me get on stage and sit down with them. I couldn't do much, but whatever I could do, they would let me. We would play classic country, Merle Haggard, Willie Nelson, and whatever was on the jukebox, pop stuff like the early Eagles." As soon as he knew a few chords though, Keith began to work on crafting his own songs.  
"When I got to be a teenager, I started trying to write songs. We were one of the only bands around that had a bunch of original songs, so it started separating us from the pack, and then I just kept fighting forward." 
Now with a new album under his belt 'Peso in my Pocket', he is about to be inducted into the Nashville Songwriters Hall of Fame. "It's very special, because the only thing I ever cared about was writing songs." Keith says of the occasion. "I just happened to be able to sing good enough to be the vehicle that drove the songs. A lot of the songs I wrote would have been recorded by somebody if not me. First and foremost, I just wanted to write great songs and be the best songwriter I could be. I have a monster catalogue because I've worked my tail off my whole life just to be a songwriter." He was inducted into the main Songwriters Hall of Fame back in 2015 and for all the number one's and countless awards he has amassed over the years, it's his back catalogue of songs he's written that makes him proud. "I'm very proud of my catalogue, my entire catalogue." 
The Oklahoma native says, but he didn't always find songwriting so easy. Like most things in life, it takes time, patience and practice. "When I first started writing, I didn't know what I was doing, you write 100 songs and they're not very good. Then all of a sudden, you'll write a decent one," Keith begins, "You get older and mature and you just keep practising, you just start shortening that gap. You're at 100 songs, then you write a decent one, then 90 songs, and another good one, then 50 and another good one, so you just start closing that gap over the years. By the time I was 22 or 23, I was writing a good song every 10 songs."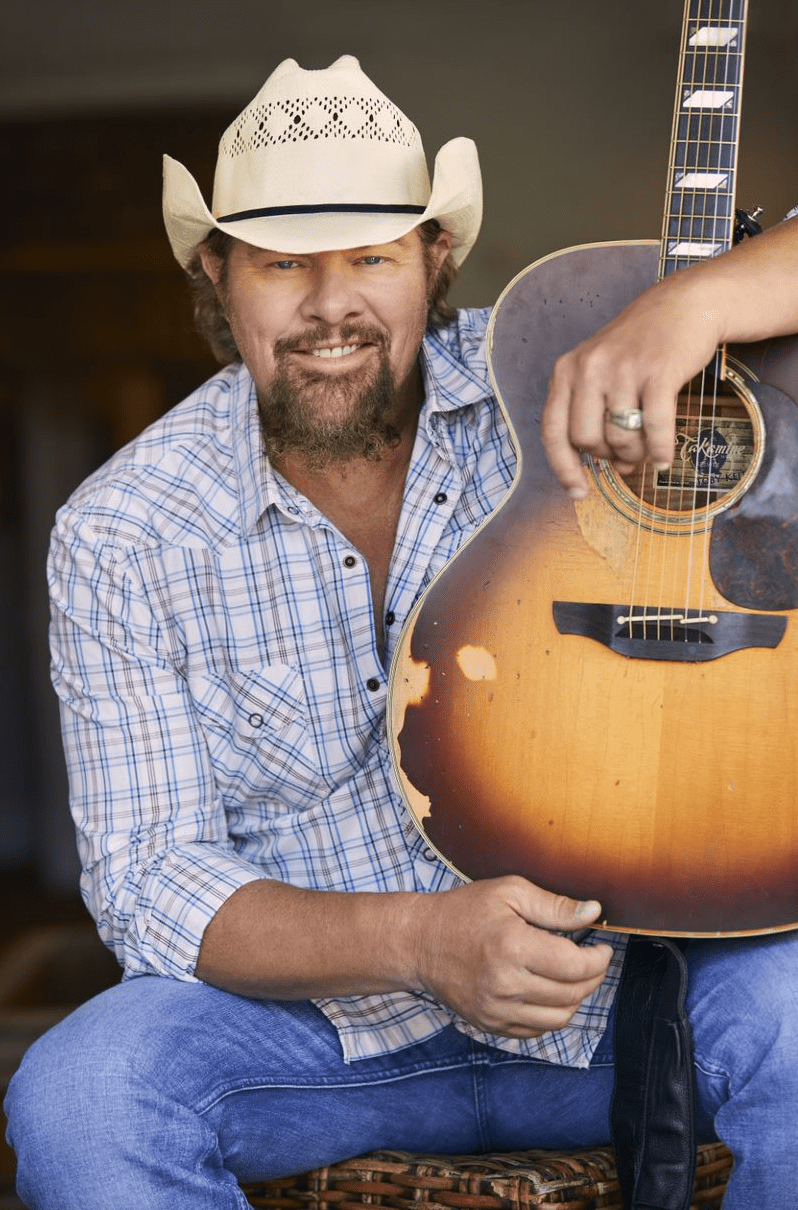 Royalties 
Now 60, Keith knows how to write a pretty decent song and his back catalogue is a gift that keeps on giving. "I remember one year at a BMI event. At the end, they had two or three celebrities there and they wanted to take our pictures together. Somebody introduced me and he goes "Toby Keith, is it quite possible that you're responsible for 1% of BMI's entire income worldwide last year?" I said "No one ever told me that," he goes "Well, the BMI people at my table said you were responsible for 1% of the entire income." That's the biggest worldwide collection company for songwriters. That's my back catalogue, those songs just keep giving." Keith continues to share his songwriting wisdom, "Probably my formula for today, since I've been grown, is that I've written so many songs, I know how to write a song, so now I'm just a good idea away. Your song is only as good as your idea." 
Keith worked hard on writing songs and connected with fans by touring extensively and having a quick release cycle throughout much of his career. "Other artists would do an album every three years, I did an album every year. Back in our day, when we were in our heyday, we could do three or four singles a year, now they do one song a year, it takes 40-50 weeks to get one up the charts. I really don't know how they're gonna build careers like that. If you're around for 20 years, and you have a hit every year, you're only gonna have 20 songs. I could literally do four and a half hours of hits. How would you accomplish that in 20 years, when you're only getting one or maybe two singles a year. Then you've got to be that good for 20 years to do it," Keith exclaims. 
Peso in my Pocket 
This latest record, 'Peso in my Pocket' comes six years after the release of his last studio album '35 MPH Town' and the reason for his absence was simple, people didn't play that kind of music anymore. "I put an album out five or six years ago that I was just head over heels in love with it, that's when I found out that they don't play that kind of country no more, music changed. When I couldn't get anything played I was like, well I'm not going to work that hard next year, if they're not going to play this kind of music no more, then I'm going to relax, so I didn't release an album for six years." The pandemic changed the music industry and all who consumed it. It decimated the live industry but people turned to their favourite artists to find comfort and the demand for Keith's return to the studio grew. 
"My manager called and said there was four or five big old school radio cats that are asking for some… what they were calling 'comfort music'. They said we need to hear a familiar voice and they asked us if there's any way we could do an album. So I sat down, got my guitar out and started writing. I wrote 10 or 12 songs and took four or five of them, then I had these two or three things laying around that I'd always wanted to record but never did. Then, of course, John Prine passed away and I wanted to do a tribute to him on there because he was certainly a mentor and a friend of mine. So we'll see if they'll play this one now." 
The record is just what you'd expect from Keith, high energy, say-it-how-it-is songwriting with a dash of patriotism and a lot of humour. For me, the stand-out track is 'Growing Up Is A Bitch,' which Keith wrote with friend and fellow musician Sammy Hagar. He told me how the idea first came about, "Sammy Hagar and I have been friends for over 20 years and he and I have been going down to Cabo San Lucas, Mexico, for vacations for years. I've got a home there, he has a big bar there, so we've jammed together hundreds of times and on his 65th birthday party down there, he said something like "Getting old ain't too bad but growing up sure is a bitch,"  I said, "Well that sounds like a song!" He said, "Well we ought to write it." We never did. Then while I was writing for this record, I pulled all my old notes out, was going through them, I saw that and I thought, I'm gonna write that. I wrote it, and sent it to him. He said, "Dude, I just got goosebumps." I told him, "I'm gonna give you writers credit on it, because you inspired me." He gave me the title idea after all."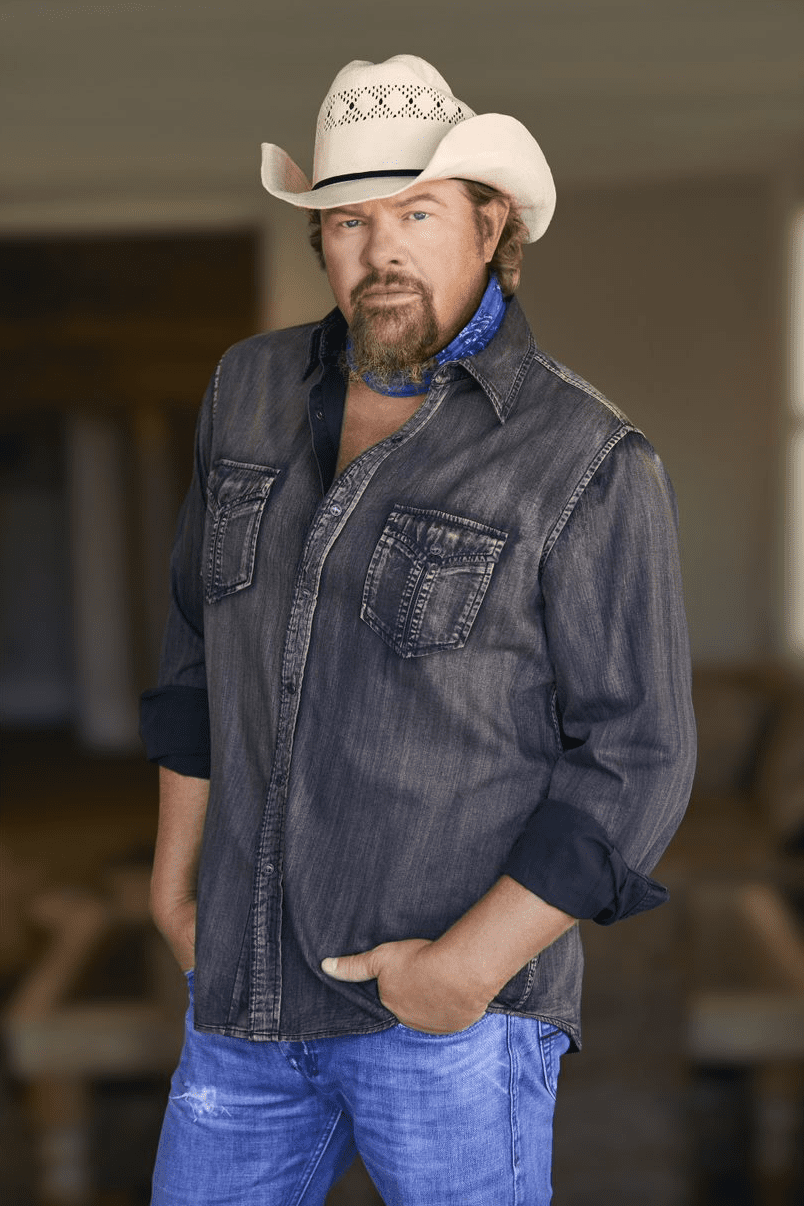 Patriotic 
As in previous albums, Keith addresses his patriotism and remarks on the state of politics in America on the album's last track, 'Happy Birthday America' and the story behind the track stems from another of his songs – 'Courtesy of the Red, White and Blue.' "It was actually the year before, during the first part of the pandemic. Fourth of July, I was on the lake and there was like, 5000 boats in this cove and they were doing a gigantic fireworks display. The local radio station had the fireworks sync'd to the music. So if it was a slow Ray Charles 'God Bless America' they were doing lazy fireworks in the sky. If it was something more uptempo, they were really lighting it up. It went on for about an hour. My buddy turns around and he says, "Where are you in the batting order?" And I said, "'Courtesy of the Red, White and Blue' is usually about the third song." Sure enough about the third song in it came on and everybody went to honking their horns. My buddy said, "Happy birthday America." And I said "Whatever's left of you!" I went home and wrote that in my notes. America has lost a lot of lives, trying to save the world, and our own people in this country don't even like us, so I just thought I'd write something."   
He goes on to talk about his own frustrations with the political system in America, "Politics is so dividing for everybody, if the left stays in charge too long, then poverty shows up. And if the right stays, they can't ever get it right. It's like the lesser of two evils, it's not up to us to pick the guy we want. They give us two in the end and tell us to pick between the two. So it is a very strict democracy, as far as that goes. You really can't believe some of the presidents and the leaders that we pick here."  
Entertaining the troops 
Coming from a military background (his father was in the Army) he was raised, not only to be a proud American, but to have the upmost respect for the armed forces. He has devoted much of his career to entertaining US and allied forces in war-zones such as Iraq and Afghanistan. "I think I did over 200 shows in 11 years, I would do a week in Iraq and a week Afghanistan, sometimes we'd do three shows a day. Some of them were downrange, just me and one guy, some of them were on the big bases with a full band. I saw the Australians and the Brits, I saw everybody there and played for several different nations." For his service and support of the forces, Keith received the Johnny "Mike" Spann Memorial Semper Fidelis Award in 2009, presented by the Marine Corps-Law Enforcement Foundation. 
His number one hit from 2003, 'American Soldier' continues to resonate with fans and amplifies both the forces commitment to their country and Keith's commitment to them. "I noticed when I was eating lunch one day [in the Middle East], they were in jogging shorts and T shirts that said army or whatever and they were just eating and cracking up." He reflects on the story behind the platinum selling song, "They were just normal fathers, brothers and sisters. I went back to my hotel and took a nap and as I was headed to the stage I saw about four Humvees going out on patrol, and they stopped, jumped out, come over, pumped fists and high five'd and it was the same people that I ate lunch with earlier in the day, and they didn't even look the same. They're now in full battle rattle. They got their chin straps buckled down, they got their weapons, and they're getting ready to go outside the wall and go on patrol. I was like, these are just working people that are trying to make a living, trying to get education, to take care of a family. So that's where American Soldier started." 
Born to entertain 
When it comes to performing, every show is different for Toby Keith. "I'm looking around trying to feel what's going on. We've learned through the years that every crowd is a little different. So if I'm at a state fair in Iowa, and it's a middle aged crowd, I'll go back and play four or five of the number ones from the 90's that we don't play every night and let them hear stuff they don't hear every day. If it's a young stomping crowd, I just keep pedal to the metal with the big stuff."  
However, it's not just on a stage that the showman performs, he has also secured several acting roles in the past and teases that he's in talks with a TV series that he's considering becoming involved with. Speaking about how he adapted from stage to screen Keith said, "The easiest part of it for me was that I had won a lot of video awards so I was real comfortable in front of the camera, acting out crazy antics, CMT was the big video awards and I think I won 15 or 16 of those." The Oklahoma native starred in the film 'Broken Bridges' in 2006. "When they approached me about doing that movie with Burt Reynolds and Kelly Preston, I said "Maybe, I don't know how good I am at reading lines but I know I'm good in front of a camera." So I just worked with an acting coach and learned a few tricks that they do and how to listen to other people when you're acting. I wanted to challenge myself a little bit."  
It wouldn't be his last appearance on the big screen as a film adaptation of his song 'Beer For My Horses' came to fruition two years later. "The next movie we did, I took a real funny comedian here that's nationally known, Ronnie Carrington and I said, "I've got a story and I've got a song called 'Beer For My Horses', I want to write a movie." He said he'd never written a movie but he writes funny stuff, so me and him just set out and wrote a big long script and sent it in and Lionsgate took it and we made a little comedy. We did it all ourselves, we really enjoyed it. It was three months of absolute laughter, we had a blast!" Keith reflects fondly.  
As he releases his 21st studio album and finishes up his latest tour, regardless of whether the radio gives it a spin or not, Toby Keith remains at his best. Showcasing why he has had such a long and illustrious career, and why he is being inducted into the Nashville Songwriters Hall of Fame. 
YOU CAN READ THE FULL ARTICLE IN THE NEXT ISSUE OF MAVERICK MAGAZINE AVAILABLE SOON HERE!
To stay up to date on the latest country music news, please register to receive our newsletter here.
Media contact
Zoe Hodges,
Editor, Maverick Magazine
Tel: +44 (0) 1622 823920
Email: editor@maverick-country.com