Editors Choice for Yamaha Music London 2017
Maverick's Editor Laura Bethell takes a look at the instruments on offer at Yamaha Music London and picks some key products available this Spring
Yamaha SLG200S Silent Guitar

Tobacco Brown Sunburst finish; price when reviewed: £596
Yamaha's new SLG200 Silent Guitar comes in three editions: nylon strung, nylon strung with wide neck, and steel strung with a standard acoustic neck. I've been trying out the latter – the steel-strung 'S' edition. Despite its almost non-existent body, the SLG200S feels both comfortable and natural to hold and play. It's even more portable than it might look – one of the wooden outer frames can detach, allowing the guitar to fit in a light weight padded soft bag it's an ideal choice for travelling performers. What struck me most was how natural the tone of this guitar is. I expected a sound resembling an electric guitar plugged into one of the many unconvincing 'Acoustic Tone' pedals. Instead, the SLG200S sounds like a top end acoustic guitar that's been mic'd up in a recording studio. It's jaw-dropping. The key, I'm told, lies in Yamaha's proprietary 'Studio Reponse Technology' or 'SRT'. It's a system Yamaha originally developed for their flagship electro-acoustic guitars and it uses advanced real-time modelling to sculpture the raw sound from the pickup, recreating the tone of a top end acoustic guitar recorded through top-of-the-line recording microphones. It sounds great – authentic, hugely playable, enjoyable and without any hint of lag. Whether you're performing live or practising with the included earphones, the SLG200 is a great alternative to a conventional guitar. – Gabriele Tosti
Visit Yamaha to find out more: https://www.yamahamusiclondon.com/SLG200S-Steel-String-Silent-Guitar/pidGSLG200STBS
Yamaha FG830 Acoustic Guitar

Autumn Burst Finish; price when reviewed: £340
Coming over a decade after their highly acclaimed FG700 models, Yamaha's FG800 Series promises better tone, playability and looks. According to the official press release, the new models were developed after extensive research, design and testing with a newly designed scalloped bracing intended to increase each guitar's volume and projection, whilst improving their already-superb tone.
The FG830 model might sit in the middle of the FG range, but it's very, very good. On first try, I found that the solid spruce top and rosewood back/sides gave the guitar a powerful, clear tone, even when playing finger-style – the new bracing pattern no doubt aiding the sound. It seemed more than able to cope with any style of acoustic guitar playing we tried, always sounding balanced and clear. With a range of finishes available including this stunning 'Autumn Burst' colour, the FG830 looks great – and I'm highly impressed with its sound and playability of this wonderful guitar. – Gabriele Tosti
Visit Yamaha to find out more: https://www.yamahamusiclondon.com/FG830-Acoustic-Guitar/pidGFG830AB
Yamaha LS16 ARE Acoustic Guitar

Price when reviewed: £767
The LS16 ARE concert-size acoustic is a worthwhile choice for a finger style player who wants a vintage-sounding guitar with modern playability and an affordable price tag. Thanks to Yamaha's proprietary ARE tonewood treatment, I found that the guitar nicely approximates the sound of a fine pre-war guitar. It's great for fingerpicking, and the guitar sounds just as sweet in alternate tunings like DADGAD and open G as it does in standard. Whether strummed, thumb picked or subjected to single-note bluegrass lines, the instrument gave me all of the authoritative presence that a larger-bodied guitar would. I found the LS16's traditional neck profile to be highly comfortable, making it smooth to play in all of its regions for both single notes and stretchy chords – it feels very comfortable to cradle. I'm sorely tempted… – Pars Evrenos
Visit Yamaha to find out more: https://www.yamahamusiclondon.com/LS16ARE-Acoustic-Guitar/pidYAM-LS16ARE

Yamaha THR10 v2 Home Guitar Amp

Price when reviewed: £255
Yamaha say that the compact THR practice amp is one of their best-ever-selling guitar products and it's easy to see why. It's absolutely perfect for practicing and jamming in the living room or bedroom as it dovetails neatly with the demands of the average guitarist's modern life. It operates and sounds exactly like my performance tube amps, giving all of the full fat tones but at indoor practice/rehearsal volume. The Clean & Crunch channels sound like early classic Fender; the Lead & Brit Hi channels are vintage Marshall and the Modern channel is a Mesa Boogie treadplate. It comes with a headphone jack and USB output so you can record to your computer or just listen with headphones. Additionally, you can play along to a backing track through the amp with the AUX in or with USB from your computer. – Pars Evrenos
Visit Yamaha to find out more: https://www.yamahamusiclondon.com/THR10-v2-Guitar-Amplifier/pidYAM-THR10
Yamaha THR100HD Guitar Amp Stack

Price when reviewed: £1,227
Highly impressive as the THR10 is, it probably doesn't cut it (aesthetically at least) on stage… It seems Yamaha agrees and so we have the 'gigable' version of their revolutionary lunchbox desktop modelling amp – the Gold award-winning THR100HD half stack! With its light weight compact size, noise-free performance, and impressive array of ballsy expressive tones, the THR100HD head and THRC212 cab provide everything guitarists love about tube amps and none of the things they hate. Five amp types and five tube types allow you to dial in a wide range of tones and amp characteristics ideal for any style of music – no hassle, no uncertainty; just great guitar tone. For me, this is the perfect amp. – Pars Evrenos
Visit Yamaha to find out more: https://www.yamahamusiclondon.com/THR100HD-and-THRC212-Guitar-Amp-Stack-with-Speaker-Cable-and-Guitar-Cable/pidTHR100HD-STACK
Line 6 Helix Guitar Effects System

Price when reviewed: £1,279
Line 6's Helix takes the form of a smart-looking guitar multi-fx pedal – but inside is what Line 6 say is the most advanced guitar modelling system in the world – the amps and effects are being simulated at the signal and component-level of their original counterparts. We were sceptical at first – and we tried to catch it out, trying out all manner of effects types, amp models and cabinet simulations (in some frankly ludricrous combinations). But very quickly, we came to agree with Line 6. The Helix features truely-authentic tones, completely flexible multi-effects and an intuitive interface. Guitarist Magazine awarded the Helix Gear Of The Year 2016 whilst Total Guitar Magazine gave it a Best All-Rounder award, Best Buy Award and a 5 star review – and I'd have to agree with them. – Bradley Cameron
Visit Yamaha to find out more: https://www.yamahamusiclondon.com/Helix-Tour-Grade-Guitar-Processor-/pidGHELIXUK
Line 6 Spider V 60 Wireless Guitar Amp Pack

Price when reviewed: £365
The new award-winning range of Line 6 Spider amps have really impressed me. I suspect they inherit some of Line 6's award-winning Helix technology – the Spider V amps contain an almost endless amount of authentic presets covering a huge spectrum of genres and classic artists. The Spider V 60 is my favourite for home practice and rehearsal use – the built in wireless receiver (this pack also includes the transmitter) rids you of the guitar cable and lets yourock around the house, stage or studio, wire-free in seconds. Brilliant stuff from Line 6.  – Bradley Cameron
Visit Yamaha to find out more: https://www.yamahamusiclondon.com/Spider-V-60-Wireless-Guitar-Amplifier-Pack/pidGSPIDV60UK-PACK1
Line 6 AMPLIFi FX100 Guitar Effects Unit
Price when reviewed: £212
Line 6's AMPLIFi FX100 takes all the hard work out of creating a unique guitar tone. Making full use of an iPad's large touchscreen and Bluetooth connection, the official AMPLIFi app offers easy creation and editing of guitar tones wherever you are – allowed me to easily play back music from my iPad's music library through the AMPLIFi FX100 – perfect for jamming or practicing. With the full Line 6 range of amp and effects models included, along with a huge library of crowd-made guitar tones matched to some of the greatest rock n' roll songs ever recorded, it's hard to see why you would ever need anything else for your home set-up. – Bradley Cameron
Visit Yamaha to find out more: https://www.yamahamusiclondon.com/AMPLIFi-FX100-Guitar-Effects-Unit/pidGAMPLIFIFX100
Yamaha TRBX304 Bass Guitar

Mist Green finish; price when reviewed: £315
Yamaha's TRBX304 Bass Guitar is a perfectly balanced, highly playable instrument with a solid mahogany body providing an optimum tonal foundation. The active pickups and EQ controls allow you to easily dial in a clear, punchy and warm tone whilst its playability offers room for a surprising level of expressive control. To me, the TRBX304 is an ideal choice for a both a beginner bassist, or a bass player looking for a more affordable and versatile sound. It's available in a range of colours – the beautiful Mist Green finish catching my eye. – Gabriele Tosti
Visit Yamaha to find out more: https://www.yamahamusiclondon.com/TRBX304-Electric-4-String-Bass-Guitar/pidYAM-TRBX304-MGR

Yamaha BBNE2 Nathan East Signature Bass Guitar
Price when reviewed: £3,233
This humdinger high end bass was joint-developed by Yamaha and Nathan East, bassist for Eric Clapton, Phil Collins and many others. Yamaha's BB Series basses have always defined the best in bass technology, building a reputation for their excellent tone and sustain, comfortable feel, and quiet performance. The BBNE2 model carries on the tradition with a slim-line, solid alder body topped with premium maple for unsurpassed looks, comfort, and tone. A thru-body maple and mahogany neck offers the ultimate in tone and stability, while its ebony fretboard has a smooth violin-type feel. Active electronics include 2 Alnico V-Stack pickups and a Nathan East NE1 parametric EQ for maximum sound-shaping capability especially in the mid-range giving it outstanding versality. Highly recommended.  – Pars Evrenos
Visit Yamaha to find out more: https://www.yamahamusiclondon.com/Guitars/Bass-Guitars/Signature-Series/
Yamaha Revstar RS620 Electric Guitar
Brick Burst finish; price when reviewed: £682
Ever tried to guess how much a guitar is, just by playing and hearing it? In the past, I've come across both severe disappointments and pleasant surprises. Luckily, the new Yamaha 'Revstar' RS620 is very much in the latter group – it's an absolutley fantasic guitar at a surprisingly low price. Winner of the UK's MIA Best Electric Guitar 2016 award, Yamaha have put aside the ubiquitous Seymour Duncan pickups and instead created specially wound YGD ('Yamaha Guitar Development') pickups that are perfectly matched to the RS620's character. They've also put in a 'dry switch' – this cuts the low end to give even more punch and clarity to the single coil pick up. An absolutely perfect electric guitar for those high guitar solos and twangy country riffs. I want one – Mark O'Sullivan
Visit Yamaha to find out more: https://www.yamahamusiclondon.com/Revstar-RS620-Electric-Guitar/pidGRS620BRB
Yamaha MusicCast Wireless Multi-Room HiFi System
Prices when reviewed: CD-NT670D Player – £399, WX-030 Speaker – £199
After a busy day, nothing beats sitting down and relaxing to your favourite albums or discovering new (or old) music. The CD-NT670D is a brand new home audio unit from hifi gurus Yamaha. Externally, with its black or brushed-silver fascia, it looks like a normal high-end and compact CD player – only a single USB port hints at something more. Behind the understated exterior lies an extremely smart music player. As well as regular CDs, it can play back audio files (including high resolution FLAC files) from both its own USB port and a local DLNA home media server (WiFi is built in along with a LAN port). You can stream to it as well – using Apple's Airplay, Bluetooth audio or a variety of streaming services such as Spotify and Napster (Apple Music plays via AirPlay).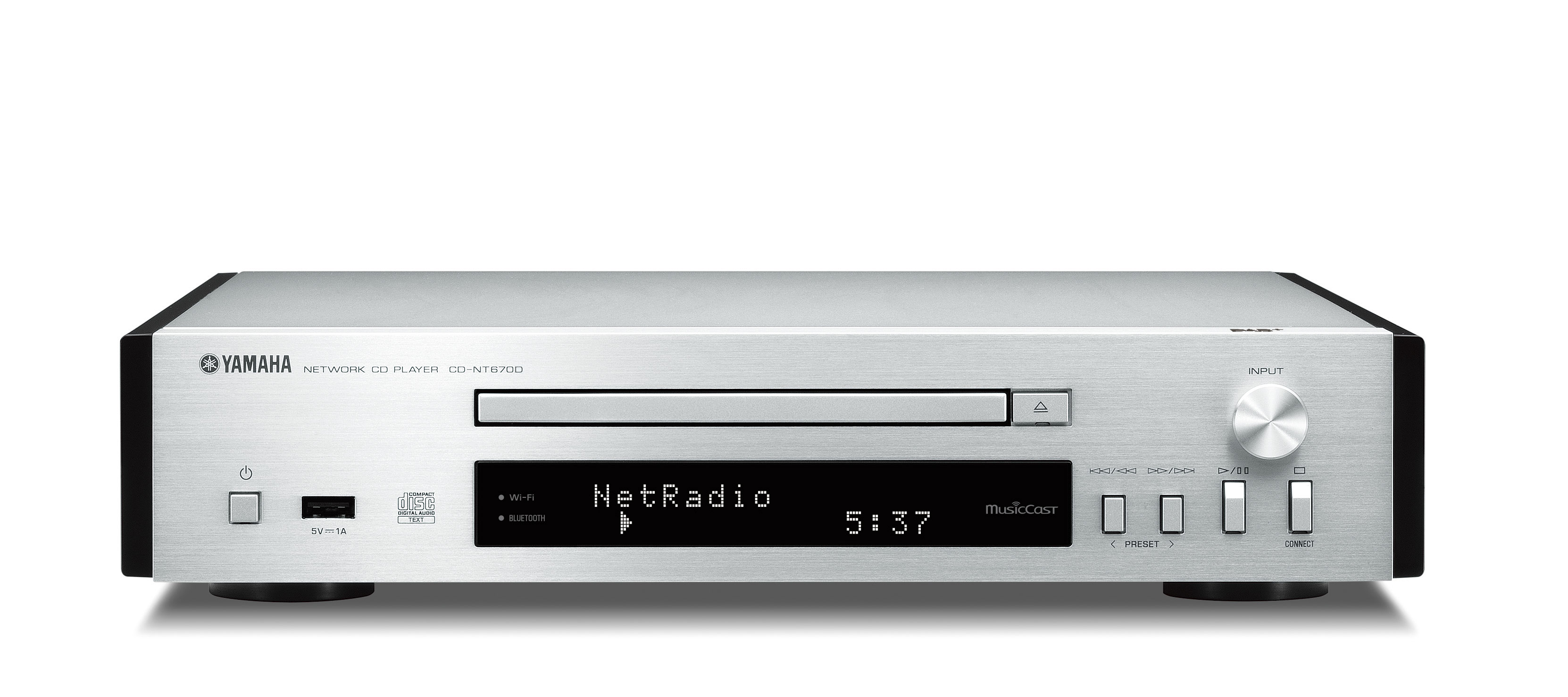 The CD-NT670D packs in a DAB tuner but can also connect to a exhaustive list of internet radio stations as well. To complete the range of inputs, both an analogue AUX IN connection (we connected it to a turntable's pre-amp) and a digital optical connection (we connected a PS4) are present and correct – allowing you to connect virtually anything that plays music to the CD-NT670D. To control it, a very capable and intuitive – if similarly understated – app is available to download for iOS and Android devices. These capabilities already make it a perfect addition to an existing home audio or home theatre system – but the multi-talented CD-NT670D has another trick up its sleeve. It's part of Yamaha's new 'MusicCast' home audio multi-room system. Add another MusicCast unit such as a WX-030 wireless speaker, RV581 theatre receiver or YSP1600 sound projector bar to your home WiFi and you can instantly share music from one unit to another, playing the same music across multiple rooms, regardless of where the music originated from. After a initial firmware download and update (all handled seamlessly by the app), we had great fun with MusicCast – it's easy to use, does what Yamaha says it will and it's great value compared to other multi-room systems on the market.  – Tony Salway
Visit Yamaha to find out more: https://www.yamahamusiclondon.com/Our-Store/Yamaha-Home-Audio/
Yamaha AG03 Portable Home Recording System
Price when reviewed: £107
In a world where teenage YouTubers get more views than the X Factor, where kids stop playing computer games to log on and watch other kids play computer games and where we're regularly told that anyone with an iPad can make a hit record, anyone over 25 would be forgiven for feeling slightly bewildered by the whole thing. Yamaha's AG03 is a small box which can simplify the process. Yamaha don't promise you'll be the next PewDiePie, TripleGzGaming or Chance the Rapper, but the versatile AG03 does offer an easy way to capture high quality sound, whether you're recording a new Country song with a guitar in the middle of a field with your iPad, or providing voiceover whilst you fight your way through a zombie-infested town on your PS4. I found it dead-simple to setup with a Mac using the included Cubase software and it connected to an iPad running Cubasis LE without any drama or hassle. Add a studio microphone, pair of headphones and some speakers and you'll be up and running. Highly recommended! – Tony Salway
Visit Yamaha to find out more: https://www.yamahamusiclondon.com/AG03-Hybrid-Mixing-Console/pidCAG03
Bundles
 Beginner Acoustic Guitar Pack
Price when reviewed: £369
I love the Yamaha FG830 – it's the perfect acoustic guitar for any budding Country musician. With its solid spruce top and rosewood back & sides, it's no surprise it won Total Guitar's Best Buy award and Guitarist Magazine's Acoustic Guitar of the Year 2016. It produces a fantastic warm tone that perfectly captures the sound of classic Americana. This pack comes with all the essential accessories that every new guitarist needs – a great choice. – Mark O'Sullivan
Visit Yamaha to find out more: https://www.yamahamusiclondon.com/Maverick-Beginner-Acoustic-Guitar-Pack/pidMAVERICK-GFG830NT
 Deluxe Acoustic Guitar Pack
Price when reviewed: £995
To me, Yamaha's LL16 ARE is the best guitar you can get for under £1000. Its solid Engelmann spruce top has been carefully seasoned using Yamaha's 'Acoustic Resonance Enhancement' treatment which brings the best out of the wood giving the guitar that sought-after 'played-in' tone. The accompanying accessories in this package are great for an advanced player. Yamaha advertise the LL16 as a top acoustic guitar – but they've also added a passive pickup into its body. Plug this into the beautiful THR5A Acoustic Amplifier and you've got a top-flight electro-acoustic guitar! – Mark O'Sullivan
Visit Yamaha to find out more: https://www.yamahamusiclondon.com/Maverick-Deluxe-Acoustic-Guitar-Pack/pidMAVERICK-GLL16ARE

 Beginner Electric Guitar Pack

Price when reviewed: £549
This is an amazing electric guitar from Yamaha's newest range. Voted Best Electric Guitar 2016 by the UK's MIA, it's a perfect beginner's electric. It's a stunning-looking guitar with great sound and superb playability to boot – forgiving for beginners but capable of incredible tone. The THR5 amp included in this package is particularly amazing. I love these little amplifiers; they offer a range of different sounds and effects and really do have the sounds of legendary guitar valve amps but at a living room size and volume. – Mark O'Sullivan
Visit Yamaha to find out more: https://www.yamahamusiclondon.com/Maverick-Beginner-Electric-Guitar-Pack/pidMAVERICK-RS320BST
 Deluxe Electric Guitar Pack
Price when reviewed: £2,369
Yamaha's AES1500B is a stunning guitar, particularly in the orange satin finish; you'll definitely turn eyes when you're playing this beauty. This deluxe package is particulary useful for onstage use, as it comes with Line 6's brand new Spider V 60 amp which can quickly and easily create authentic guitar tones. But the best thing about this amp is it recieves wireless signal from the G10 Wireless Transmitter, which also comes with this pack – you don't need a guitar cable! An absolutely great set up for the live (and living room) guitarist. – Mark O'Sullivan
Visit Yamaha to find out more: https://www.yamahamusiclondon.com/Maverick-Deluxe-Electric-Guitar-Pack/pidMAVERICK-GAES1500BOST
 Beginner Fiddle Pack
Price when reviewed: £379
If you're thinking about giving fiddle-playing a go, this pack will ensure you get the best possible starting point with everything you'll need to play and make great progress on the instrument. Even though it's an entry-level instrument, Yamaha's V5SC violin is very high quality and produces a rich, resonant sound – and it's built to have great tuning stability and intonation. I love the fact that this pack has everything included – the Fom shoulder rest makes sure you'll feel comfortable holding and positioning the instrument and allows you to learn more easily. This is a great pack has all the vitals that a beginner violinist will need for the best possible start – highly recommended! – Nikki Mackenzie
Visit Yamaha to find out more: https://www.yamahamusiclondon.com/Maverick-Beginner-Fiddle-Pack/pidMAVERICK-KV5SC44
 Deluxe Electric Fiddle Pack
Price when reviewed: £949
This has to be the most unique looking electric violin on the market at the moment! Electric violins are usually cheap affairs – but Yamaha's YEV-104 is stunning! Yamaha have created a möbius strip from real wood for its frame and it looks incredible. Handily, this pack comes with all the gear you'll need to get the most out of the YEV-104. This is a violin designed to be amplified and the included THR5A amp allows you to use a whole host of effects to create some really stunning sounds. The VC97 case is rugged and hard wearing and fits the YEV perfectly. If you want to practice silently, then just plug the headphones into the amp – allowing to play at any time of day. A lot of fun indeed! – Nikki Mackenzie
Visit Yamaha to find out more: https://www.yamahamusiclondon.com/Maverick-Deluxe-Electric-Fiddle-Pack/pidMAVERICK-KYEV104BL
 Deluxe Piano Pack
Price when reviewed: £1,349
I love this 'P-255' portable piano from Yamaha. It's the flagship of their portable piano range and it really feels like playing a true, acoustic piano! The white keys are covered in synthetic ivory whilst underneath, a fully-weighted and graded piano action replicates a piano key's movement. Yamaha have captured the sound of their world-class CF Series grand pianos and included that sound in this model. It's a beautifully rich, warm piano sound that I could happily play for hours. It's compact too – making it easy to fit into the home but also easy to move if you're a gigging musician. Yamaha have created the ultimate deluxe pack – it comes with a sturdy stand, 3 pedal unit (the middle pedal is a 'Sostenuto' pedal, if – like me – you were wondering), piano stool and headphones. I highly recommend this pack to anyone looking for the most realistic and versatile portable piano they can get.  – Nikki Mackenzie
Visit Yamaha to find out more: https://www.yamahamusiclondon.com/Maverick-Deluxe-Piano-Pack/pidMAVERICK-NP255BUK

 Beginner Keyboard Pack
Price when reviewed: £369
As a beginner keyboard, Yamaha's new PSR-E453 is a cut above other entry level keyboards in terms of sound and capabilities. Keyboards always have lots of sounds (750 in this case) but these are really high quality and you've got synth-style controls to shape the sound. On top of the 200+ backing accompaniments ('Styles' in Yamaha-speak), each has 2 variations and there are 25 DJ Patterns to explore. I was impressed to discover that the PSR-E453 has a built-in audio interface so recording MIDI and audio to your Mac, PC or iPad is as simple as plugging in a USB lead – making this a great keyboard for music coursework or building a small home studio around. I've found it easy to use, versatile, and – with it's sleek black chasis – it looks and feels like a much higher priced instrument. This packaged includes a sturdy stand, official Yamaha sustain pedal and a good quality set of headphones – this is great value for money. – Gary Hopkins
Visit Yamaha to find out more: https://www.yamahamusiclondon.com/Maverick-Beginner-Keyboard-Pack/pidMAVERICK-SPSRE453UK
 Beginner Drum Pack
Price when reviewed: £579
This is the perfect entry level electronic kit bundle. It's easy to put together even for someone not mechanically inclined (such as yours truly) – everything uses a drum tuning key and involves tightening and loosening…no other tools are required. The heart of the drum kit, the DTX400 module, has ten different 'custom' kits that can be chosen for different sounds or genres. I'm a beginner and they already sound great. The module includes a training mode, an internal metronome and handily, an Aux In connection – letting me quickly plug in my iPhone and jam along with my favourite albums. I had great fun learning on this kit – you will too! – Pars Evrenos
Visit Yamaha to find out more: https://www.yamahamusiclondon.com/Maverick-Beginner-Drum-Pack/pidMAVERICK-JDTX450KUK
 Deluxe Drum Pack
Price when reviewed: £995
This is the acoustic kit to cut your teeth on – a workhorse for the progressing or gigging drummer. Yamaha's Stage Custom Birch excels in so many places similarly-priced drum sets do not. The drums deliver a pleasing sound accompanied by solid composition. For me, it's biggest selling points are its great resonance, reliable shell hardware and versatility. Through a PA sound system on stage, the birch frames really sing, with a large controlled sound that impressed our sound engineer. They truly live up to the name, belonging on a stage. – Pars Evrenos
Visit Yamaha to find out more: http://www.yamahamusiclondon.com/product.php?index_url=index&product_id=MAVERICK-JSBP0F5NW6W
 Home Recording Starter Pack
Price when reviewed: £499
I – like most studio engineers and producers – have vivid memories of trying to get to grips with home recording; if you don't have all the bits you need from the word go, it can be very confusing and frustrating. This pack from Yamaha and Steinberg aims to gives you everything you need to start laying down tracks easily. To my mind, it succeeds – not only does the UR22 audio interface (the 'hub' of the setup) come packed with free software for your Mac, PC or iPad to help you record and mix your material, but the pack also includes HS5 monitor speakers (firm favourites amongst home and studio musicians), a solid-quality studio microphone and headphones. Everything you need to jam out your tracks! – Bradley Cameron
Visit Yamaha to find out more: https://www.yamahamusiclondon.com/Maverick-Home-Recording-Starter-Pack/pidMAVERICK-46261
 Beginner Piano Pack
Price when reviewed: £383
What great value – if you're looking for a piano that won't take up too much space (but still sounds and feels like it should do), I highly recommend this pack. It includes Yamaha's superb P-45 digital piano – full length and fully weighted, so it's fine to learn on – along with a fold-up stand and headphones. When you're learning, the ability to control the volume or play through headphones in can't be understated. The inbuilt metronome is a great bonus too, especially when you're practicing with headphones. It also only needed one cable to plug in to my laptop – just one cable and I'm ready to record! – James Richards
Visit Yamaha to find out more: https://www.yamahamusiclondon.com/Maverick-Beginner-Piano-Pack/pidMAVERICK-NP45BUK