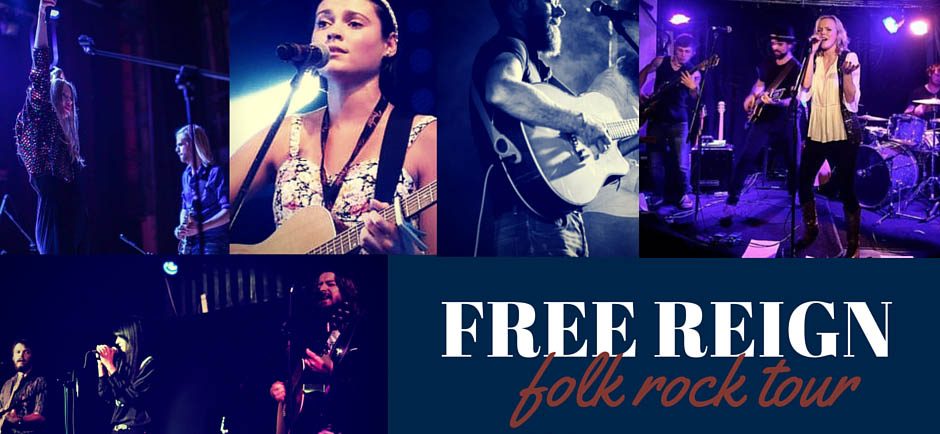 ---
Jimmy Hendrix playing the American national anthem at Woodstock. Freddie Mercury belting his heart out at Live Aid. The Beatles on the Ed Sullivan Show. Music is one of those great things that can bring people together. Often attributed to fans and music lovers alike but, on this occasion, it also means the artists. This is the ethos of Free Reign.
The brainchild of several bands that have crossed paths on the UK music scene these past few years, this tour aims to bring some of the UK's hottest emerging groups and performers to a stage near you – on the same night! Each of these bands have been paving their own way, garnering interest with extensive radio play, record sales and media coverage.
Free Reign has its roots in a one-off show at Cheltenham's Frog & Fiddle venue in July last year. Local bands Harpers Ferry, Two Ways Home, The Black Feathers and Gypsyfingers, combined forces to showcase the area's burgeoning roots music contingent. The evening was a great success so we thought we'd reconvene – along with many others – to take this idea on the road.
Encapsulating the spirit of your favourite music festivals, you won't have to wait until mid-summer to witness a succession of fine musicians taking to the stage in that rarefied atmosphere of camaraderie and shared ambition.
Seven nights, seven major UK music hubs, the Free Reign tour will bring you a revolving line-up of four bands per night, each delivering their fine songs and musicianship in their own inimitable style.
Harpers Ferry
Fresh from three years on the UK gig circuit, including appearances at the Pheonix Festival and the Moseley Folk Festival, Harpers Ferry – the only band that will be appearing on every night on this tour – have a new sound and augmented lineup in 2016. The familiar trio of Ben Harvey, Pia Varma and Christopher Rayner, now come complete with rhythm section as Anthony Collins (drums) and Simon Frankton (Bass) join the band in an effort to fully realise the carefully constructed arrangements which has been a signature of their recent and forthcoming studio releases.
Two Ways Home
Vocalist and multi-instrumentalist Lewis Fowler from the tiny Cotswold village of Draycott, Oxfordshire and vocalist, ukulele and autoharp specialist Isabella Mariee, who was born in Vienna, Austria, founded Two Ways Home. Growing up on a diet of Simon and Garfunkel, Prince, Led Zeppelin, Ray Charles and Stevie Wonder to name just a few, the music future of Two Ways Home was never a sure thing. However as the vocal harmonies of Lewis and Isabella combined for the first time destiny took a hand.
Gypsyfingers
Gypsyfingers is cinematic folk/pop/ rock duo, Luke Oldfield and Victoria Coghlan. The duo toured last year in Poland and have supported James Blunt. They are currently working on heir second album at Luke's studio, Tilehouse studios.  For the free reign tour they will be playing an acoustic set featuring new songs, a stripped back version of their first and second album without the full band.
Hattie Briggs
Gloucestershire based singer-songwriter Hattie Briggs played over 100 gigs in 2015, including 3 tours – a UK support tour, a headline tour and a tour of the Netherlands.  Her debut album RED & GOLD, released early 2015, is soon to be followed by her second, and this gig at Ten Feet Tall will be part of her 40 date UK wide 2016 YOUNG RUNAWAY showcase tour.
Quigley
Since forming in 2014, Cheltenham based Quigley has featured on Radio One Extra and the single Follow You topped the iTunes independent artists' chart for a few weeks during 2014. Quigley has since performed at several major festivals including Barn on the Farm, Underground and SportBeat, alongside other artists such as Jack Garrett, James Bay, Raleigh Ritchie, Hozier and Razorlight.
Lya Stewart
Lya has been performing original music since the age of 15, first as a solo artist and in acoustic combos. In early 2013 she started looking for a more complete sound and after going through a number of line ups her band (then called 'Not Taken' was formed with Christopher Rayner – Lead Guitar, Nick Cafearo -Bass and Ben Thould -Drums).
Edd Donovan and The Wandering Moles
Edd Donovan is a highly distinctive, indie folk songwriter. "A natural storyteller and reflective lyricist" (Maverick Magazine); he has a rare, original talent. Originally from the North of England, he has made his home in Cheltenham. He has a collective of remarkable musicians around him called The Wandering Moles.
Emily Faye
Singer-songwriter, Emily Faye grew up in the english countryside of Northamptonshire. Her music combines her angelic vocals with strong catchy melodies and influences of the country, pop, rock and folk genres. Now based in London with her band members, Patrick Weeks, Jake Jason Read, George Willetts and Jonny Postlethwaite, together they have played prestigious London venues such as The Bedford, The Underbelly and the Shepherds Bush O2 Empire.
Red Raye
Red Ray is a Bristol-based Indie Country band of four. All self-taught and musically adept, this quartet consists of Newcastle-born Ray Lannon (Lead Vocals & Guitar), Berwick-born Cameron Cheek (Harmonies & Lead Guitar), multi-national Stewie Passmore (Bass), and Italian-sensation Giuseppe La Reza (Drums).
Katie Collins
Katie is an acoustic singer-songwriter who is originally from London & Essex but for now calls Cheltenham, Gloucestershire her home. After a few local gigs and a one off performance in Barcelona, she is starting to find her feet as a gigging musician. With a few gigs lined up, including supporting Beans On Toast, and Wychwood Festival, she can't wait to get more involved with the Cheltenham music scene.
Mon May 2: Bristol, Mr. Wolf's
Thu 5: Oxford, The Cellar
Fri 6: Cardiff, Ten Feet Tall
Thu 12: Birmingham, The Roadhouse
Fri 13: Bath, St. James Wine Vaults
Fri 20: Cheltenham, Frog & Fiddle
Thu 26: London, Zigfrid Von Underbelly
www.facebook.com/freereigntour
www.twitter.com/freereighntour
---