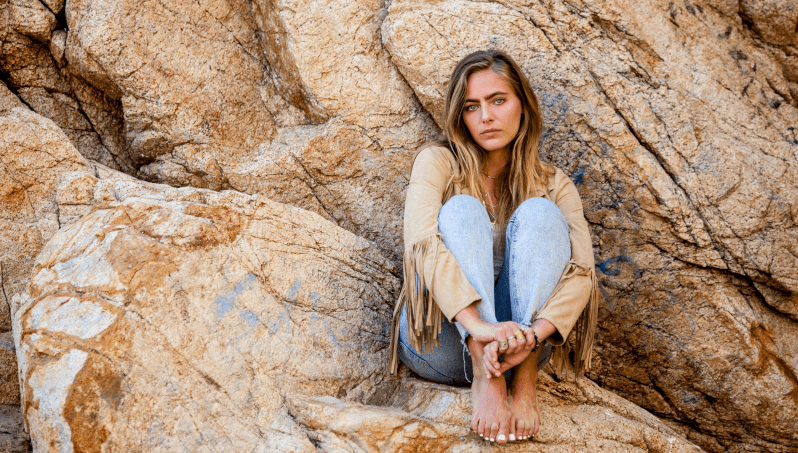 Feature: 60 seconds with Lauren Jenkins
4 September 2019 Featured Features news
---
Ahead of her UK and Europe tour – including a slot at Long Road Festival – Maverick sat down with Lauren Jenkins, who is very excited about her upcoming dates
How are you feeling about your upcoming European tour?
Are you kidding?! I'm so excited!!
You're performing at The Long Road, but for people who haven't seen you before, what might they expect from your set?
Something very, very honest. It all depends on how they are feeling as to what songs I play – if they are up for a very introspective song, then that's what they will get and they might cry. Or if they just want to have a good time, then that's what it will be.
It's been a busy festival year for you in the UK, with C2C as well – do you feel you've left a lasting impression over this side?
I think so. I had some fans from the UK and Europe who came to my shows in England who were at CMA Fest and I was shocked that they were there. They came over at CMA Fest, came to my shows and they are going to be there again when I'm there in September, so I know there will be a lot of familiar faces that were on my journey.
At C2C, they gave me a shout that they are going to be the shows in September, so I think that's a really positive sign. A couple of the headline shows are sold out or are close to selling out, so that's also crazy. I think something worked when I was there in March.
From your experiences, how would you say European audiences are different to American ones?
I love playing anywhere, but there is something about the European audience that just feels like they genuinely really respect music and also do their research.
I'm a huge lover of music, so if I go to a show, I will look up the opener and listen to their back catalogue so that I'm familiar with the music and I thought that was something that only I do, but when I got over there, people were singing songs that were deep cuts and songs that America has had access to for a long time, but nobody really knows.
They knew them and they knew all the lyrics and I was blown away. I just think there's a different level of appreciation – and maybe for art at all levels, I feel with the European audience – and that's a really big thing.
Most of the time over here in America, you have to work really hard to earn a crowd's attention and over there, I felt like everybody was in a party with me from the moment that I walked on stage, which is an overwhelming feeling.
It's only a brief European tour, can we expect to see you back anytime soon?
Absolutely, 100%! Like literally, maybe two months later…I mean probably not, but fingers crossed!
You can buy tickets for Lauren Jenkins' tour here and you can read a full feature with Lauren in the upcoming September/October issue of Maverick, which is available very soon
---