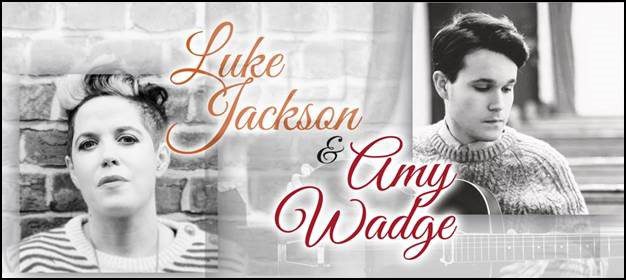 Acoustic Roots singer joins Ed Sheeran co-writer on tour
13 December 2017 Tour News
---
Sometimes unlikely performing partnerships just work – and fizz! That is undoubtedly the case with acclaimed young singer songwriter Luke Jackson who will join forces for the fourth time with Cardiff's Amy Wadge for what promises to be a dazzling double header UK tour in the new year.
Between January 17-February 4, Luke will tour England and Wales with Amy, known for her winning songwriting collaboration with Ed Sheeran. She and Sheeran, having reached No 1 in the official UK chart withThinking out Loud which went platinum, won the coveted Song of the Year at the 2016 Grammys. The global smash hit was the first song to celebrate a whole year in the Top 40.
Jackson, a widely acclaimed, BBC award-nominated 23 year-old singer songwriter, says: "The tour with Amy is becoming our favourite way to start the year. 2017 started with my third tour with Amy. It was the best yet- we played to large, enthusiastic audiences and had a great time and I think the 2018 tour will be even better".
Amy sings on the Finding Home track on Luke's most recent studio album Tall Tales & Rumours. Variously likened to Richard Thompson, Jeff Buckley, Martin Simpson – and even Kent's answer to Rufus Wainwright – Jackson has rapidly made a name for himself on the acoustic roots scene with an outstanding voice, songwriting skills and stage presence that completely belie his years.
The Canterbury musician's remarkable 2012 debut album More Than Boys triggered a double nomination at the 2013 BBC Radio 2 Folk Awards (Young Folk Award and Horizon Award for Best Emerging Act) and just 18 months later he fulfilled all the promise heaped upon him with his second album Fumes and Faith, with the accolades coming thick and fast.
A belting blues and roots-infused album it showed how quickly and skilfully he had honed his craft. Sparse and stripped back with a wealth of narrative songs it received widespread airplay and accolades across BBC Radios 2,3 and 6, showing the limitless appeal of his ever developing music.
In 2015 the prolific songwriter released his third album, revealing his new trio in This Family Tree – Andy Sharps on bass and Connor Downs (percussion). The punchy seven track EP of finely observed original numbers was released on Luke's own new label, First Take Records, and this was followed by the acclaimed Tall Tales & Rumours in 2016.
In 2017 Luke has had another successful year which included a return to the Kansas Folk Alliance with the British contingent – see him appropriately singing his song Kansas www.youtube.com/watch?v=LO4_H2P_SG0
Joining forces with Amy Wadge presents an exciting start to 2018 – a 13 date tour taking in London (Green Note) and their home towns of Cardiff and Canterbury.
Described by Bob Harris as "an irresistible, riveting performer" Amy is widely regarded as one of the country's most successful female singer songwriters.
Her Thinking Out Loud co-write with Ed Sheeran became the biggest selling UK album of 2015. www.youtube.com/watch?v=lp-EO5I60KA.  Amy has worked with Sheeran since he was 17 (his first EP was entitled Songs I Wrote With Amy) and she co-wrote some of the songs on his latest album Divide.
With great vocal range in her emotive songs she has twice won the Best Solo Female Artist title at the Welsh Music Awards, ahead of Charlotte Church in 2002 and Cerys Matthews in 2003. In 2016 she won two awards at the ASCAP (American Society of Composers, Authors and Publishers Awards) – Song of the Year and Top Digital Song.
A gutsy performer with a voice that is "tough but tender" she has supported some of the world's great artists – Van Morrison, Damien Rice, Eric Bibb and Jeff Beck – and has seven album releases to her name. In 2015 she unveiled her first solo release in six years – the EP Recovery – and her most recent EP, No Use Crying Over Spilt Milk – includes her own version of Thinking Out Loud.
Amy, who now has a home in Nashville, has had a busy 2017 on both sides of the Atlantic working with numerous performers including Kylie Minogue, Gary Barlow, Dixie Chicks, Carrie Underwood, Kacey Musgraves and Dan Tyminski.
Luke and Amy will perform separate sets as well as joining forces for certain numbers on this tour which showcases two generations of stand-out songwriters. Full tour details follow www.lukepauljackson.com/www.amywadge.com
---