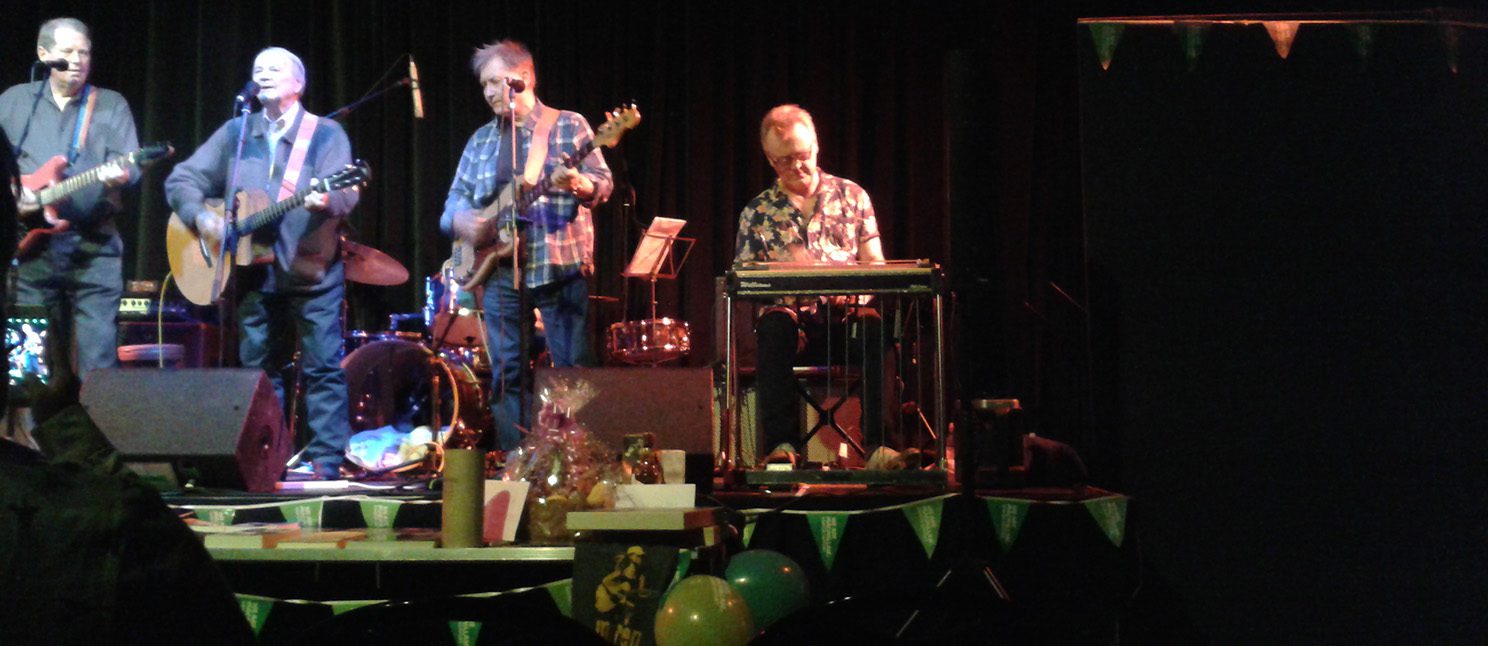 Alan Cackett's 50th Anniversary in Music: a Celebration
14 October 2016 Live Reviews
---
Exchange Studio, Maidstone
September 30, 2016
Alan Cackett is an iconic figure in the music world and his encyclopaedic knowledge of country music is unrivalled. Alan's passion began with an innocent record collecting hobby. By September 1966, he was editing and producing two magazines and ever since has been involved in promoting tours, organising festivals, magazine publishing/editing, music writing and is well known to 'Maverick' readers as former editor, radio presenter and for his enthusiastic promotion of live music. So it was fitting that an invited audience packed the Exchange Studio for a nostalgic evening of country music presented by Bob Harris and Roger 'Twiggy' Day.
The evening opened with a short set of well known country numbers from the Kevin Duffy Band who were joined by special guest Ray Duffy of the legendary Duffy Brothers. Sarah Lucy Dole, with daughter Chloe and guitarist Anthony Coote gave us just three numbers before family band Rich Pickin's came up with a set of acoustic country and bluegrass. Then it was the wonderful Haley Sisters. Jo-Ann and Becky with their amazing guitarist Brian Smith, who have been harmonising beautifully for nigh on thirty years and if I had to pick out a highlight, The Last Thing on My Mind was simply sublime; classic country. International super star Gail Davies flew in from Nashville especially for the evening and after cobbling together Dave Luke (mandolin, guitar), Clovis (bass) and the legendary B. J. Cole (steel) at ridiculously short notice, delivered a superb set which included my favourite Gail Davies number Someone is Looking for Someone Like You. The Jonny Young Four featured in Alan's first venture as a promoter in 1969. Long since retired and now looking rather frail, Jonny was clearly suffering from a sore throat but willingly agreed to do one last show. Alan was overcome with emotion as JY and his band plus B. J. Cole rolled back the years with the likes of Streets of Baltimore. Two of our undiscovered treasures, Alan West and Steve Black with guitarist Adam Sweet drove from the West Country to reminisce over their 25 year association with Alan. Missing My Woman, 'Blackies' song about life on the M25 seemed appropriate. It was left to the fully electric Porridge Band to close the evening as they rocked us out with When Will I be Loved before all the performing artists were welcomed back to the stage for a hand clapping finale of Will the Circle be Unbroken.
During the evening tributes were read out with video messages from the likes of Gretchen Peters, Suzy Bogguss, Matraca Berg, Kimmie Rhodes et al, all of whom have had their careers influenced by Alan; a wonderful evening and a fitting tribute which also raised around £2,000 for Macmillan Cancer Support.
John Roffey
To donate please see here: https://www.justgiving.com/fundraising/Alan-Cackett
---