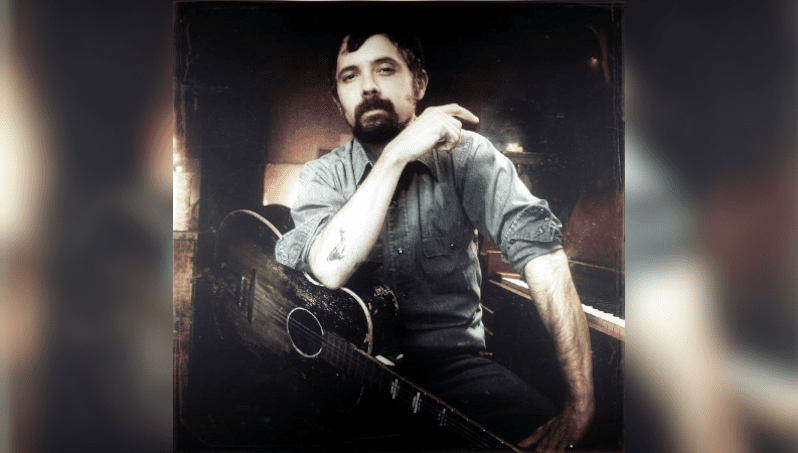 Album Review: Felix Hatfield – 'Boundaries'
28 May 2019 news
---
Felix Hatfield
BOUNDARIES
Self-released
****
Unadorned love songs delivered with the roots showing
Recorded in a basement in Portland, Oregon, 'Boundaries' features Felix Hatfield and an acoustic guitar on a set of deceptively simple songs about unrequited love. Hatfield, originally from Vermont, kind of tumbled his way to Portland some years ago believing that in a past life he was an Oregon outlaw and that he could now make amends living in what he calls, "The mossy side." Calling himself a creative enthusiast and a romantic humorist, he paints and sculpts in addition to being a songwriter and on the evidence here he is excels in at least one of these fields.
There's evidence here of his admiration for old folk blues artists such as Gus Cannon and Uncle Dave Macon in the playing and arrangements but there's also a wonderfully absurdist sense of humour and pathos in the lyrics, all capped by Hatfield's fine hangdog voice. Casting around for a comparison the best bet is to consider Hatfield as existing in a universe not a million miles away from that supreme exponent of cartoonish weird folk, Michael Hurley.
The Hurley comparison is apt as a song such as Roll On sounds like a lost Hurley song down to the guitar playing which just about apes Hurley's style. The lyrics also recall Hurley but it takes real talent to write like that and Hatfield manages this without ever breaking sweat. There's joy to be had in just surrendering to the sound of these plaintive laments but the words deserve attention throughout.
All of the songs here relate to a woman, a muse who has Hatfield variously reminiscing, apologising, pleading and debasing himself. Boundaries, the opening song, set to piedmont blues picking, sets the scene as Hatfield lays out his romantic conflicts, his boundless love for a woman who only quite likes him along with a host of others. It's a lengthy song, almost seven minutes, but it encapsulates his dilemma which he goes on to examine in the following songs.
I Love You Blues is a good old fashioned folk blues country song (with Hatfield adding harmonica to the mix) which is miserable in the best Hank Williams way while The Day I Cried In Your Car is a tremendous and tremulous account of an encounter with his gal at a gig (and which wittily references the previous song). Once again this results in an impasse, his yearning, her indifference, all packed away into Hatfield's memories as he sings, "Like every day with you, that day was a painting by Renoir/more wonderful artwork to hang in my dreams, the day I cried in your car."
While this romance might not be going anywhere Hatfield can recall and fantasise with the closing songs intimate and sensual. Take Care Of That Ass Darlin' finds him reminiscing of their intimate moments and hoping for a rematch although the song is suffused with ennui. Lioncasts him as an alpha male who just wants to, "Sink my teeth in like I used to do. It don't have to be love for it to be true," but the closing Sex Addiction finds him as confused as ever. Here he pines so much he's forgetting daily chores but he's also wary of getting back together fearing that he's just another notch on her stick.
'Boundaries' is an almost perfect collection of ruminations set to magnificently spare arrangements and is highly recommended.
Paul Kerr
---