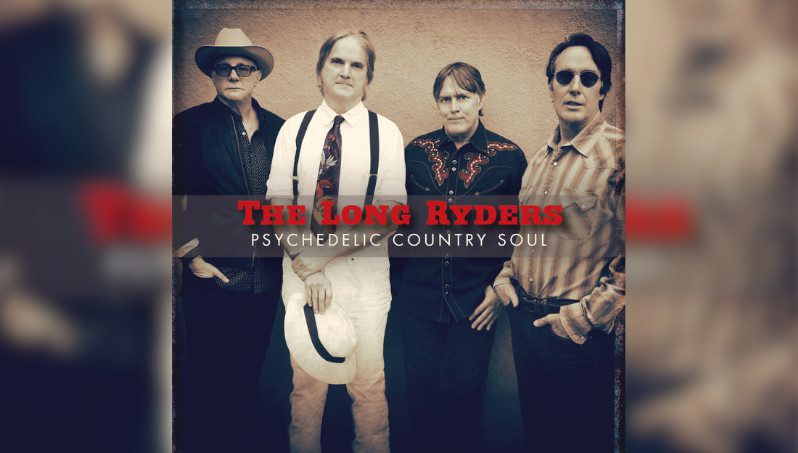 Album Reviews: The Long Ryders – 'Psychedelic Country Soul'
4 April 2019 CD Reviews news
---
Long Ryders
PSYCHEDELIC COUNTRY SOUL
Cherry Red Records
****
Country-rock as it should be
First album in more than 30 years and The Long Ryders gallop back as if nothing has changed. And indeed, it really hasn't. It's the same line-up – Sid Griffin, Stephen McCarthy, Greg Sowders and Tom Stevens – and it's the same producer, Ed Stasium (Ramones et al) who directed their last set, 1987's Two-Fisted Tales.
There are twin guitars – plenty of 12-string – leading the charge of rocking, rolling country of that Byrds-meets-the-Clash variety, LA with the spirit of London Town, that was so spine-tingling. And it's all done with an element of elegance, an air of country gentlemen, that makes it all more beguiling than ever.
Starting with the freewheeling Greenville, it's a set of 11 new songs plus a cover of Tom Petty's Walls. And while the latter might be a tribute to a huge star, what's difficult to understand is how The Long Ryders didn't end up as big as Petty in the first place.
It's irrepressible – the pop of Griffin's Molly Somebody, the punk-tinged exhuberance of What The Eagle Sees, the gentle, acoustic Bells Of August and more.
There are touches of the Beatles here in the harmonies and the at times delicate guitars – and particularly the closing title track, a six-minute swirling country-pop anthem with its glorious hints of Eastern mysticism.
A masterful return from one of the great names in country-rock.
Nick Dalton
---