Amelia White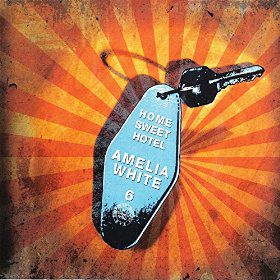 HOME SWEET HOTEL
White-Wolf Records
[usr 4]
Gritty and melodic set from Nashville singer-songwriter
Amelia White's voice has the craggy, jagged grit and pain of Lucinda Williams at her best but it also has a sweetness that Ms Williams doesn't possess. Allied to White's gift for melody, some mighty fine playing from her musicians and songs that can go toe to toe with anyone and you have an album that, even this early, is going to be one of the best of the year.
White has been making music for 15 years or so and this is her eighth outing (at least, it's a bit vague). Her experience of life on the road described in the title track, encapsulates her greatness. A subject that's been done to death and one rife with clichés, it's basically a complete no-no for a writer. But, over some fuzzy guitar and a hooky tune White avoids the pitfalls, avoids the self-pity and makes something new. 'It can bring you down, it can bring you round' she sings, a sentiment that's universal. It's the same story with Rainbow Over The East Side, which is about Nashville but could be anybody's hometown. Elsewhere, the sultry Right Back To My Arms has echoes of classic country a la Patsy Cline and the lashing of gossips in Dogs Bark raises a smile.
Every song opens with a melody that gets you from the off, every tune drives the words into the consciousness. The musical pace is steady, there's no rocking out, no funereal dirges, things never drag or race by, they're just… right. A great start to the year.
Jeremy Searle
http://www.ameliawhite.com