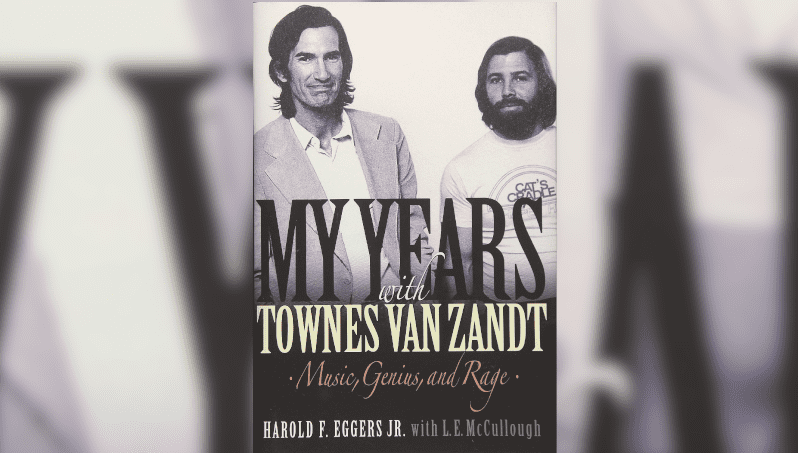 Book Review: 'My Years With Townes Van Zandt: Music, Genius and Rage' by Harold F Eggers, Jr
28 February 2019 news
---
Harold F Eggers, Jr
MY YEARS WITH TOWNES VAN ZANDT:Â MUSIC, GENIUS AND RAGE
Backbeat Books
Townes Van Zandt, one of country's most enigmatic songwriters, was a curious character and that's never been in doubt. A character in turmoil whose well-spoken gentlemanly charm was in sharp contrast with his intake of drink and drugs.
He died on New year's Day 1997 from heart problems caused by decades of self-abuse, aged only 52, yet the creator of songs that sold millions of copies, but only by other artists. There's Pancho And Lefty (a No. 1 for Willie and Merle) and If I Needed You (a top 10 hit for Emmylou Harris and Don Williams) for starters, with many more such as For The Sake Of The Song, honoured by others (not least our own Danny and the Champions of the World).
Yet what has never before been documented quite so profoundly – and sadly – is the true depth of Townes' internal pain. This book comes from the inside looking out, Eggers ("H" as Townes knew him), the artist's long-time road manager and in his later years, business partner.
While the tragic tale of the downfall of a genius, the book is also full of laughs, able to chronicle Townes' knife-edge switches from cheeky schoolboy to demented depressive.
For every pained story of the problems caused by his teenage electric shock treatment to stem his rebellious personality, there's one of madness on the road as he and H fled gangster club bosses, climbed out of windows and high-tailed it across the US like something from a silent comedy film.
The road heads from Austin to Nashville and all the way to the UK (he worked with Brit country-rock artist Michael Weston King, recording his song Riding The Range with his then band, the Good Sons) and back.
It's the story of a poet and a performer never quite able to live with himself, leaving others to live with those conflicts instead. Sad, beautiful – and laugh a minute.
Nick Dalton
---