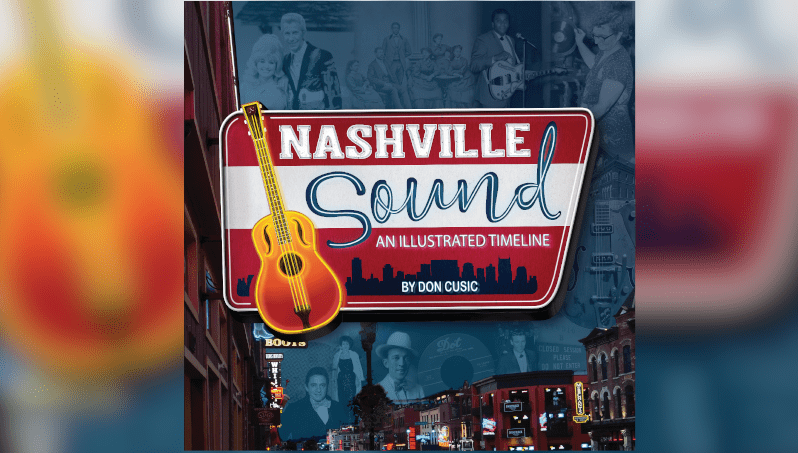 Book Review: 'Nashville Sound: An Illustrated Timeline' by Don Cusic
6 December 2018 news
---
When you live in Nashville, there is a certain pride that comes with residing in the cradle of music civilisation.  In Don Cusic's new book "Nashville Sound – An Illustrated Timeline", you learn the history of this city and see the people and places to reinforce those stories!
I personally know Cusic as a Professor at Belmont University in Nashville, plus he has penned books on Hank Williams, Eddy Arnold and Hank Williams.  In his spare time, Don composed hit songs for Ray Stevens, Jim Ed Brown and Bobby Bare.
This hardbound book might be considered a coffee table book, but only in weight and size.  It's stories and Nashville insider information make it much more and provide the background of why the city is really known as 'Music City U.S.A.'
Besides enjoying the historical images and guitar photos, I also came away with a more profound knowledge and appreciation than I had before. In the first few pages, we learn of the American historical figure Davey Crockett who was a fiddle player, a Tennessee Congressman and someone who fought at the battle of the Alamo.
The Fisk Jubilee Singers help put Nashville on the map as they toured the country to raise funds supporting Fisk University in the late 1800s.  WSM Radio, one of the most famous country music stations in the world and still broadcasting today, launched in 1925 thanks to National Life and Accident Insurance Company.
We learn details on luminaries of the Grand Ole Opry such as Roy Acuff and Bill Monroe joining in 1938 and '39.  Chet Atkins quit the Opry back in 1946 after being taken off Red Foley's radio show.  Of course, in later years Atkins helped define Nashville music as a record executive himself!
Who can speak of or visit the Music City without mentioning Ernest Tubb Record Shop, which originally opened in 1947?  Pat Boone got his start as a part-time radio DJ at WSIX while still singing songs and winning talent contests.  The First Disc Jockey Convention was held in Nashville in 1952 to showcse the DJs who had become Stars.
Elvis Presley made the shift from Memphis, TN to Nashville in 1956 thanks to a new deal with RCA Records in town.  Buddy Holly followed suit by recording there 15 days later.  Tootsie's Orchid Lounge, still a popular destination on Broadway, has a two-page spread in the book since it was and is a place that singers/songwriters' hangout with a backdoor facing the Ryman Auditorium.
Brenda Lee, a country star that still performs on the Opry, is mentioned for her string of hits with famed producer Owen Bradley.  Someone who symbolised Western Music for many years and hosted the Opry, Porter Wagoner, launched his television show from 1960-64.  Johnny Cash, Willie Nelson, Dolly Parton and Charlie Pride also have places in Cusic's book.
Glen Campbell was a well-known session musician and songwriter in town that eventually became a radio and TV star.  What Don Cusic has done so well with this book "Nashville Sound – An Illustrated Timeline" is connect the dots with the artists, record labels and producers through each decade.
If you're a fan of Country Music or Nashville this book won't disappoint it may provide some ideas for your next visit to Music City U.S.A. also?
Eric Dahl
---