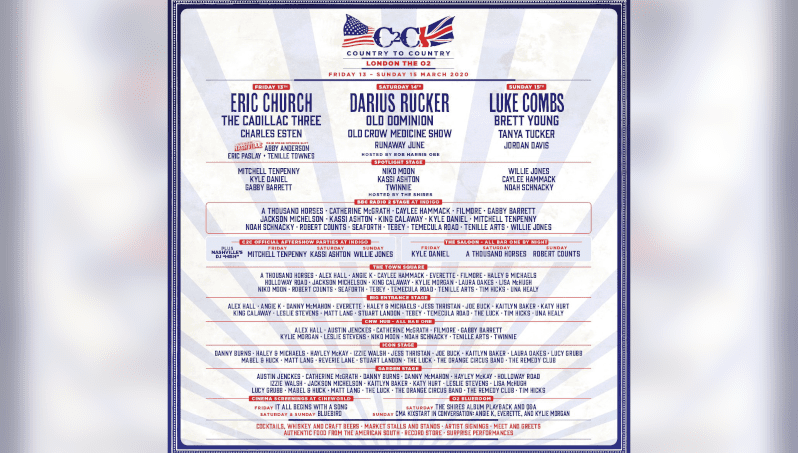 Catherine McGrath, Tenille Arts, Austin Jenckes and Katy Hurt announced in full C2C 2020 line up reveal
---
The rest of the C2C 2020 line-up has been revealed, with the likes of Catherine McGrath, Austin Jenckes, Tenille Arts and Katy Hurt being announced. Tickets are available here.
The names for the Town Square, Big Entrance CMW Hub in All Bar One, Icon Stage and the new Garden Stage have all been announced and there are some big names on the list, as well as a raft of up and coming artists from both the UK and the US.
There will be additional sets from some of the Spotlight Stage artists too, with Twinnie, Niko Moon, Kyle Daniel, Mitchel Tenpenny, Gabby Barratt and Caylee Hammack all doing more than one performance over the weekend, while of course Kassi Ashton, Tenpenny and Willie Jones will be doing the C2C official aftershow parties at indigo.
Also, The Shires will be in attendance in some capacity, as they will be hosting the Spotlight Stage on the Saturday in London, while there will also be a special album playback and Q&A in the O2 Blueroom.
The full lineup for C2C 2020 is as follows:
Main Stage (headliners in italic)
Eric Church, The Cadillac Three, Charles Esten, Abby Anderson, Eric Paslay, Tenille Townes, Darius Rucker, Old Dominion, Old Crow Medicine Show, Runaway June, Luke Combs, Brett Young, Tanya Tucker, Jordan Davis
Spotlight Stage
Mitchell Tenpenny, Kyle Daniel, Gabby Barratt, Niko Moon, Kassi Ashton, Twinnie, Willie Jones, Caylee Hammack, Noah Schnacky
BBC Radio 2 Stage at indigo
A Thousand Horses, Catherine McGrath, Caylee Hammack, Filmore, Gabby Barrett, Jackson Michelson, Kassi Ashton, King Calaway, Kyle Daniel, Mitchell Tenpenny, Noah Schnacky, Robert Counts, Seaforth, Tebey, Temecula Road, Tenille Arts, Willie Jones
C2C Official Aftershow Parties at indigo
Mitchell Tenpenny, Kassi Ashton, Willie Jones, DJ Hish
The Saloon – All Bar One by Night
Kyle Daniel, A Thousand Horses, Robert Counts
Town Square
A Thousand Horses, Alex Hall, Angie K, Caylee Hammack, Everette, Filmore, Haley & Michaels, Holloway Road, Jackson Michelson, King Calaway, Kylie Morgan, Laura Oakes, Lisa McHugh, Niko Moon, Robert Counts, Seaforth, Tebey, Temecula Road, The Luck, Tim Hicks, Una Healy
Big Entrance Stage
Alex Hall, Angie K, Danny McMahon, Everette, Haley & Michaels, Jess Thristan, Joe Bucks, Kaitlyn Baker, Katy Hurt, King Calaway, Leslie Stevens, Matt Lang, Stuart Landon, Tebey, Temecula Road, The Luck, Tim Hicks, Una Healy
CMW Hub – All Bar One
Alex Hall, Austin Jenckes, Catherine McGrath, Filmore, Gabby Barrett, Kylie Morgan, Leslie Stevens, Niko Moon, Noah Schnacky, Tenille Arts, Twinnie
Icon Stage
Danny Burns, Haley & Michaels, Hayley McKay, Izzie Walsh, Jess Thristan, Joe Buck, Kaitlyn Baker, Laura Oakes, Lucy Grubb, Mabel & Huck, Matt Lang, Reverie Lane, Stuart Landon, The Luck, The Orange Circus Band, The Remedy Club
Garden Stage
Austin Jenckes, Catherine McGrath, Danny Burns, Danny McMahon, Hayley McKay, Holloway Road, Izzie Walsh, Jackson Michelson, Kaitlyn Baker, Katy Hurt, Leslie Stevens, Lisa McHugh, Lucy Grubb, Mabel & Huck, Matt Lang, The Luck, The Orange Circus Band, The Remedy Club, Tim Hicks
O2 Blueroom
The Shires album playback and Q&A, CMA Kixstart in conversation: Angie K, Everette, Kylie Morgan
---