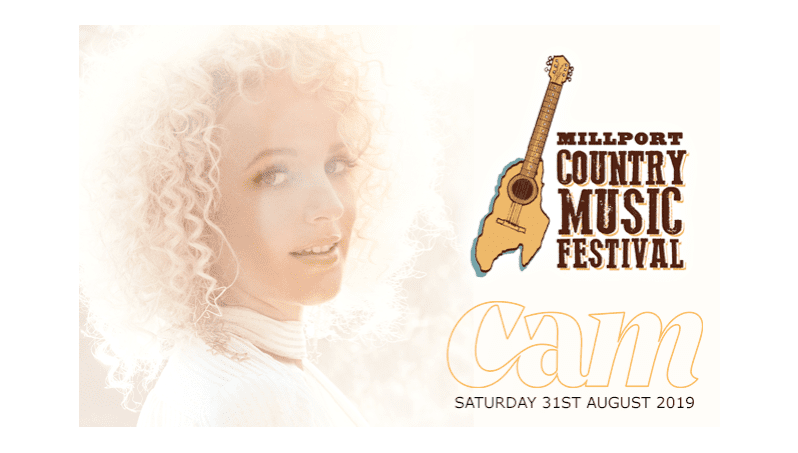 Cam to return to Scotland to headline Millport Country Music Festival 2019 on August 31
30 April 2019 news
---
Millport Country Music Festival have announced that their secret headliner for the Saturday (August 31) will be none other than American artist Cam.
It's shaping up to be a rather busy summer for Cam on UK soil as she was recently announced for The Long Road Festival in early September, but in Scotland she will be taking to the stage as headliner.
Cam was last in Scotland for C2C 2019 as a Main Stage artist and to date, she hasn't properly toured north of the wall – only venturing into Scotland for C2C and now for Millport.
The Diane singer joins the likes of American Young, Lockeland, Remember Monday, Morganway, Jade Helliwell, Laura Oakes and many, many more.
There are still a number of names yet to be announced for Millport, with the festival organisers to drip feed the last remaining names to the public over the coming weeks.
Millport Country Music Festival takes place between August 30-September 1. Tickets are available here.
The Millport Country Music Festival lineup so far is:
Cam
American Young
Lockeland
Sydney Devine
Remember Monday
Sarah Jory
Laura Oakes
Danny McMahon
Hotel Caledonia (Eagles tribute band)
Izzie Walsh
Morganway
Gasoline & Matches
Jade Helliwell
Stevie O'Connor
Kezia Gill
Stuart Landon & Angels With Dirty Faces
Backwoods Creek
Kerry Fearon (from Keep It Country)
Simon James & The Deep River Pilots
The Scoundrels
Elaine Lennon
Zoee
Have Mercy Las Vegas
Carson City
James & Wood
Rick Lambert
Greyhound Express
Rodeo Stomp Disco
---