Casey James returns to his Texas Blues Roots on his latest album Strip It Down…
The Singer/Guitarist Casey James has only recently released his latest album, Strip It Dow, which was produced by Grammy-Winner Tom Hambridge & Features Guest Duet with Delbert McClinton.
 "All I want to do is play music," says singer/guitarist, Casey James. "Stripping it back to just me making a record of music that I love was a huge stepping stone in my life."
It's titled Strip It Down because it's exactly what Casey James did – shed off the layers of stylised artistic clothing that he'd been given in those other public ventures to find the real artist underneath, a guy with a convincing, smokey vocal quality and a burning, lyrical skill with a guitar.
Recorded at Sound Stage Studio and The Switchyard in Nashville, Strip It Down is a glorious return to the blues and roots music Casey James grew up on in his native Texas, and was a major influence in both his singing and guitar playing. "This music has been a lifetime in the making for me," Casey says. "If you listen close enough, you can hear my heartbeat; the thing that keeps me alive. It's all here. This album has been a healing process for me. To truly share my heart and passion with the world in an honest way is the best feeling I've ever felt."
Released June 9, Strip It Down sees a return by James who is familiar to many as a finalist on season 9 of "American Idol," – and identifiable still more as a country artist who notched a Top 15 single with "Crying on a Suitcase."
In Strip It Down, James collected 13 songs he'd written or co-written (plus a soulful take on Little Willie's John's "Need Your Love So Bad"), holed up in a Nashville studio with a trim, crackerjack band and hammered out the bulk of the album in a scant four days.
 "There are no tricks here; no auto-tune, no grid, no Midi adjustments," he proclaims proudly. 
Strip It Down folds-in a variety of styles, all connected directly to that blues base. Casey announces his roots entry with the dramatic blues/rock of the opening track, "All I Need." Then, Grammy-winner Delbert McClinton joins him on a raucous bit of Texas roadhouse swagger titled "Bulletproof." From there, the album courses through the light country swing of "Stupid Crazy" (joined by Bonnie Bishop on vocals), the spacious old-school R&B of "Different Kind of Love," and the gutbucket closer "Fight You for the Blues."
Growing up in Cool, Texas, a dusty town 45 miles west of Fort Worth, his destiny was laid out for James at the age of 13, when he got his first guitar. It became a constant companion, a channel for his emotions, as the six strings lay easy in his hands.
"I got pretty proficient fairly quickly, but mostly because I couldn't put it down," James remembers. "I don't ever remember a time where practice felt like practice."
It was that natural. James formed a band and hit the Texas club circuit, a collection of venues just big enough that it can keep a musician going for years. The band was in such high demand that one year he played a staggering 364 days. Clearly, he was talented – and more than ready to work. He mixed a few originals in with cover songs, played a mean guitar and sang with conviction. But he was persuaded by a family member that a run on "American Idol" might put him on better financial ground.
 "I was at the best place in my life," he recalls. "I was gigging every day. But I was struggling to try and make enough money to make a real record. Had I not done 'Idol,' I probably would be still struggling, so I consider it a blessing."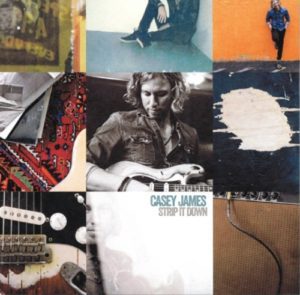 The next four years were a whirlwind, as James threw himself into promotion, meeting radio programmers, writing with some of Nashville's best composers and opening for the likes of Taylor Swift, Alan Jackson and Sugarland. He experienced surreal stardom, but that came with music that merely hinted at the real Casey James. When he got off the ride, he found himself in a different place than he'd started. 
The soulful "Supernatural," the breezy ballad "Stupid Crazy" and the honking "I Got to Go" all came early in the process. He wrote them on his own, and he realized the time he'd invested in Music City had brought him to another level in his craft. James subsequently booked a series of writing appointments with some of Nashville's finest, including one with Brice Long and Terry McBride, co-writers of James' first single, "Let's Don't Call It a Night." At the end of their session, they recommended he do some writing with another friend who had a strong affinity for the blues, somebody named "Tom."
 James funded it all through a one-month Kickstarter campaign, asking his fans to invest in the next step on his musical journey. They came through in a big way, delivering more than double his original goal. It served as a reminder that even when his path had taken down difficult roads, he'd made a strong connection with an audience that understood his creative ambitions.
"For the longest time, I always played with my eyes closed because music is so personal to me that I felt like I was naked – I'm putting all of everything that I am in every note," James reflects. "I don't close my eyes so much anymore because I've become more comfortable with being naked, so to speak, in front of people. I became OK with opening my eyes and engaging with people and really experiencing that moment with them."
 To read more on what's going on in the country music scene, head to https://maverick-country.com/industry-news/