He's the country star on everybody's lips right now, an unassuming, modest man with simply a stellar talent for songwriting and singing. Here's why Chris Stapleton is bound for more glory in 2017.
Alongside Jason Isbell, Chris Stapleton is the current hottest property in country music. His 2015 Traveller album grew to become country's biggest selling album in 2016 and new album, From A Room: Volume 1, has already gone Gold – the first country LP to do so in 2017. With Volume 2 due later this year, Stapleton's undoubtedly on a roll. Here's 12 reasons why Chris Stapleton is once again going to win over the country faithful and mainstream in 2017:
1. He grew into bluegrass
Living a shared house in Kentucky in his late teens, Stapleton and friends absorbed themselves in bluegrass. "I really got heavy into it. It was more of a modern bluegrass… I didn't really grow up with that kind of music."
From 2008 to 2010, Stapleton was the lead singer of The SteelDrivers, a blistering gut-bucket-bluegrass quintet founded by some of Nashville's most gifted backroom players.
But it was Stapleton's gutsy voice and timeless lyrics that made them a hit with traditionalists and critics alike, not to mention an increasing army of fans who stumbled across them. A self-titled debut album (2008) and follow-up, Reckless (2010), earned them three prestigious Grammy nominations.
2. He can rock with the best
Stapleton left The SteelDrivers (replaced by Gary Nichols) but soon founded the Jompson Brothers, a Southern-rock outfit serving up barely-veiled sex and drugs references like Ride My Rocket and Secret Weapon. Peer approval for The Jompson Brothers came quickly, though: Zac Brown hand-picked them as a support act and Jason Aldean adopted Secret Weapon as his live show intro theme. "It's just one of those songs that gets you fired up and ready to go," says Aldean.
3. He had Nashville at "Hello"
Arriving in Nashville in 2001 "with a chair, a sleeping bag, a sack full of clothes, a recorder and my guitar," Stapleton signed a publishing deal with Sea Gayle Music after a week. Good job, as all else he had was two months of basic living expenses as a gift from an encouraging uncle. It was in the Sea Gayle office that he first bumped into Morgane Hayes, a fellow singer and top-shelf songwriter who later scored a big hit with Carrie Underwood's Don't Forget To Remember Me.
4. He's married to music
Stapleton and Hayes became an item, and eventually married in 2007. The two have become perhaps the greatest unsung duo in modern country, with Morgane serving as Stapleton's harmony partner, onstage foil, and all-around muse: onstage, you can see she is clearly dazzled by his talent, especially when he hits some of those high notes, but everyone knows that while he's great, he's even greater with her.
"We're married so we hold each other accountable," says Stapleton. "We can lift each other up on bad nights, kind of give each other a wink when we screw up or do something funny." It's the sort of 'Golden Couple' story every country fan loves. "They light each other up," says Stapleton's producer Dave Cobb said. "He knows that when she walks in the room, he's got to make it better."
5. Traveller was the perfect debut
Released in May 2015, Stapleton's solo debut Traveller was met with universal acclaim, from fans and critics alike. The title track was written while on a road trip with his wife, driving down Interstate 40 from Phoenix, Arizona, to Nashville via New Mexico.
Its sales are now nudging the two million mark in the USA alone, and at Metacritic's aggregated ratings it received an average score of 85 out of 100. For a debut country album, that's quite astonishing.
6. He'll take risks…
At the 2015 CMA Awards, Stapleton performed with pop superstar Justin Timberlake (who was already a friend), performing his own version of the song popularised as a George Jones live-show staple, Tennessee Whiskey and Timberlake's Drink You Away.
"He's one of the greatest musical talents in this world," Stapleton said of Timberlake, which are bold words to a country audience. However, there is no doubting that it was Stapleton's night, taking home a trio awards: New Artist of the Year, Album of the Year and Male Vocalist of the Year.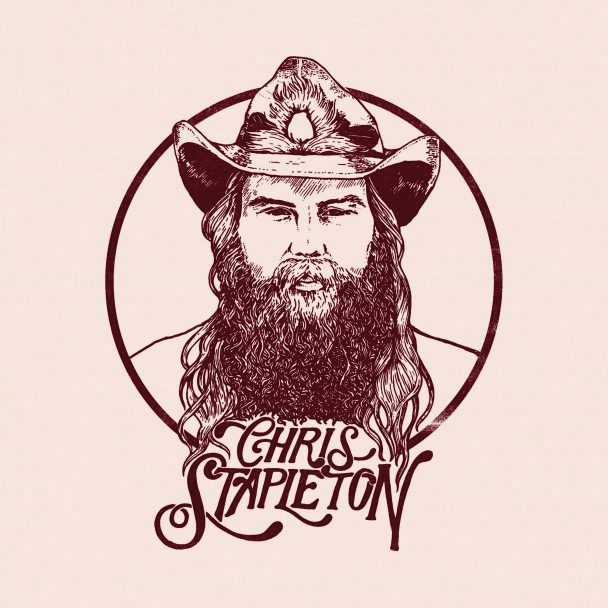 7. …And reap the rewards
Stapleton's admiration for Timberlake is mutual: "REAL music fans already know. So mainstream: @ChrisStapleton Remember that name," the pop star tweeted after the duet, and that CMA Awards co-performance was a definite water-cooler moment – soon after, Stapleton's sales rose 6,000 per cent and Traveller soared to become a Billboard No.1 album.
8. He's a songwriting machine…
Stapleton already fits the perfect Nashville narrative, with him writing a slew of hits for other artists. After penning 50 album tracks, he scored his first single – and first No.1 – with Josh Turner's Your Man. Other chart-topping hits include Never Wanted Nothing More for Kenny Chesney, Darius Rucker's Come Back Song, Drink A Beer by Luke Bryan and Thomas Rhett's Crash And Burn. Tim McGraw, George Strait, Lee Ann Womack and Alan Jackson have also cut his songs. His songs reach way beyond Guitar Town, too – If It Hadn't Been For Love, which he wrote for former band The SteelDrivers, was cut by global superstar Adele for the deluxe edition of her 21 LP, one of the best-selling albums (31 million copies!) of all time.
9. …But also studies the craft
For 2017's From A Room: Volume 1, Stapleton carefully picked out one song to cover: Gary P Nunn and Donna Sioux Farar's Last Thing I Needed, First Thing This Morning, taken to No.1 by Willie Nelson in 1982. "I think it's one of the greatest country songs ever written," says Stapleton. "If you wanted an instruction manual on 'How You Write a Country Song', that song would do it."
Recorded as an outlaw country guitar ballad, punctuated by harmonies from wife Morgane, it's an instant classic. Again.
10. Chris and Morgane are "real"
Many country traditionalists find modern Nashville too glitzy and corporate: and that's okay, because so do Chris and Morgane. They've moved out of Music City now, living on a family ranch in Franklin, Tennessee, where they can tend to their Texas Longhorn cattle. When they tour, they take the two children with them.
11. He won't change… for anybody
Stapleton's soulful voice has been possibly compared to Otis Redding as much as it has to George Jones, but he's determined to keep singing his country music his way: "I would sing bluegrass music and I don't fit in there; I would sing rock music and I'm probably a little too hillbilly for that. And country, I'm too much rock'n'roll for there sometimes." But he's wary of being forced into any box. Reminiscing of early days when he was asked if he could "sound a little more like Vince Gill", he said. "Then you figure out that you have your own voice, whether you like it or not, and that's what you should stick with."
12. From A Room will be a Double strike
From A Room: Volume 1 is already selling steadily: and Volume 2 is due before the end of 2017. It's already recorded, and no surprise – Stapleton reckons he has around 1,000 songs. "I enjoy writing songs," he says matter-of-factly. "I would do it even if I didn't get paid for it." If you don't know a Chris Stapleton song right now, by the end of 2017, you definitely will.