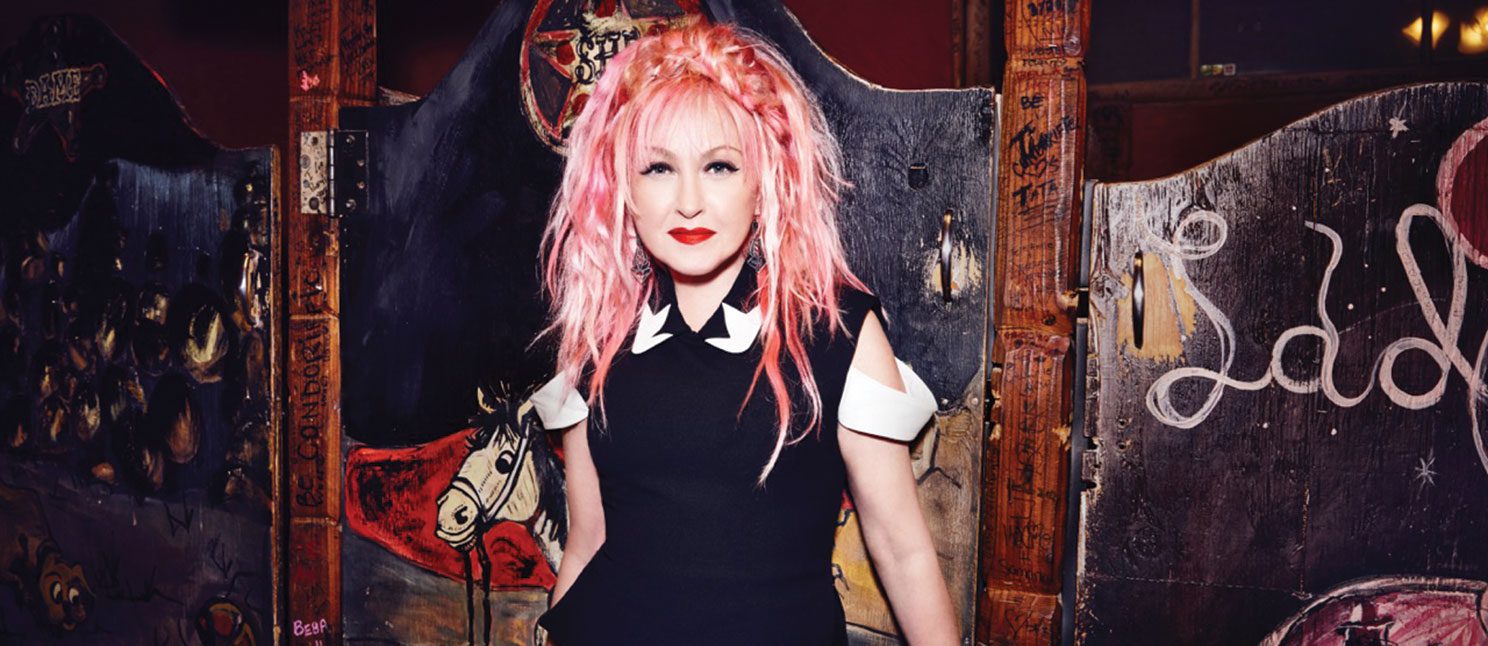 Cyndi Lauper
15 April 2016 Features Interviews
---
Actress, singer, songwriter and musical icon, Cyndi Lauper, has reached over 50 million global record sales thanks to her much-loved and critically acclaimed writing and performances. Her career has spanned 30 years, she has been inducted into both the Hollywood and Songwriters Hall of Fame, creating Hey Now (Girls Just Wanna Have Fun), True Colours, All Through The Night, Time After Time and Change Of Heart, to name just a few of her smash hits. Cyndi can be credited as a musical revolutionary, bringing punk elements of style and attitude into the mainstream, thanks to her signature fashion, vocals and liberal lyrics. Cyndi Lauper was the first woman to have four top five hits from a debut album, the first woman to win the composing category solo during the 2013 Tony Awards and one of a select list women to have won competitive Grammy, Emmy and Tony awards. Most reccently, she has wowed with her unique, cross-genre albums.
Lauper has also become a powerful LGBT advocate (she is both a gay and feminist icon) campaigning for equality through charities and Gay Pride events around the world. She co-founded the True Colors Tour for Human Rights throughout the United States and Canada in 2007. In 2010, Lauper's True Colors Fund launched the Give a Damn campaign, to help get straight people more involved in LGBT rights.
Cyndi Lauper is a woman who, after years of gaining respect and admiration in the music industry and now 62 years old, can pretty much do what she wants – and what she's chosen to do now is a country album! DETOUR, released on May 6, is an 11-track cover album, featuring some of country music's very best artists and session players. It's also her first solo album in six years. I spoke with Cyndi Lauper to find out why, and it seemed that her motives and outlook on the album were just as charming and colourful as her New York accent and bright pink hair…
We managed to fit in time to speak in between Cyndi's busy schedule promoting this album; she tells me it's important to her to "meet all the people that are gonna be selling the record. These are the people who will be rolling their sleeves up with you, so it's good that you meet everybody and say 'thank you', for the work we're about to embark on."
It's refreshing to hear that the singer still appreciates each and every process of a new album – but before we talk more about her role and vision in its creation, I can't wait and I have to ask – why a country album and why now? "Well, because I could," she responds with bright bluntness that shapes the rest of our interview. "And because I wanted to work with Seymour Stein."
It was a career-long ambition to work with Seymour Stein. "I always wanted to work with him," she tells me. "He was the one who signed the Talking Heads, signed the Ramones. You gotta understand what that was in New York, at that time. It was like oh my god, he had everybody!" Stein is a top dog in the music industry: Vice President of Warner Bros and Records and a co-founder of Sire Records. Sire Records was a central part of the 80's new wave movement; Stein signed ground-breaking artists under the label such as the Ramones, Talking Heads, The Pretenders, Madonna, Depeche Mode, The Cure and The Undertones.
Perhaps surprisingly, DETOUR is Cyndi's first release with Stein. Equally surprising, the two of them planned to create a "kind of Americana [album, from] the time period of country when [it] walked hand-in-hand with R&B," says Cyndi. "I felt like that was a perfect complement to the MEMPHIS BLUES record that I did – which [covered music from] around the same time period."
Lauper has spent this most recent stage in her career looking to the past for inspiration. 2010's MEMPHIS BLUES became Billboard's most successful blues album of the year, remaining at number one on the Billboard Blues Albums chart for 14 consecutive weeks and featuring the late blues legend, B.B. King. Prior to that, in 2003, Cyndi put together a successful collection of jazz standards, AT LAST.
To read more, purchase that May 2016 issue of Maverick here
---