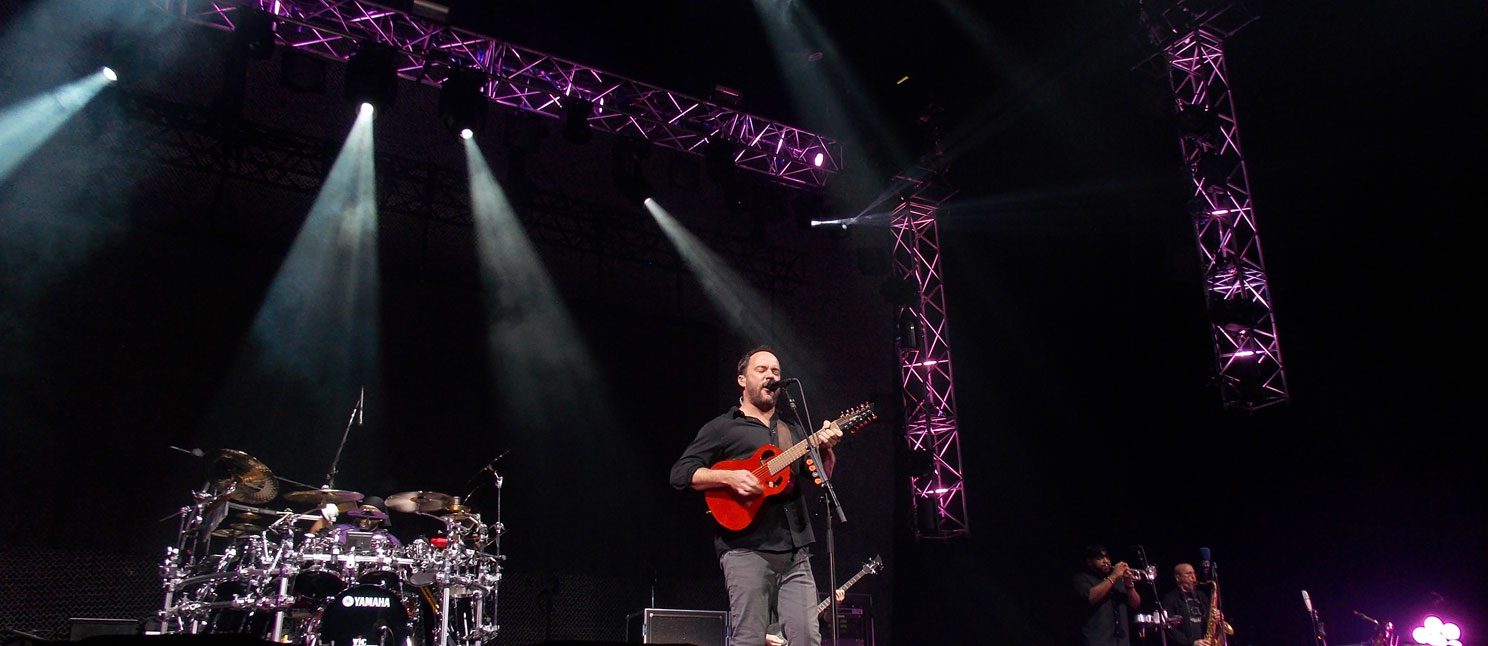 Dave Matthews, Prudential BluesFest
29 January 2016 Live Reviews
---
Review Date: November 7, 2015
Reviewed By: Liam Lynott
Location: London, O2
The Dave Matthews Band might seem an odd choice to headline a blues festival, but that didn't stop the boys from Charlottesville, Virginia from lighting up the O2 at this years' Prudential BluesFest. From the opening middle-Eastern warble of Squirm, to the glorious encore rendition of The Space Between, humble introvert Dave Matthews and co are an unpredictable tour de force, lacing songs from the bands' back catalogue with improvisational freedom.
The greatest ten minute fiddle solo in the history of soft rock couldn't stop drummer Carter Beauford from stealing the show for much of the set, though frontman Dave Matthews sang and played with an honesty and passion that captivated the O2, everyone singing along for crowd-pleaser, Satellite. The band played for two hours and 45 minutes of extended solos, intricate song-writing and masterful musicianship, delivered with a serious dose of funk.
The night closed with a furious rendition of the song Two Step, Dave Matthews thanked the crowd for the twelfth time and the O2 slowly emptied, the crowd barely speaking as they contemplated what they'd just seen. There was a warmth in the O2, an atmosphere of togetherness brought on by the band and their music that stayed with those present long after the music stopped.
Other highlights from the Saturday included European Blues guitarist of the year Lawrence Jones, a young guitar maestro who recently toured with Blues legend Buddy Guy. All youthful swagger and blistering lead guitar, Jones took to the stage like he was born there, tearing through his own songs and classics like Rory Gallagher's Bullfrog Blues and All Along the Watchtower (featuring a reggae tinged Stairway To Heaven tribute).
On the BB King stage, The Bluejays hammered out classic rock tunes like I Fought The Law, La Bamba and Eddie Cochrans' Come On Everybody, and on the acoustic stage, singer-songwriter Verse Chorus Verse played his own brand of melodic guitar folk with tenderness. His cover of the Merle Travis classic Sixteen Tons was my favourite moment of the day, though Bernie Marsden singing Here I Go Again with his Blues Band was something that will stick with me for a long time (as was his cover of No Love In The Heart Of The City).
All in all, my only regret of the weekend was missing out on Sundays' lineup, which featured Canvey Island rockers Dr Feelgood, Van 'The Man' Morrison and Tom Jones, although there is a slight niggling feeling that for a blues festival, there was very little traditional blues on display.
Photo: Christina Tsakiriou
---
Editor blues, Dave Matthews, Festival, Lawrence Jones, live, livereviews, O2, Prudential BluesFest, The Dave Matthews Band