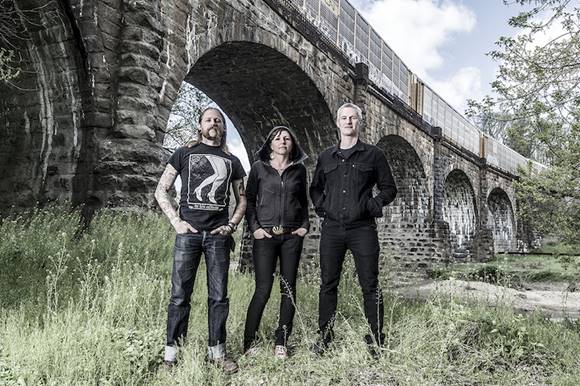 The Devil Makes Three back with CHAINS ARE BROKEN
4 July 2018 news
---
The Devil Makes Three is set to return with Chains Are Broken on August 24.
The 11-song set was produced by Ted Hutt (Gaslight Anthem, Flogging Molly) and recorded at Sonic Ranch Studios in El Paso, TX.  CHAINS ARE BROKEN is The Devil Makes Three's first album of original material since 2013's acclaimed I'M A STRANGER HERE and follows their widely-praised 2016 collection of covers, REDEMPTION & RUIN, which heralded the groups second #1 on the Billboard Top Bluegrass Albums Chart.  Instead of their traditional revolving cast of collaborators in the studio, The Devil Makes Three stuck to its signature power trio of Pete Bernhard, Lucia Turino, and Cooper McBean – with one addition. This time, they invited touring drummer Stefan Amidon to power the bulk of the percussion, as the band seamlessly translated the spirit of their must-see live show into a studio recording.
For as much as The Devil Makes Three remains rooted in troubadour traditions of wandering folk, Delta blues, whiskey-soaked ragtime, and reckless rock 'n' roll, the band nods to the revolutionary unrest of author James Baldwin, the no-holds barred disillusionment of Ernest Hemingway, and Southern Gothic malaise of Flannery O'Connor.  In that respect, Chains Are Broken resembles a dusty leather-bound book of short stories from some bygone era.
"I always want our songs to unfold like short stories," affirms Pete Bernhard.  "You could think of them as chapters of a book.  This was a much more personal album about what it takes to be a writer of any kind – and what you have to do to make your dream possible.  It was really the headspace I was in.  It might have something to do with getting older.  You start reflecting on life and the people around you.  I was doing that in these songs.  That's what makes the record more personal.  I'm pulling from these things.  Some of it is about drug addiction.  Some of it is about the things you sacrifice.  Some of it is about the detrimental things we do for inspiration.  Nevertheless, they all have some sort of narrative."
The Devil Makes Three will begin touring in support of Chains Are Broken with shows in the UK. Dates are as follows:
Mon 10 Sept      NOTTINGHAM Rock City Basement
Tue 11 Sept        GLASGOW Oran Mor
Wed 12 Sept      MANCHESTER Deaf Institute
Thu 13 Sept        BIRMINGHAM Hare & Hounds
Fri 14 Sept           LONDON Islington Assembly Hall
---