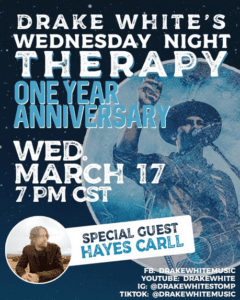 This Wednesday, March 17th, marks the one-year anniversary of Drake White's weekly Wednesday Night Therapy livestream shows. Drake and his band, The Big Fire, will celebrate the milestone with this week's special guest, Hayes Carll.
With Drake's indomitable spirit, the voracious live performer was one of the first artists to launch a streaming live show as the gravity of the pandemic became apparent, kicking off the life-affirming hour-long shows on March 18, 2020. Kip Moore, Colbie Caillat, Frankie Ballard, Dillon Carmichael, Ryan Berg of "The Voice," and Hannah Dasher are among the many artists who've joined Drake at his Whitewood Hollow barn in Nashville for a Wednesday Night Therapy session.
Seeing Drake White live is far from an ordinary concert experience. Equal parts warrior leader, holy-fire reverend, and gypsy Appalachian mountain man, he fronts his band with a mix of Muscle Shoals groove and honky-tonk grease. The goal? To continue building an inspired community with his voice, country-soul spirit, and relentless optimism, fusing everything he does — from the shows he plays with The Big Fire (his blue-collar band of road warriors), to the events he hosts at Whitewood Hollow, the rustic event space he hand-designed with his wife, Alex, in rural Tennessee — with the big-tent spirit of a revival.
Tune in to tonights show HERE at Midnight GMT/7pm Central!
To stay up to date on the latest country music news, please register to receive our newsletter here.
Media contact
Zoe Hodges,
Editor, Maverick Magazine
Tel: +44 (0) 1622 823920
Email: editor@maverick-country.com