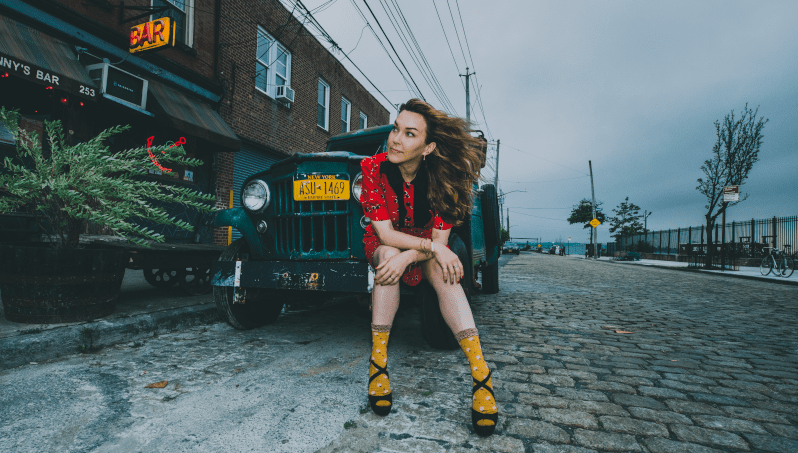 Feature: 60 seconds with Sunny Ozell
18 September 2019 Featured Features news
---
At The Long Road Festival, Maverick sat down with Sunny Ozell, who told us about her new album preparations and how her UK tour went.
The Long Road rounded off your UK tour, how did it go for you?
It was lovely – it was really, really fun. Too short, though.
Was that just down to timing?
Yeah, the thing about festivals in the UK for out of the country artists is that they can really prove to be like an anchor that you then fill the other dates around. These summer festivals are a great way to get a band over, you know.
You've been playing new songs in your set, how have they gone down with the audience?
Really well! I mean, they have also gone down well with me, which is good because I haven't really played them that much. I just finished a record in May and it was a very kind of incubated process, so to actually take the tunes out into the wild is so fun.
That album is due to come out in early 2020, how are preparations going for that?
Yeah, good! It's actually a very two-stage kind of thing, making a record. You make the record and then you figure out a way to present it to people in a way that they can hopefully understand what you are trying to say, which includes everything from images to video.
Can you share any other additional details?
The title of the record is 'Overnight Lows' and it's very much about insomnia, the good things that go down at night and the not so good things. It's kind of a nocturnal looking record.
You've called in some serious talent for recording the album, how did that come about?
I guess I have just stuck around long enough, I guess. 10 years ago, the field was really big and I've just kind of stayed at it. Suddenly, I'm in the room with people that are heroes and people like Jay Bellerose, the drummer, who I've been listening to for 20 years and here he is on my record.
That must be quite rewarding for you personally?
When the people that influenced you are now your peers, it is astonishing and to be perfectly blunt, in itself that is success to me.
If you can pick a dream band if you like, who would you have?
That's a big one! I will kind of give you a round the back door answer to this, as the first record that I bought as a kid where I actually wanted to look up the liner notes and say, 'wait a second, who is that person playing the drums?' was 'The Rhythm of the Saints' by Paul Simon.
That's when I started learning the names, of not just the artist on the record, but the band. I've always been curious about who the personnel is on the records, so I think Paul Simon's band from Graceland onwards was pretty f***ing spectacular. Richard Tee on keys, Vincent Nguini as guitarist and Steve Gadd on drums.
Next year when the album comes out, can we expect you back?
Absolutely! I'll probably be back again sometime in the autumn. We're looking at October, November time – something like that.
Sunny Ozell's latest single, 'Driving Highways' was released on September 13 and can be listened to here
---