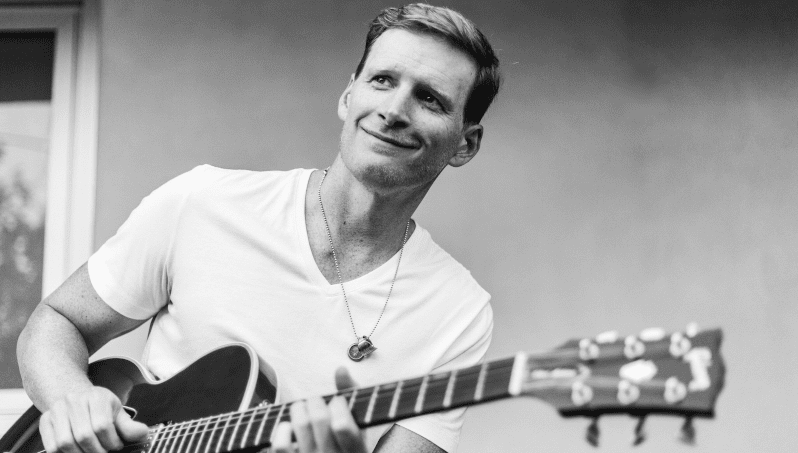 Feature: Patrick Davis – the songwriter turned artist, with great causes
21 November 2019 news
---
Patrick Davis has had a glittering career as a songwriter, but has now turned his hand to being an artist himself as Megan Gnad finds out for Maverick
He's written songs for Jimmy Buffett and Lady Antebellum, but these days Nashville-based singer-songwriter Patrick Davis is the musician taking centre stage.
In October, fans got a taste of what's to come when he opened for the Hootie & the Blowfish 'Group Therapy Tour', which included London, Manchester and Birmingham dates.
"That was rather incredible," he recalls. "Darius (Rucker)is a dear friend. The Hootie guys been very close to me for a long time. The audiences were wonderful music fans so it's always a pleasure.
"I hope to come back soon, this has been a test run."
Also performing as Patrick Davis & His Midnight Choir – an impressive 11-piece band – the artist has recently released singles, L-O-V-E and Six String Dreams, which is set to be the title of an upcoming EP.
Prior to setting up the band, the South Carolina-raised musician worked as a staff writer for Warner Chappell Music Publishing for 15 years, producing tunes recorded by the likes of Guy Clark, Robert Randolph, Jimmy Buffett and Imelda May. About four years ago, he started performing more and more and was invited by Darius Rucker to open for him in the UK.
"They were very intimate shows, we did the London O2 Shepherd's Bush to 1500 people and so now to see how the Nashville music scene has grown is amazing."
Patrick Davis & His Midnight Choir draws heavily on the influence of artists like Van Morrison and Bruce Springsteen.
"The long-term idea is to go to the UK and do Patrick Davis & His Midnight Choir big band shows, which would really move the needle on a whole another level, everywhere. I grew up listening to Joe Cocker's Mad Dogs & Englishmen, that's the music I grew up loving and emulating, so for me, that's what I'm shooting for.
"I like writing songs, which is why I live in Nashville, but for me personally, my own music is a lot more in tune with the Bruce Springsteen-Van Morrison world and so I put together a band that sounded like that."
In the lead-up to the new EP out in January, Patrick will be releasing behind the scenes footage, live performances and new singles and he can't wait to get the ball rolling.
"For so long, I was the guy in Nashville who wrote songs for people and so I'm trying very hard to steer that towards something that's more artist-driven.
"Now I'm getting to play, it's kinda like ground zero. I'm getting my feet wet and back into the game, but it's been pretty extraordinary so far."
Another project that has been dear to Patrick's heart is the non-profit he set up to raise more than $750,000 for Hope Town, Bahamas in the wake of Hurricane Dorian.
He and industry veteran Eric Arnold (Sound Direction) recently organised a benefit concert at Nashville's Ryman Auditorium where artists such as Dierks Bentley, Darius Rucker and Mark Bryan (of Hootie & The Blowfish), Charles Kelley (Lady Antebellum), Lee Brice, Charles Esten and Randy Houser performed to raise funds and awareness.
"I have a festival called Songwriters in Paradise (SIP) held in Napa, Cabo and Hope Town in the Bahamas. Hope Town was hit by Dorian and it was utterly destroyed.
"These were people I considered to be like family members. I didn't know what to do when I was watching the news coverage, so I started a GoFundMe page. We're now close to $1 million for the charitable works.
"It's been humbling and heart-breaking, but the Nashville community came out, and people from all over The States, to show support. It's proof there's a big heart (out there)."
---