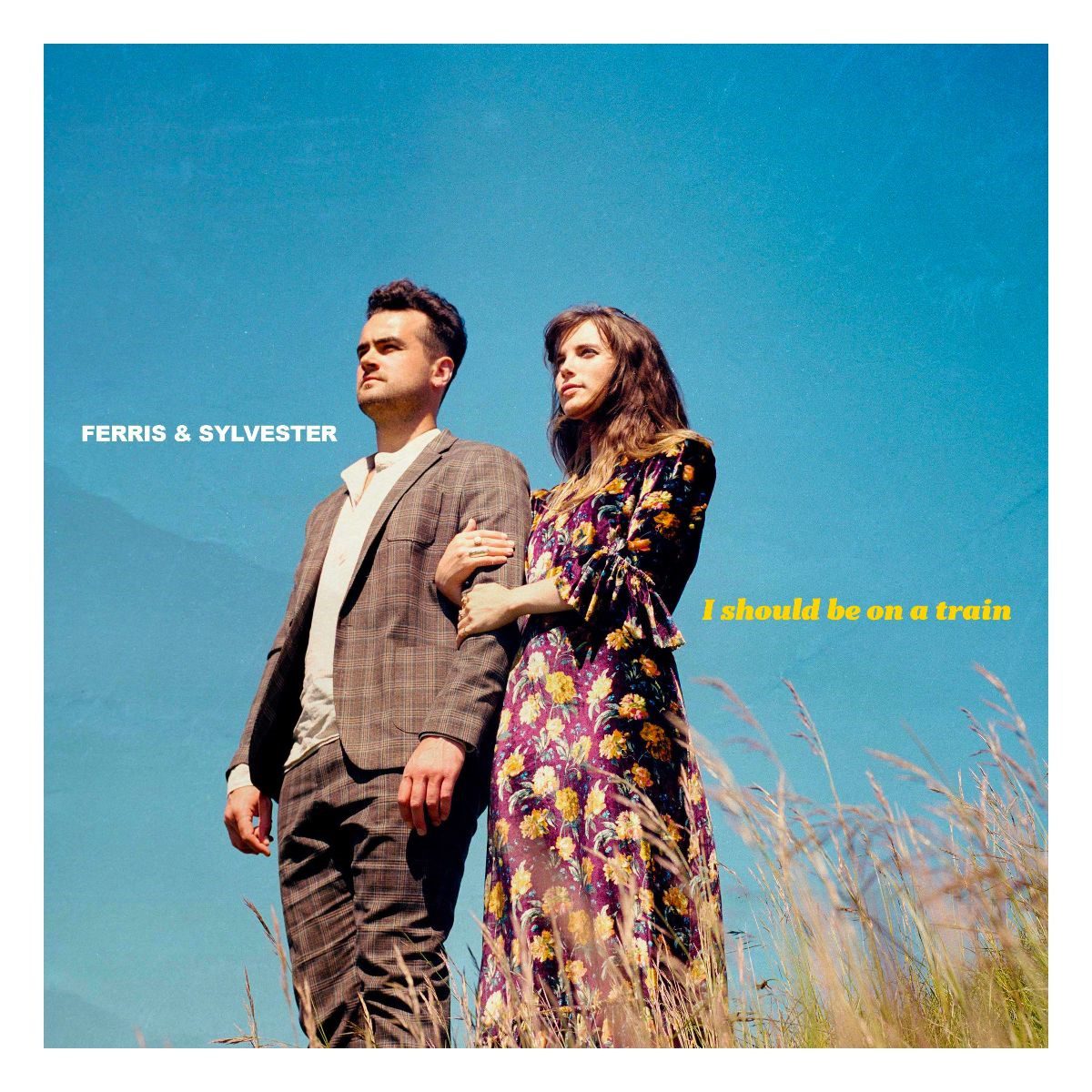 Ferris & Sylvester announce new EP
31 July 2020 news
---
Award-winning duo Ferris & Sylvester have released the brand new single 'I Should Be On A Train', the title track of their forthcoming EP out October 2nd via LAB Records.
The song premiered on Bob Harris' Radio 2 show who said, "I'm a big fan of Ferris & Sylvester [they have] dynamic and brilliant music," this was followed by a video premiere with American Songwriter Magazine.
Written, recorded and produced by Ferris & Sylvester, 'I Should Be On A Train' is an explosive blues ballad, which follows the musings of a woman planning her escape, but not having the courage to leave the one she loves. It was originally written in the back of a tour bus between Prague and Vienna in February, but the tune came to life and took on a new meaning in their studio this spring.
The dreamy video has been captured on Super 8 film and pairs lockdown footage of Ferris & Sylvester in idyllic countryside, while also intertwining clips from their last headline show before the Covid-19 shutdown at Paradiso, Amsterdam.
'I Should Be On A Train' opens the band's much anticipated EP of the same name, which will be out digitally as well as on limited edition 12″ vinyl, now available to pre-order here.
About the recordings Ferris & Sylvester say, "The world is adapting to a new reality, and we've been determined to adapt with it and get creative. It can be difficult in isolation to know how to move forward. People are lonely, overwhelmed and yearning to connect. We were busy writing for future projects, trying to map out the next chapters. But we decided it was more important to give what we can now. All we know is we are happiest when sharing our music and we hope this brings joy to people."
Working in the face of adversity, Ferris & Sylvester have used the past months as inspiration for new music, learning new instruments and production techniques and building their online connection with fans. In May, the band released the beautiful 'Everyone Is Home', described by Clash Magazine as "the duo's very own isolation anthem", which also features on the I Should Be On A Train EP. The heartfelt lyrics recognise the loneliness in the uncertain times yet also celebrate the togetherness, bravery and resilience that has come with it.
During lockdown, Ferris & Sylvester have hosted successful weekly live streams, and raised money to help local venues stay in business via the Music Venue Trust, of which they are patrons. The duo played a very special fundraiser for the Spiritual Bar in London, a legendary music space and very special to the pair, as it is where they first met and cut their teeth on stage together.
The upcoming new five-track EP captures Ferris & Sylvester's unique blend of blues, Americana and folk, whilst also seeing them expand on their sound. 'Knock You Down' features wistful psychedelic touches, while the groove-laden riffs of 'Good Man' are intertwined with Ravi Shankar influences. The EP closes with a cover The Beatles' 'With A Little Help From My Friends', inspired by their lockdown livestreams where they shared a new cover every week with their fans.
The I Should Be On A Train EP finds Ferris & Sylvester thriving in the world's state of transition, taking the opportunity to explore new territories, spurred on by the success of the past and looking forward to the future.
Ferris & Sylvester have made a distinct mark on the live scene both in the UK and across the Atlantic. This is set to continue in 2021 as they have announced their largest headline shows for next year. The band will tour the UK throughout February and March, with a London headline show at Lafayette on March 1st. The band will then head off for a six date tour across the US and Canada. Tickets are available here and full tour dates can be found below:
UK HEADLINE TOUR DATES
FEBRUARY
25th – Exeter, Cavern
26th – Nottingham, Metronome
28th – Brighton, Green Door Store
MARCH
1st – London, Lafayette
3rd – Manchester, Night & Day
4th – Leeds, Hyde Park Book Club
6th – Glasgow
US & CANADA HEADLINE TOUR DATES
MARCH
25th – Los Angeles, Hotel Café
27th – Chicago, Martyr's
30th – Nashville, High Watt
APRIL
1st – Washington DC, Songbyrd
2nd – New York City, Rockwood Music Hall
3rd – Toronto, Drake Hotel
I SHOULD BE ON A TRAIN EP TRACK LISTING
I Should Be On A Train
Knock You Down
Everyone Is Home
Good Man
With A Little Help From My Friends
Follow us on social media and share this post! Twitter, Facebook, Instagram
See more news here.
---