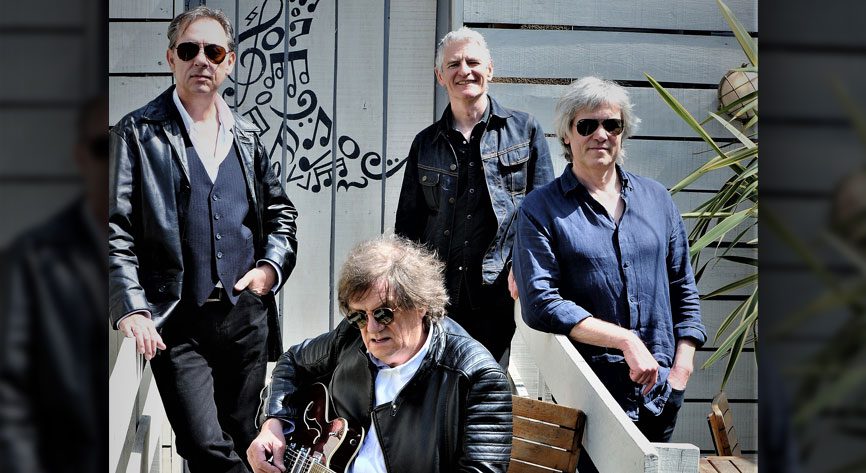 Getting to know The Sharpeez
19 July 2018 Industry News news
---
Q 1: Who is in the band?
A: William "Bill" Mead is the lead singer and guitarist (and main songwriter). Loz Netto (ex-Sniff 'n' The Tears) is lead guitarist, Brendan O'Neill (ex-Rory Gallagher and Nine Below Zero) drummer and Baz Payne is bass player.
Q 2: Where and when was the band formed?
A: The first version of the band was formed in London in 1984 and played the pub and club R&B scene, with the likes of Dr Feelgood, Eddie and the Hot Rods and The Stranglers. Filling such famed venues as The Nashville Rooms, Hope and Anchor, The Marquee and the Golden Lion.
Q 3: What recordings has the band released so far?
A: Our fifth album "Wild One" has just been released by 3MS Music. The album which we recorded in France, (with recording engineer Paul Madden, who has worked with The White Stripes, Jack Bruce, Robin Trower, The Stranglers and many others), has received widespread critical acclaim and much radio airplay across UK and Europe. We were in the Top 20 of the IBBA chart based on airplay.
Q 4: What style is your music?
A: What we call "Maximum R&B". It is rockin, loud and will get your feet moving and your hips swaying. Great driving music, great dancing music and a focus on strong original songs. Two guitars, drums, bass and vocals that guarantee a good time in the flesh or on our albums.
Q 5: Who writes the songs on the latest album?
A: Bill Mead penned six of the nine songs, co-writing the other three cuts: "Bullet" with Strawbs member Brian Willoughby and Nashville-based Cathryn Craig, "Stiletto Heels" with former Sharpeez guitarist Pete Goodey and "Desperate Man" with Pete Feenstra.
Q 6: You got a break some years ago, when you were booked to open for a star band?
A: Yes. The support band to The Stray Cats pulled out on the day of the gig, and we got a call to save the day. When we got there, the place was full of Hell's Angels and I wondered if we'd get out of there alive when they heard us. But they loved what we did, and we went down a storm.
Q 7: You were offered a record deal with a major record label some years ago?
A:  Yes. The manager of the band Fischer Z got us a contract with A&M. But this fell by the wayside at the 11th hour after issues with two of the band members.
Q 8: You (Bill Mead) were so upset about losing the record deal and that big chance, you quit the music business?
A: I did. I was so disillusioned with the band and the music business, I sold all of my equipment and focused on my family and a day job for some years.
Q 9: So, what made you come back?
A: I had made an album by then and my two daughters got to hear it one day and learned all the tracks off by heart, and they loved the record. They were sad that their Dad had quit the music scene.
We were sat having a meal in a pub one night, music came from the back room and my daughters went to investigate, to find a jam session just starting, by chance. There was no bass player and they put my name in the frame and I was asked to step in. I got the buzz and the bug for playing live again.
Q 10: You regularly tour in Europe and over here. Which is best for audience response?
A: I love playing live in the UK and mainland Europe, equally. The buzz comes from being well received and people wanting to take home your music in the form of CDs. The venues we play usually want us back, and we had a full-house for our CD launch gig at The Half Moon in London recently. So, I figure we must be doing something right after all these years!
For more details on The Sharpeez:
---