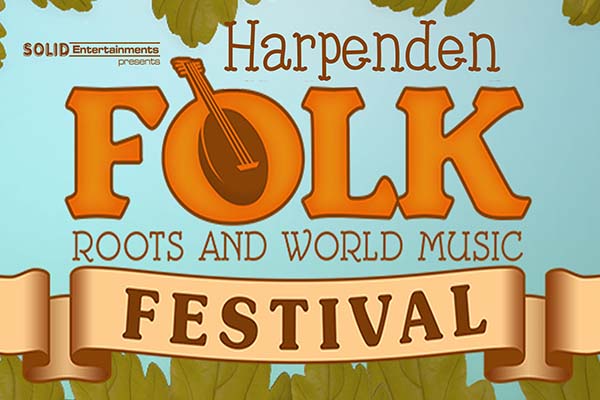 Harpenden Folk, Roots & World Music Festival
---
Harpenden Folk, Roots & World Music Festival
Harpenden Public Halls
Saturday 27th August 2016
2 p.m. to 10.00 p.m.
Bio and Line-up
Lindisfarne – the legendary 70s folk-rock pioneers return to form with a classic six-piece line up of long-time members fronted by original founder-member Rod Clements on vocals, mandolin, fiddle and slide guitar.

With a repertoire of unforgettable songs like Meet Me On The Corner, Fog On The Tyne, Lady Eleanor and Run For Home and a reputation for live performance second to none, Lindisfarne's power to galvanise festival and concert audiences remains undimmed and is guaranteed to get the crowd on its feet and singing along.
Lindisfarne 2016 are:
Rod Clements (1969-present) Vocal, mandolin, fiddle, guitars
Dave Hull-Denholm (1994-present) Vocal, guitars
Steve Daggett (1986-present) Vocal, keyboards, guitars
Charlie Harcourt (1973-present) Guitar, vocal
Ian Thomson (1995-present) Bass, vocal
Paul Thompson (ex-Roxy Music) Drums
Julie Felix – recently celebrated 50 years in the world of music last year.
In 1964 Julie arrived in England after leaving California and became the first solo folk artist to be signed to a major British record company when she signed with Decca. In 1966 Julie became the resident singer on the amazingly popular TV programme "The Frost Report", and quickly became a household name.
She went on to appear in her own TV series on BBC1 and BBC2 and recorded hit singles on Mickey Most's RAK label.
After a break from the music world in the 1980's, Julie began singing for Latin American Refugees, for woman's and gay rights and for peace projects including protests against the war in the Gulf.
Julie created the Remarkable Records label and released 'Bright Shadows', her first album for 10 years. In June 2013, Julie performed at the prestigious Leicester Square Theatre to celebrate her 75th birthday and in October she was invited to Buckingham Palace to meet the Queen, Prince Philip, Prince Charles and Camilla.
Polly And The Billets Doux – Polly and the Billets Doux are something brilliantly different.
Known for their flawless and energy-filled live performances, the genre-defying quartet Polly and the Billets Doux boast a genius blend of Folk, Pop, Rock N' Roll, Soul, Country, Blues and even Gospel. They have a solid reputation and extensive history of headline tours up and down the country; from Ullapool to Brighton, and almost everywhere in between.
Polly and the Billets Doux released 2013's 'Head of Steam' EP, which charted at 17 on the Radio 1 Indie Chart followed by their critically acclaimed album which featured in 'The Word' Magazine's Best New Music.
Polly and the Billets Doux have also been championed by Bob Harris & Terry Wogan on Radio 2, Tom Robinson on Radio 6 as well as live sessions with Cerys Matthews and'Loose Ends' on Radio 4. The album attracted critical acclaim from The Sunday Times and The Daily Mirror. The last few years have seen major festival appearances including Glastonbury, the Big Chill, The Secret Garden Party, and Cambridge Folk and a Support slot with The Fun loving Criminals.
After a well received headline tour of Ireland the band were back on the road shortly after with a new album 'Money Tree' winning great press support inc cover-disc features on UNCUT and R2. This saw the band embark on their longest tour to date including an extensive headline tour of Germany. Their reputation as a formidable force on the stage is spreading quickly.
It's going to be a big year for this vibrant, exciting and hugely promising band.
http://pollyandthebilletsdoux.co.uk/
Dexeter – "It may be 4000 miles to Nashville, but Dexeter make you feel like you are already there…" Baylen Leonard, BBC Radio 2 Country.
Dexeter have moved from strength to strength since first appearing at the Country 2 Country festival in London in 2014, going on to open tours for Brit Country favourites The Shires, Ward Thomas and Raintown as well as playing all over the UK with acts including Laura Oakes, Sasha McVeigh, Honey Ryder, Jess and The Bandits, and the Pistol Annies' very own Angeleena Presley amongst others. The Leicestershire act returned to the O2 for Country 2 Country in 2015, where hundreds of enthusiastic fans poured into the atrium to sing along to crowd favourites including songs from their crowdfunded debut album "Four Thousand Miles To Nashville" which reached number 14 in the iTunes country chart.
Dexeter lifted the roof at this year's Country 2 Country festival, playing three shows at the O2 in London to wonderful acclaim including receiving the only standing ovation at Bob Harris's Under The Apple Tree stage. The lyric video for new single 'Waiting For A Lifetime' had 4200 views in its first 48 hours online.
Dexeter played their first London headline show to a sold out Camden Barfly on a hot summer's night in July, and with a Bob Harris Apple Tree Session under their belt, live dates in Nashville (including performing at The Bluebird Cafe), three songs featured on BBC Introducing and a brand new EP set for release in April, 2016 is already looking bright for the band, dubbed by Chris Country Radio to be "the hardest working band in UK country music".
http://dexeterband.co.uk/about/
Said The Maiden – are Jess Distill, Hannah Elizabeth and Kathy Pilkinton, three friends who discovered a mutual love of folk music when they reunited several years after spending their school years together in St. Albans, Hertfordshire.
The group sing traditional songs from around the UK and America, often in three part acapella harmony but also using guitar, violin, mandolin, woodwind, accordion and percussion to embellish their sound.
From tentatively performing a few songs at their local Redbourn Folk club in 2012 and later being asked to appear at one of the club's guest nights, the group soon secured support and headline slots at folk clubs and festivals around the country, including Folk By The Oak, Folkeast, Gate to Southwell, Shepley and Bunkfest. These opportunities have in turn led to invitations to support many fantastic artists including The Fisherman's Friends, Jim Moray, Megson, Martin Carthy, Sam Carter, Hannah James and Sam Sweeney, Treacherous Orchestra and Clannad.
They were also honoured to join legendary fiddler Dave Swarbrick on a successful UK solo tour in the spring of 2014, and released their debut album 'A Curious Tale' in June of the same year.
In May 2015 Said The Maiden was awarded Bristol Folk Festival's prestigious Isambard Folk Award, and as a result opened for folk super-group The Full English at the 2015 Bristol Folk Festival. Most recently the group was voted for by festival-goers at the Great British Folk Festival 2015 as 'best act' on the Introducing Stage on the opening night, and will be performing on one of the festival's main stages in December 2016.
http://www.saidthemaiden.co.uk/
Linda Em – is a London based roots singer-songwriter who hasn't forgotten her Southern Ireland roots with shades of Celtic running throughout her music.
With both BBC and Irish radio support for her debut album "Shadow Lands" , new single "Blue Girl" is available on download on 29th February. The single takes you back to the 1960s Phil Spector "Wall of Sound" girl group soul era, with Linda's pure and raw vocal beautifully intertwining with the soulful backing singers.
Linda's lyrical narrative has a nostalgic feel to it bringing back the early days of Woodstock, with some saying that she has an old soul for such a young woman. No surprise when she quotes Joan Baez, Carole King and the husky laments of Melanie Safka as her song writing influences. Performing at the credible 100 Club (London) and Ifracombe Folk festival her set up can be acoustic or with her full seven-piece band, which includes soul backing singers and a mandolin/ bodran player bringing the Celtic vibe to the music.
Linda's clear, warm, sultry vocal draws the listener into her musical story telling throughout her album "Shadow Lands". What's unique is the extraordinary mix of other influences that create Linda's original Roots sound. There is folk (revisited from a current London / Irish cultural perspective), a bit of rock, Celtic, American blues and even a hint of Ska if you listen closely.
The overall production of her songs take you  back to the 60s/ 70s sound pulling you right back to Woodstock  with an overall modern day eclectic feel.
Delta Ladies – so who is this combo?
Vicky Martin sings and plays guitar, banjo, Kandela and Irish Bouzouki. She is the writer of many the Delta Ladies' original tunes. Vicky was interested in music right through the sixties and seventies and was initially influenced by the great players who were around throughout that period, Clapton, Hendrix whom she met, The Stones, and the music of Miles Davis and Bob Dylan have remained constant favourites.
After a time away from music in the mid eighties and was inspired to renew her interest after being introduced to the tradionally influenced music of Dick Gaughan, Dougie MaClean and Martin Simpson. At that time, having had lifelong interest in jazz Vicky decided to get serious about music and took lessons from ex Berklee College graduate Ivor Goldberg (of the band Shir). She studied theory, chord structure and harmony which left her well placed to start the musical venture that led to the Delta Ladies.
The Delta Ladies duo came out of the quirky North London original R&B band Elephant Shelf. They had done lots of gigs & festivals in between 2003 and 2010 but the band having run its course Vicky & Dee formed the duo intending to be fully independant not reliant upon other musicians. As the duo became more established they started to work with a team of highly competent and creative players – Alan Glen on harmonica, Tali Trow or Glynn Evans on bass and Lee Collins on percussion .Occasionally Danny Bryan also joins on percussion. The result is a very flexible line-up that has enabled the 'Ladies' to develop a unique sound that draws on American & European Roots music, folk, world and bluegrass influences and retains just a shade of blues to create a highly individual and exotic style.
Dee Stone plays violin & piano – contributes to many of the Delta Ladies' original tunes.  She started in the music business working on the Sound Team at Hammersmith Odeon and met many famous names of the day including Elton John, Johnny Winter, Ry Cooder and Bill Munro.
Her playing and writing style draws on a wide range of influences from Ray Charles through the Western Swing of Bob Wills and the stride piano of Fats Waller to the prog sounds of Gong & King Crimson. Along the way the Jazz influences of Bill Evans and Wynton Kelly (piano) and Stephan Grapelli (violin) are apparent to the discerning ear. Dee is also influenced by the New Orleans piano stylings of Huey Lewis, Professor Longhair and James Booker. She was particularly inspired to listen to these players by the playing of Dale Storr who is Sheffield based and one of the leading UK exponents of New Orleans style.
Dee's eclectic taste, like Vicky's, includes Vaudeville and Music Hall. It ensures some very colorful musical stylings that are also reflected in her own own musical venture, Diana Stone's Glass Cage.  This has been very successful with digital hits in South America and Russia. The latest Glass Cage solo piano offerings reflect late 19th Century French impressionistic music of the likes of Faure, Berlioz, Satie and Godentot.
Early Bird tickets are only £21.00
To book, please call 01472 349 222 or go online at http://www.harpendenfolkfestival.co.uk/
https://www.facebook.com/harpendenfolk/
 "Let's Keep the Music Live"
---
admin events, featured, Harpenden Folk Roots & World Music Festival, news