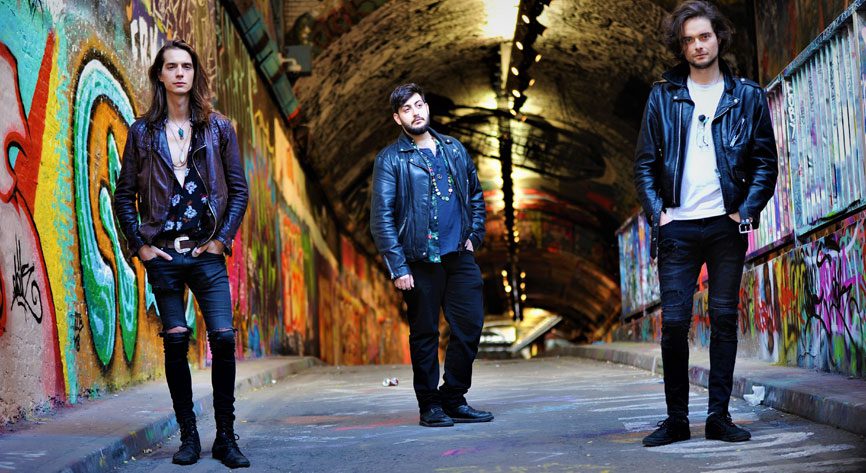 An insight into the Cinelli Brothers
18 July 2018 news
---
Q 1: Who is in the band?
A: Marco Cinelli is the lead singer and guitarist, his brother Alessandro is the drummer, Enzo Strano on bass, Rollo Markee plays harmonica and Alberto Manuzzi is on keyboards.
Q 2: Where and when was the band formed?
A: In London about two years ago. Alessandro moved here from Italy and Marco from Spain.
Q 3: What recordings have you released so far?
A: The debut album, "Babe Please Set Your Alarm". Self-released in May 2018, to great critical acclaim. A dozen tracks; nine originals and three covers by Prince, Willie Dixon and Don Covay/Aretha Franklin.
Q 4: What style is your music?
A: Authentic Chicago and Texas blues with a soulful, modern edge, played with passion and from the heart.
Q 5: Why blues and how did you become influenced by that genre?
A: As kids back in Italy, we (Marco and Alessandro) would dance in the warm Mediterranean sunshine to the glorious sounds of Stevie Ray Vaughan and Jimi Hendrix, from our father's record collection. We were hooked !
Q 6 : Was anyone in your family musical and when did you both start to play instruments ?
A : Our Father played guitar and drums in church. Marco picked up the guitar at the age of 11, while Alessandro started playing drums when he was seven. Both took lessons.
Q 7 : Marco, guitarists will be interested in your technique and the equipment you use.
A : I play an Eastwood Arline Tuxedo guitar that I bought second hand in Milwaukee, Wisconsin five years ago. I use thick strings, dropping the tuning in D, and I never use a 'pick' (plectrum), only my fingers. No pedals or effects.
Q 8 : What was your aim when you recorded your debut album, "Babe Please Set Your Alarm" ?
A : To make an authentic blues album with a modern twist, to sound like the records our Father used to play at home in Italy. To achieve that, we needed to go old-school and record to analogue tape. Playing live in the studio and working fast. We cut 18 songs in three days and chose 12 for the album.
Q 9 : The band plays live here and overseas. Where have you toured so far ?
A : As the band : UK, France, Italy, Netherlands, Spain and Portugal. My brother and I have been to the USA several times and sat in there with blues players, in Chicago and New York.
Q 10: Who is this album dedicated to?
A: Our main influence is the legendary blues harmonica player, singer and songwriter Little Walter. He is the reason we do what we do. So, we dedicated the record to him – and to our parents; who encouraged us to learn to play our instruments and to get out there, see the world and perform.
For more information about The Cinelli Brothers and to buy their album "Babe Please Set Your Alarm":
store.cdbaby.com/cd/thecinellibrothers
---