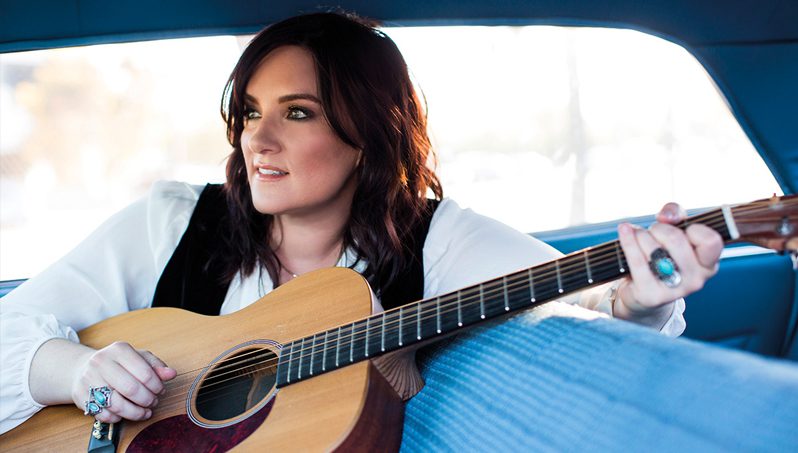 Interview: Brandy Clark – Small Town Girl
17 May 2017 Interviews news
---
Fresh off the success of her Big Day In A Small Town album and tour, Brandy Clark tells Helen M Jerome how she writes such outrageously addictive songs, how she approaches intensely personal and taboo topics and how close she's been to broke.
Brandy Clark has been writing for years, for all kinds of country artists, from LeAnn Rimes and Kacey Musgraves to Keith Urban and Darius Rucker. But was there a precise moment she looks back on as her big break? "Definitely," she says.
"I remember the real turning point, when I thought this could really happen. I had toiled away for a long time, and not had a lot of success as a writer. Then Reba McEntire recorded two of my songs [Cry and The Day She Got Divorced] for her All The Women I Am album.
She'd cut a song of mine for a previous album, but it fell off, because people usually record more songs than make the record. I mean, I recorded 14 songs for Big Day… and it has 11. But Reba cut those two songs and they both made the record." And that was it. Brandy was on a roll.
Today, Brandy's ambition is growing and she's working towards getting her passion project, Moonshine: That Hee Haw Musical, onto Broadway "soon after 2017", which is another collaboration with long-time friend, Shane McAnally.
But before we get ahead of ourselves, if you haven't already, you should first check out her 2013 debut album, 12 Stories, which had critics reaching for superlatives, and brought songwriting nominations and awards. Now she's delivered the fine follow-up, Big Day In A Small Town, which contains so much energy, and is crammed with so many ideas, references and characters, that you need several listens to appreciate how well it hangs together, hooking you in and refusing to let go.
Having grown up in a town with a population of just 900, you can see that some of it might be autobiographical, and she says that when the song, Big Day In A Small Town was written, she thought, "Boy, that would be a great title for an album." But she just tucked it away and didn't really think about it until she was getting ready to make a record again. "I had some ideas swirling around in my head and that was one, and I kind of tried to build around it. I definitely knew that it would be the title and centrepiece of the album."
That was around two years before her producer, Jay Joyce came onboard. Brandy's label, Warner Bros., set them up to work together, so they went for coffee and just hit it off, agreeing to jump in and make music together. They complement each other, says Brandy, as "Jay is a real genius and is just about the job. He doesn't get involved in the politics of the business. He just keeps his head down and works. So he was a great guy for me, because it's just all about the music."
She was able to bring in the songs she already had, as all the writing had taken place before they met. "A lot of times with the producer, you are writing songs for the record with them," she explains. "That's just how Nashville works, you get set up to write with people. But I've never worked with a producer where we're writing for the record. Not that I wouldn't, but I haven't done it that way yet."
When they started to work together, Jay Joyce asked her to listen to Neil Young's Harvest, which wasn't a record that really meant anything to her. But he assured her that there were some songs on that record that would work really well for her sonically, so that's when she became familiar with Young's classic 1972 album, and songs like Heart Of Gold, Alabama, and The Needle And The Damage Done.
High-concept Country
The idea of her own record being an almost-concept album wasn't a conscious thought, according to Brandy. She certainly hadn't imagined doing a whole record about her hometown until Big Day In A Small Town was done. And she still claims she's not yet made a hard and fast concept record: "They've always just been loose; and if I keep making records, I think that's how I'll keep thinking about them, as loose concepts. But at some point, I think I'd like to make a real concept record."
Her own favourite concept records, she says, are Willie Nelson's Red Headed Stranger, plus Pancho & Lefty, which is Willie with Merle Haggard. Concept album or not, its title track is a fond love song to the logging town she grew up in: Morton, in Washington State, a place she left years ago, but still has a pull for her. "It's just going back into where I'm from. To people that I've known my whole life and loved."
She stops to consider. "I mean, I couldn't live there anymore because I've been too citified, with having a Starbucks on the corner and that sort of thing, but it's always nice to go back."
To make all those hometown names and places familiar to the listener, Brandy wanted a map of a small town included in the album artwork. "But I didn't say I wanted it for the cover," she insists. "I said maybe the background of the artwork could be a map. So the next day, a guy from Warner Bros. [Stephen Walker] sent over what he'd drawn, with the streets as song titles. Which he really didn't intend as the cover," she recalls. "It blew my mind that he came up with it. I was like, that's the cover right there!"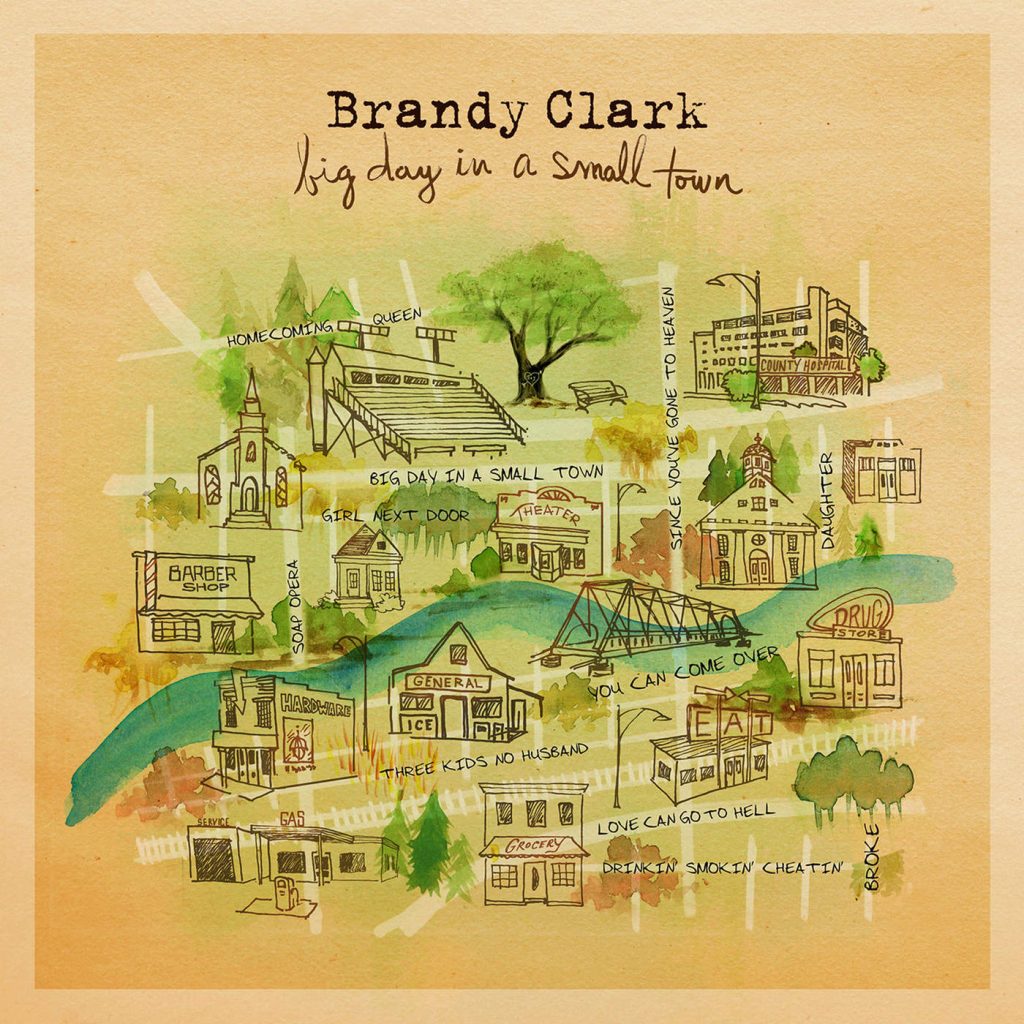 In fact, the whole album feels just as organic musically, although some tracks came from her back catalogue, since she never stops writing. "That's been really good," she says, "because there are songs on Big Day… that were written before 12 Stories, like Drinkin', Smokin', Cheatin' and Since You've Gone To Heaven."
Brandy admits that, even though she normally writes a lot of songs, she's had to take her foot off the gas recently, because she's on the road so much.
"When I'm in Nashville, I'm usually writing a song a day. Sometimes they take longer to finish, but I'm writing every day I'm home. Because for me, if I can't write, I'm not somebody who does 10 songs and thinks those 10 songs should be my record. I think I've got to write 100 songs to find those 10."
Yet she still has time to write for other people, including one number that's just been recorded by Tim McGraw, hopefully for his next record. "I can't even think of the name," she laughs. "But it's a drinking song, I do know that."
The easy intimacy and detail of her writing means that when you hear a Brandy Clark song such as Soap Opera, you know that she's had some of the just-about-managing jobs she reels off in the lyrics. "Oh, I've worked a lot of part-time jobs," she sighs.
"I worked in an accounting department for a paving company, as an assistant for a business manager, then I was an executive assistant, and I drove kids home from school for a company called Kid Taxi, and I worked at a school, I taught guitar lessons. I did a lot of things. Although I never got hired when I tried to get a job as a waitress!"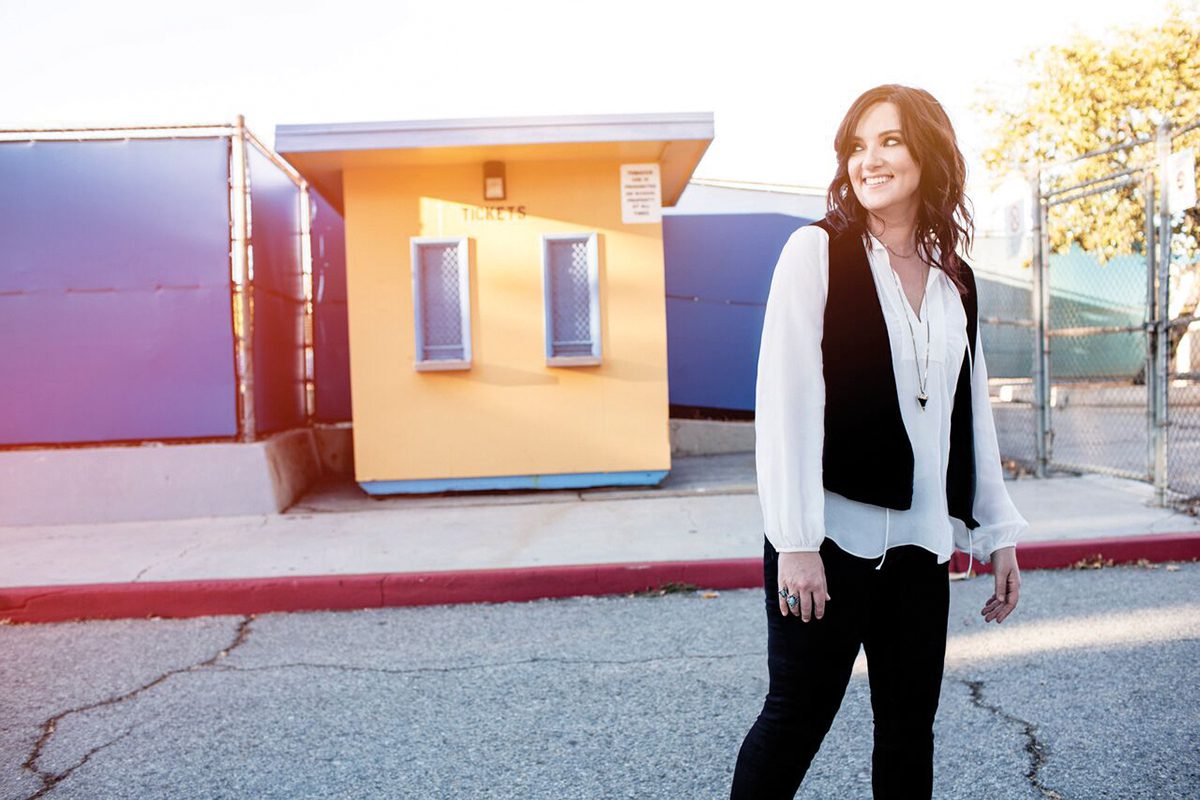 She rarely plays it live, because it's tough to pull off acoustically without a full band, but one of her favourites is Broke. She says this song of everyday poverty is one hundred per cent autobiographical, but surely, she must be comfortably off now? "No, I wouldn't say it's a long way away," she says." I've had less money more in my life than I've had more money.
I didn't grow up with a lot of money and definitely struggled a long time as a songwriter and musician." On a song like Daughter, backed by one of her favourite collaborators, Kacey Musgraves, this confidence is twisted into a tale of long-harboured resentment and bitter vengeance, of a dish served cold… "Yes, I like a good revenge song. I've always been a fan of that kind of feisty female power thing."
She takes no prisoners again in the song, Love Can Go To Hell, looking back with bitterness, trying to find someone or something to blame. "Sometimes, when you're upset and someone's hurt you, you can't blame them," she says. "You gotta blame something else, and so it's easier to just blame love, and make love the thing that you're mad at.
Drawing on Life
You'd think the track Since You've Gone To Heaven, which touches upon the death of her father 16 years ago, would have been really tough to tackle. But she says it was actually pretty easy to write, because she'd marinated the idea for so long, and was far enough away from it. "And when I say it's not exactly about it, well, my family didn't have the sort of breakdown that I talk about in the song. But I've seen that.
When you lose somebody like that, going home is never the same. Holidays aren't the same; you don't really love Christmas any more. So I definitely had that to draw on. I always say, 'my brother's not a drunk, my mother looks real good for her age.' So those parts of it are not autobiographical, but a lot of it is."
Another thing that marks her out is her ability to tackle subjects that are often considered taboo, from marijuana to PMS, and she says she's never had any pressure to steer away from edgy fare. "The guy who signed me, Dan McCarroll, has always encouraged me to be me and to write what's in my heart. Not be pushed into anything. He hasn't ever asked me to follow any trends."
She clearly loves playing live and gets a real kick from the audience, and if she keeps on writing at the same pace, she knows, over time, it'll give her a really solid body of work. And this is the really great gift for her; that people who become her fans and come to shows don't just know a track or two. "They know the whole album," she marvels.
"It floors me in the best way. That's been the experience that we've had at all of these shows in the UK. You guys are just rabid country fans and I love that."
---