The rocker turned country crooner tells Teri Saccone how he's straddled the divide.
With a rich baritone smooth like 'Tupelo honey,' singer-songwriter Darius Rucker has tapped into the mainstream twice: initially via 90s platinum pop rockers Hootie & The Blowfish and then in country in 2008, with debut single Don't Think I Don't Think About It off his hit album Learn To Live. CMAs followed as have more Grammys, industry accolades and touring.
Although the music press hailed it as a major move, on closer inspection the crossover was fairly organic as South Carolinian Darius was raised on Hee-Haw, has listened to country since childhood and Hootie & The Blowfish extolled flavoursome rootsy folk rock. Since his country foray, Rucker's career has flourished again. He's collaborated with Brad Paisley, Alison Krauss, Lady Antebellum's Charles Kelley, Carrie Underwood and Vince Gill among other country elite. And his four albums and ensuing tours have been both commercially and critically embraced.
During his 2012 induction into the Grand Ole Opry, Gill described him as someone "everyone adores". With all the adulation and adoration, CM's expectations were high when we spoke to Darius on the eve of the C2C 2017 tour. Fortunately, the man with the golden pipes does not disappoint. He is both gracious and humble. Cognisant of his good fortunes, he offers: "I'm so lucky. I wasn't expecting any of it," with no mention of the absurdly hard graft involved.
As Rucker is about to grace our stages, he is palpably enthused. "I'm more excited about this than I can say. Touring the UK is fantastic, because the fans there are so rabid and they really do love country music. There is a grassroots loyalty with country that does not exist in pop or rock. It's a different beast."
Rucker grew up venerating soul, rock and the kaleidoscopic musical menu of USA's once-diverse AM radio. But one of the first country stars he was enamoured with was Kenny Rogers. "Kenny's music is so real, his songs are great stories, so vivid and cinematic and he drew me in as a young kid. I loved growing up in the 70s because you could hear Kenny, Cheap Trick, Al Green, The Beatles and Buck Owens all on the same channel."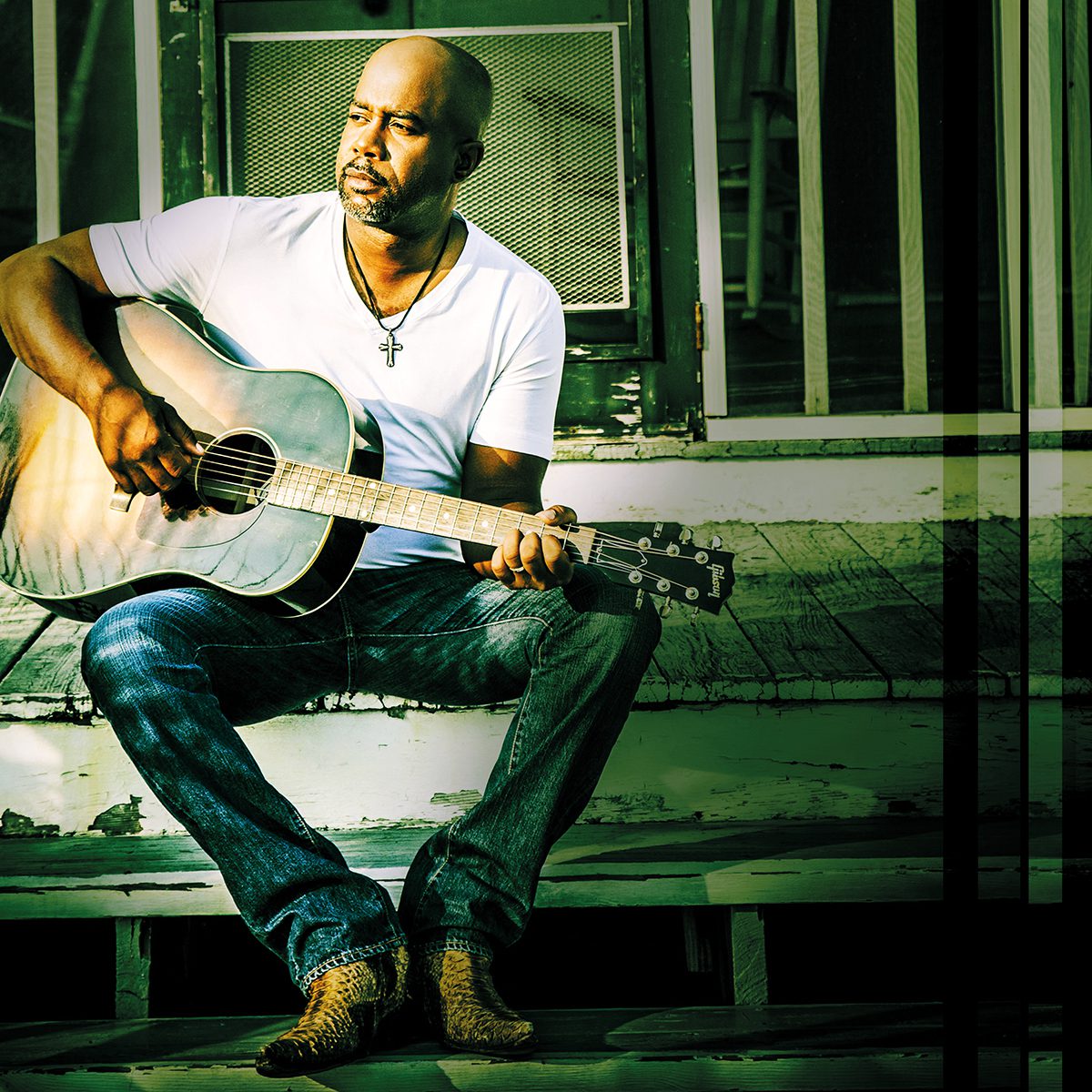 When he appeared on Radney Foster's 1999 album See What You Want To See it was a watershed moment for him. "I knew then I really wanted to go in that direction. I told the guys in the band (Hootie) that I was gonna make a country album even back then." When Hootie went on hiatus in 2008 the timing couldn't have been sweeter and Rucker began forging a country path. "I got lucky going to Nashville and I didn't think it was necessarily going to work, and neither did my representation. We were not presuming it was gonna explode for me. But luckily we made such a great first record (Learn To Live). We then literally drove around the country," he adds, "and we did a national country-radio tour to support it.
Some people thought I was nuts, but I wanted to prove myself to Nashville. On that radio tour, I had programmers tell me they were unsure if their audience would accept me. But I knew that I had to start with country that way. Having country music accept me made me so happy I do what I do. Okay, it's not curing cancer, but it made me feel like I am on the right track."
This modest assessment comes despite the fact that H&TB sold in excess of 26 million copies of Cracked Rear View, making it among the most successful US-made albums in history. Yet Rucker is not one who tends to sing his own praises.
Given that Nashville can be quite unforgiving to crossover artists, why does he think he was accepted as authentically country? "I think the main reason is because people knew this was not about money or being a superstar. I would have done this in the basement of my house with my friends if that was as far as we got. I was making this music for me."
One of the recurring themes in Rucker's lyrics is also a country staple: family. The poignant It Won't Be Like This For Long bears this out. "The personal songs are best for me as a writer. I could try fictional songwriting, but it wouldn't be honest. I write about what I live both now plus from my past experiences, so the real-life topics are my trademark."
He says his songwriting is unpredictable and ideas often transpire without plotting or provocation. "Melodies and lyrics come to me in a variety of ways. But they often appear simultaneously. One thing he won't ever do, however, is write a song and then simply 'countrify' it in the studio. "I won't take a pop song, stick fiddles or a banjo on it and call it 'country'," he explains emphatically.
Since we already know what he is, I probe him about who he is. He takes a few seconds to ponder the question before replying: "Who I really am is a father. That is my number-one purpose. To have contented, healthy children is a privilege for anyone. And I never forget it." The answer is poignant, because his mother raised him and his siblings pretty much singlehandedly, with their dad absent and only visible to them on Sundays right before church services. "For a time, we lived with cousins and aunts and we were a very close family and we still are now."
Perhaps his familial ties keep him living in his hometown of Charleston, when he could choose to reside anywhere. "Home is truly here, in every way imaginable," he explains. Not only do his roots in the historic city run deep, he also is a hands-on philanthropist, having set up two charities. His golfing charity (he's an avid player and a close pal of Tiger Woods) raises funds for youth education in his city, while his foundation Musicians On Call brings musicians to hospitals to visit the sick, serenading or playing for them, bedside.


It's worth noting that the aforementioned Woods compelled him "that you make your first album far better than ever because you're changing genres. And you will be judged extra critically." Woods may be one of the pre-eminent golfers in the world, but he also imparted sage artistic advice to Darius.
Although we don't focus on him being a rare African-American country icon, he has does say that: "Charlie Pride was influential, mostly because he was so good. I realise he was the first African-American to do this 30 years before me."
With an established career and enviable back catalogue, we ask which songs still inspire or delight him to sing? "Let Her Cry still gives me chills and honestly, that one is pretty country, too. Also I Only Want To Be With You because of the reaction from the crowd, which is awesome. I still love playing those songs. It blows my mind that something we wrote in a little room somewhere all those years ago has become iconic and that is a really great thing for me."
"Wagon Wheel (off 2013 monster-hit album True Believers) is my big song," and he chuckles as he recognises the passage of time. Unlike some artists who feel condemned to repeat their past hits in perpetuity while performing live, Rucker has no problem singing many of the songs he has sung since the 90s. "I am happy singing the music we've made for as long as I can," he admits.
Finally, we ask him about his imminent fifth album, but he is rather evasive. "All I can say is that we're almost done and I am working with a different producer this time and have written some songs with various people, including Luke Bryan. It's a lot of country, but with a little bit rock on there because, let's face it, I'm also a rocker, too. I think it's my best album yet, but all musicians say that. I'll tell you that it is, like every album we've done, a true labour of love."
Okay then, Mr Darius Carlos Rucker, with the exquisite voice and engaging persona. We'll just have to savour your kinetic, supercharged live performances at the upcoming C2C in the meantime. But do hurry up with new music. Please?
Rucker's Residuals – More Darius gems we just had to share
On Wagon Wheel's Origin
"I knew the version by Old Crow Medicine Show but thought it was something that I would never cover, as they did such a good job with it. I was at my daughter's talent show at school and the faculty there had a band. They played Wagon Wheel and slowed it down to make it a country song. I immediately called my manager and told him that we had to record this song."
On Hootie Breaking Through Big-Time During The Grunge Era
"Grunge was huge then, and was filled with anger and despair and our music was so not like that! But we pushed through anyway."
On The Strong Fraternity Within H&TB Band Members
"We were like brothers, except we didn't fight. We'd tour for months, go home and then phone each other within a few hours. Because we'd want to talk."
On Country Music's Core
"It is all about the stories when you come down to it. You have to write a good story to make it country. I wrote that first album about me and my wife and it was really about us. Pop music is not so personal as this. In country, you have to reach
people in a different way that truly resonates."
Country Fan-Out
"I loved Dwight Yoakam and Nanci Griffith, a lot."
On His Mum
"My mother was a real maverick pertaining to life, music and family. She instilled a self-belief in all of us."
On Success in The Early Days vs Today
"I'm more mindful, aware now, and sober, too. Back then, we were in such a party haze on tour and we toured constantly and worked non-stop for years. So I don't remember a lot of it… With Hootie, we were so busy that we couldn't really enjoy it. The main focus was all about doing one thing: playing the shows."
Rock vs Country
"I feel blessed to be in this genre and to know if I write a great song it will be accepted."