After numerous US Country No.1s, Lady Antebellum disappeared in 2014… to the point where some fans thought they'd actually split up. But now they're back with chart-topping album Heart Break and an updated Lady A sound that may surprise.
Lady Antebellum have won five Grammys, six CMA awards, sold more than 18 million units, and notched up nine No.1 hits…
Indeed, the trio seem such an all-powerful, unstoppable force bestriding the country music world, you'd think they would allow themselves to kick back and enjoy the ride. Yet singer Charles Kelley says they're now back from a two-year hiatus with trepidation: as he puts it bluntly, "You always have a bit of that fear."
In the world that superstars such as Lady Antebellum orbit, stakes were high – after all, 2014's 747 only made No.2. But now that their new album Heart Break is finally out, Kelley's relief is palpable. "To me it's all about the fans' response," he says. "You wonder if they'll be excited and interested. And so far… the response seems to be great."
Scooting back to Lady Antebellum's 2014 studio album, 747, you could be forgiven for thinking that their follow-up was actually called-'Hiatus'. In fact, some doubters seemed convinced that Kelley and his Lady A bandmates Hillary Scott (vocals) and Dave Haywood (guitars, piano, mandolin), were splitting up when they announced they'd be taking some 'down time'. In the music business, such statements about 'time away and 'working on other projects' often really mean: 'we're done.'
Truth was, it was the truth. All three of Lady A decided they would continue, but it was time to temporarily turn off the spotlights. "We needed some time to step away and live some life," smiles Kelley. "We always come right off the tour and make a record, then go out on tour again to promote the record. We didn't want to jump right into the recording process this time."
Not only did they live their lives – Scott now has a daughter and both Haywood and Kelley have a son each – but they also scratched their other musical itches with solo projects. "Lady Antebellum is its own specific thing," explains Kelley, "and with Lady A, we can't go necessarily down whatever road that each of us wants to go down individually."
Their tastes are different too. Kelley says he wouldn't want to make a religious album, but totally accepts that, "Hillary has always wanted to do a Christian record with her family, they're very spiritual."
And Kelley in turn had always longed to do something that's more of a throwback to Californian country or southern rock, which isn't Scott's kind of thing. Meanwhile, Haywood – as the muso of the band – went off and flexed his musician muscles by producing a new country trio, Post Monroe. Charles Kelley insist Lady A's break has been a win-win situation.
"It was a way for us to show a different side of ourselves artistically. You see a lot of rock groups who've done that, but for us it was a nice way to take a break, try something new, and get a little bit of this stuff out of our system." The big bonus was that it made them eager to get back in the studio again and play together as Lady A. "All three of us talked about how much we'd missed the process. And I think the fans will see a change, and will wonder what we're going to do next."
One thing that Kelley, Scott and Haywood all agreed on this time was that they wanted the new album, Heart Break, to be fresh and not repeat themselves. They themselves wrote 11 of the 13 songs, the most they've ever done for a record: "There's a lot of our personal stories in this one," he says.
They'd previously felt pressure to make sure they'd got enough hits to keep their career going. But this time they asked themselves what they really loved, says Kelley, then let the hits come out of that. "We really didn't know what was going to be a hit song, and we were writing from a very innocent standpoint. We weren't trying to write hits – just songs that felt authentic to us."
Something in the Airbnb
To help their creativity, the trio decamped to a beach house in Florida that they'd rented online from Airbnb. "We had this vision of going and maybe writing down on the beach," laughs Kelley, "but we spent pretty much the entire week holed up inside. We liked it so much, and we were having so much fun, we'd start writing stuff from 10am, all the way up until 2am the next morning. We wrote something like nine songs in five days, it was just pouring out of us."
There were no rules in their writing sessions. Sometimes they'd start with a melody, as with the title track. "We had a melodic thing going, then Dave and Hillary came into the room and Dave said, 'I've got this idea of giving your heart a break'. So a 'heart break' becomes two different words. And I was like: that's brilliant, dude. All of a sudden we were throwing out lines onto this melody we'd created."
The final piece of the jigsaw was getting exactly the right producer and the trio turned to Busbee. "We knew he was a talented guy, but with that Maren Morris record [Hero, Morris' breakthrough album of 2016 which Busbee helmed], we just felt it was so great, so edgy, but it still had this authentic, timeless feel in the way he was breaking tracks."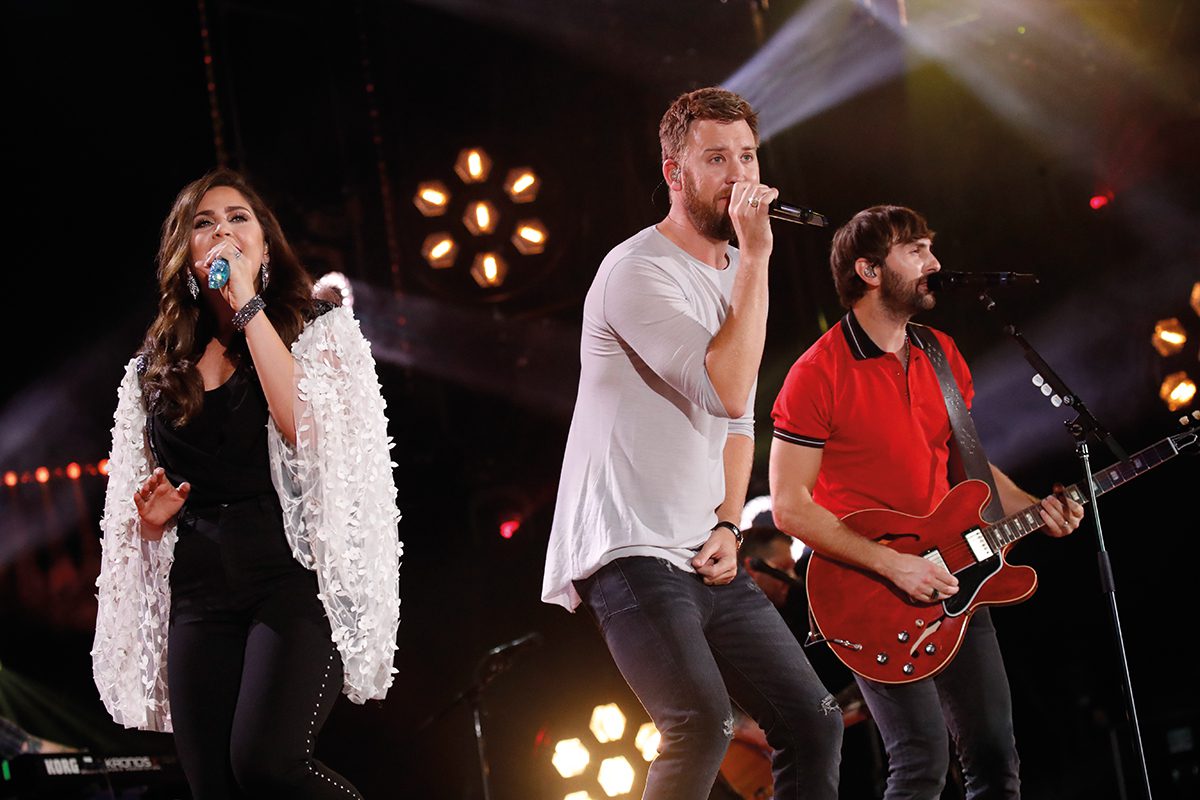 Crucially, as well as bringing fun and energy to the process, says Kelley, Busbee also brought some tough love. The three would play him a song and he'd say, it sounds like a hit, but it doesn't sound like a Lady Antebellum hit. "He really pushed us to dig deep," admits Kelley, "He wanted to make a record where every song brings something to the party. Each with some special lyrical meaning. Not just songs that sounded like regular hits."
Initially it was just the three of them in Florida, with visits from a couple of other writers. Then when they decamped again to another Airbnb location in Southern California with a small studio, Busbee came along. By then they had a handful of songs, and they wrote a few more out in California, before finishing off the whole record back in Nashville, of course, in Busbee's home studio [Eastside], and in Blackbird Studios, home of a thousand recordings by Keith Urban, Brad Paisley, Vince Gill, Taylor Swift, Rascal Flatts and many more. "I think the different locations kept it fresh for us," notes Kelley. "We didn't get too bored and stir crazy."
With Busbee heavily involved in melodies, building tracks, and contributing lyrics, Lady A eventually became a four-strong team. "It's all part of the process, Dave picking up a melody on his guitar, Hillary and I sitting there hashing out lyrics, while they're putting together the tracks. Everybody adds something different."
Somebody Else's Heart was one of just two songs written back in Nashville. They'd worked on the melody and built the track the previous night, then songwriter Shane McAnally, who Kelley believed, was "great at finding really simple but profound ways to say the same thing," came in with an idea about, "wishing I could love you with someone else's heart, and not having to feel it, because I know you're going to break my heart". Once they'd all added different lines "you're off to the races!", says Kelley.
The incredibly catchy song, Army was written specifically for Kelley and Haywood's wives, and Charles immediately tell us: "They're amazing. They're working women and they keep our lives on track. We've got kids, and we're moving all around the world, and we can only do it because we've got such a strong home life.
That's definitely a little ode to our spouses!" And the song's sound is a nod to their beloved 70s rock, in another subtle smoothing of the Lady Antebellum sound: "Oh man, I love the Doobie Brothers and the Eagles. Oh, and Fleetwood Mac. We tried to base a lot of our early sounds off the way they would go [vocally] back and forth. We always thought that was unique."
Heart Break is certainly impeccably crafted, the sort of pop-country record that could really find favour with any type of audience. Even though they didn't have a perfect formula in mind when they were structuring the album, Kelley says: "you definitely want the album to pace itself. You don't want a whole bunch of ballads in a row, or a bunch of in-your-face tempos.
Part of what makes the band unique is having those songs where Hillary leads, then I lead, then we duet. We're always going to try to have some of those classic back and forths, those heartbreak ballads."
The single, You Look Good, written by Hillary Lindsey (of Carrie Underwood smash of 2005, Jesus Take The Wheel), is a good example of their trademark 'line-swapping'. It also has a new flavour in some horns, which further push the band's sound. "We like putting some songs on there that come out of left field," says Kelley.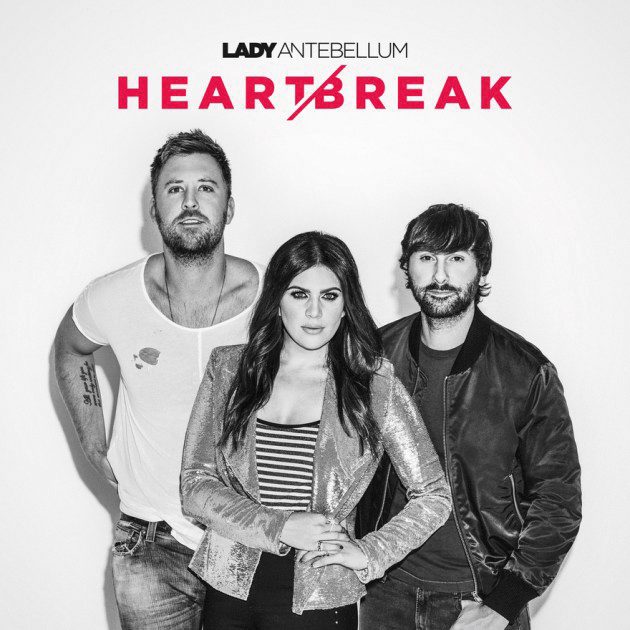 "And with the horns, it was like: okay, this is different. This is going to catch people off-guard." Better still, now they're sing it live, the crowd can all join in with the 'Heys' and the 'Woahs': "Yeah, that's fun. It's great getting in a big room and being able to yell it out."
Closing the album in more trad style is the contemplative Famous, with its lovely pedal steel from Paul Franklin, and which came from the trio and their buddy Eric Paslay, just sitting in Charles' "little library", with acoustic guitars, and writing on paper in the simplest of ways.
A prime inspiration behind its lyrics may again surprise again, though, as Charles confirms it's a song mainly (but not exclusively) about tragic soul singer Amy Winehouse. They'd all seen the heartbreaking documentary, Amy (2015), and started talking about how they felt about it.
"We were all just so affected by that film. It breaks your heart a little bit, how they'd have dreamt about that their whole lives and then they get it and then it's such an isolating feeling. We feel really lucky that we're able to be up there onstage together and live out this dream. To not have quite the same stresses that some famous people have.
And we thought of all the music that we'd missed out on that Amy would have made. You start wondering if she was already broken going into it, or did fame break her, or we as fans? How we like to sometimes see people fail.
I don't know…"
Fame and fortune
Given Lady Antebellum's own level of fame now, the nature of the industry is clearly something on Charles Kelley's mind. Heart Break is destined to take the trio's music into ever more homes, but Kelley is accepting that the world of country music is changing. And it's one they've always been ready for.
"We're in a mix-tape world now," he says. "Somebody will put their mix together, and listen to a rap song, and the next song is a rock 'n' roll song. We've always been that kind of band, because we grew up playing in cover bands in bars, and you have to play songs from all kinds of genres.
"I definitely think the span of country music in general has grown a lot," says Kelley. "For one thing they seem a lot younger, which is neat. A lot of young fans are coming to our shows. We have all kinds of fans. If you love music, come and check it out! That's always been our motto. We know we're not so much a traditional country band. But that was never our goal. We just try to be true to whatever songs are coming out."
Not, he insists, that they've actually moved into a different genre. "We're not going as pop as Taylor [Swift] has gone. But part of the genre in Nashville has evolved that way. I mean Heart Break and You Look Good are definitely way more pop-leaning than a song off our first record like Love Don't Live Here."
Right now, he says their only concern – now the anxiety of the comeback is over – is getting out there and trying to bring some joy, Lady A-style. Kelley is careful to avoid politics, but says that "especially in America there's just a lot of craziness going on and it seems like the country's a little bit divided at times.
There's always going to be something going on in the world that stresses you out, and takes away your joy, but as long as you've got someone that you love, and can have by your side, that makes life worth living. So I love that song and it always feels like a good singalong, since we've been doing it live."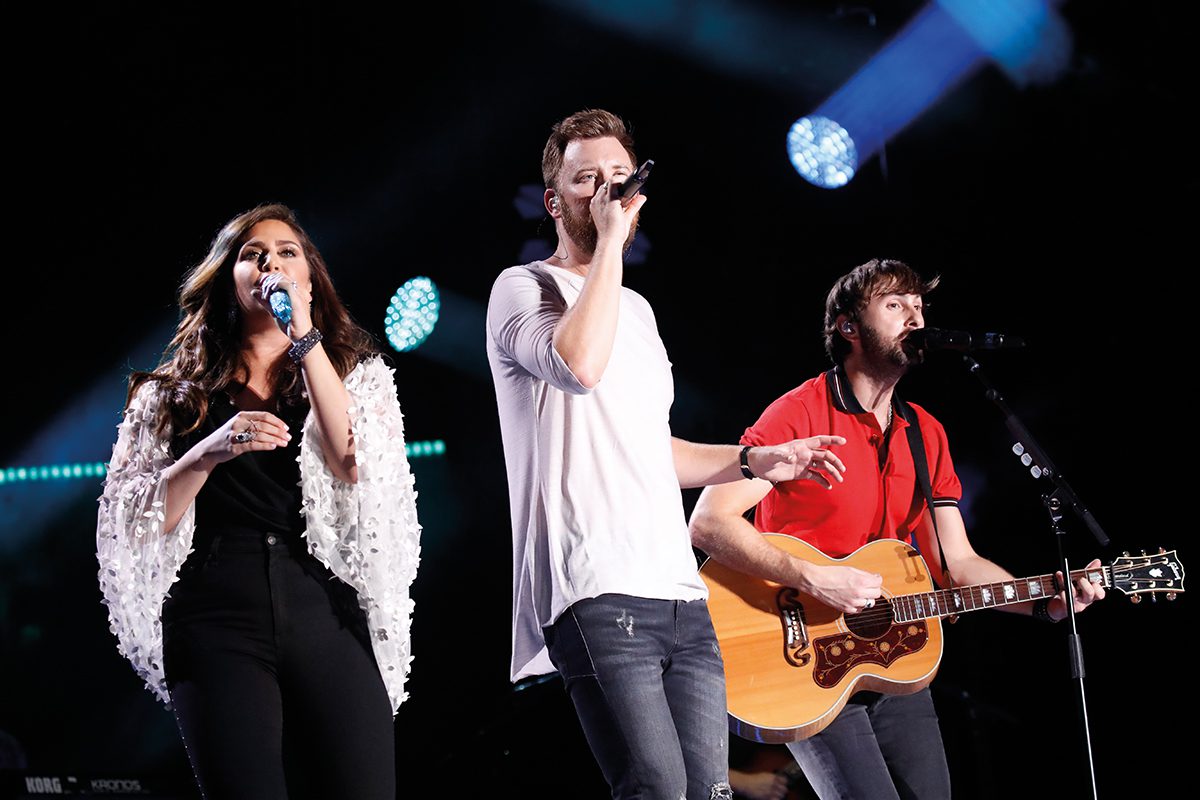 Lady Antebellum are especially glad to come back to tour Britain, where they have fond memories, albeit in smaller venues to those in the US. Though that's changing, too: this autumn sees the group play London's O2 Arena. "Oh man," he exclaims, "the UK fans are so loyal. That's what's so cool. It's going to be fun to bring our big show there, with a horn section. It's a different thing to be able to show these songs in a massive environment."
"I'm so excited for people to see the production," says Kelley. "We've been together 10 years now. So anybody that saw us five years ago is hopefully going to see a lot of growth in us as performers. We're much more comfortable up there on stage, and not to mention have a lot more material.
"I think that's the key, we have six records we can pull from. It's been a fun musical journey for us. And I can't wait to see what the fans are like!"