Olivia Newton-John and Beth Nielsen Chapman tell Kieran Kennedy about their new album with Amy Sky.
Not since Dolly Parton, Emmylou Harris and Linda Ronstadt united on Trio 30 years ago have three voices harmonised as beautifully and movingly as they do on Olivia Newton-John's collaboration with Beth Nielsen Chapman and Amy Sky, Liv On. What makes the new album all the more powerful is that every song was crafted by the threesome to bring hope, comfort and healing to those suffering bereavement, battling illness or enduring trauma and grief of any kind.
It's an album that comes from the heart, because all three of the singers have had their share of loss or life-threatening illness, and each knows the special power of music to heal the soul.
"The album was really inspired by the loss of my sister three years ago," says Olivia, who enjoyed a string of country hits in the 1970s, before teaming up with John Travolta for the iconic musical Grease and going on to score poppier hits, such as Physical, in the 1980s.
"I wrote a song about her as a way to help me heal from the experience because she died pretty quickly and shockingly," the Australian songstress continues. "I asked Amy if she would help me finish the song, because we had worked together before on my album Grace And Gratitude.
"Amy had just recently lost her mother, and we were talking about the fact that there is very little music for people going through loss and grief. I had the idea of doing an album about it, and we asked Beth if she'd join us, because I thought it would be a great sound with the three of us."
"Olivia called me and it sounded like a perfect fit for me," says Beth, who has written seven number-one songs, including the Faith Hill smash This Kiss, and Willie Nelson's Nothing I Can Do About It Now.
"I've written songs about coming through grief over the course of my career," continues the singer-songwriter who is also well known for her song Sand And Water – a favourite of Elton John's – which she wrote following the loss of her first husband to cancer in 1994.
"Most of the things that happen to me, I sort of write my way out of it. So I was already dialled in on that."
Beth and Olivia have been close friends since Olivia helped Beth through her treatment and recovery from breast cancer in 2000 – an experience that Olivia herself had been through eight years before.
"I met Olivia through Annie Roboff, with whom I wrote This Kiss," Beth remembers. "I didn't know her well, but when I was diagnosed, Olivia called me and she was incredible. She totally came by my side. She put me in touch with her doctor and helped me get some questions answered very quickly. She checked in on me, she was incredibly supportive and we became friends through that, immediately."
Raising Awareness
Although Beth didn't know the Canadian singer-songwriter Amy Sky very well before they began writing the songs for Liv On, the project was a bonding experience for the three women Beth now calls "my girl tribe!"
"It was wonderful. We got together a few times over the course of a year and would spend two or three days at a time writing, sharing our stories and eating snacks – that was a big part of the process!
A lot of our personal emotions went into the songs and we worked very hard on them." Beth adds: "There's not a lot of uptempo songs. We felt that when you're broken up over losing somebody, or in some sort of grief, whether it's a divorce or some terrible thing in your life, you want something gentle and soothing.
"We wanted it to be comforting, and melodic, so you'd be drawn back and want to hear it again." The album's title song was inspired by an awareness-raising campaign by the Olivia Newton-John Cancer Wellness & Research Centre in Melbourne, Australia, which the superstar had raised funds to build in 2008.
"They were using a poster on which they'd highlighted some of the letters of her name to spell Liv On," Beth explains. "Olivia said, 'I think that would be a great song title,' and I said, 'Are you kidding me? That's a fantastic song title.' So we wrote that with the intention of helping to promote the hospital, and we've also made a video for the song to help the hospital."
"We're encouraging people to share their stories online, of living on," Olivia says of the video. "To encourage someone else who's going through some kind of loss, whether it's a loved one or even a pet. And to show you how to cry the tears that you cry and then live on and be grateful for the day. Because the song's really about life and how lucky we are. That's how I feel." The first song on the album is an expression of empathy: My Heart Goes Out To You.
Poignant Words
Beth recalls how the song came about. "We were having breakfast one day when Amy got a text from a friend of hers, and her friend's baby had died. We just thought, Aw, there's zero words to take someone out of that depth of sorrow. And I think it was Olivia who said, 'The only thing you can really say is my heart goes out to you.' "We got up from the breakfast table, went to the piano and wrote that song in about 15 minutes."
"Sometimes when people lose somebody, other people don't know what to say," Olivia comments. "They don't have the right words. So this song says it for you. You can give them the album, and the song can express it for you."
As well as the newly written songs, the trio sing a moving vocal arrangement of Do Not Stand At My Grave And Weep, the well-known poem by Mary Elizabeth Frye which is often read at funerals. They've called their version Immortality.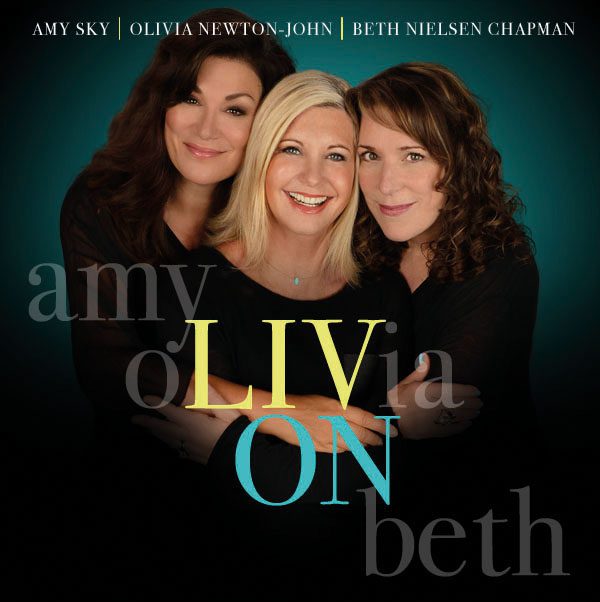 The three also cut new versions of Olivia's Grace And Gratitude; I Will Take Care Of You, which was a Top 10 hit on Canada's Adult Contemporary chart for Sky; and also Beth's Sand And Water. "I always thought that song was absolutely stunning," Olivia opines.
"I was a little nervous about redoing it," Beth admits. "That song's been a big part of my career for 20 years and when something's not broke, you don't want to fix it. But the harmonies came out so lovely.
"In fact, I was just inducted into the Songwriter's Hall Of Fame, and Olivia and Amy flew to Nashville and did an absolutely exquisite version of it. I wasn't allowed to sing. I just had to receive. But they did Sand And Water and my son played guitar and sang the third part, and it blew everybody away."
Olivia discovered the healing power of music after successful treatment for breast cancer in 1992. As she recovered, she poured her feelings into the album Gaia: One Woman's Journey, which was the first disc on which she wrote all the material.
"It just came to me," she recalls. "I kept waking up in the night with these songs in my head. I'd finished my chemotherapy and I'd gone to Australia to heal, and these songs just kept coming to me. I'd have to get up at three o'clock in the morning and write them down.
"Music is a great way of expressing your feelings," Olivia continues. "In three minutes, you can express your feelings about something and it will help you heal. It has with me."
Beth agrees, and urges anyone going through grief or trauma to try a creative activity. "It doesn't have to be grand. It could be sitting at your kitchen table playing with Play Doh while you're going through chemo. There's a healing device within us that works through creativity," Beth states. "Whether it's writing in a journal, painting a picture, arranging flowers or baking bread, anything that brings something beautiful into the world, or something poignant or something with an emotional quality, is healing."
Stone Free
The first single from Liv On is also the first song that the trio wrote for the project, the uplifting and slightly funky Stone In My Pocket.
"It's about the fact that when you first go through loss, it feels like you're carrying a boulder around with you," says Olivia.
"Then, as time goes on, some days it feels like a boulder, some days it feels like a pebble in your pocket. You carry it around with you, but you can cope with it."
"Radio likes stuff with tempo," says Beth. But the beat to Stone In My Pocket also emphasises the fact that, despite being aimed at those in pain, Liv On is actually far from being a miserable listen. It's warm, life-affirming and designed by its very nature to make you feel better.
"The album came about as a way of healing ourselves," says Olivia, at the close of our conversation, "and it seems like it's healing other people, which is wonderful."