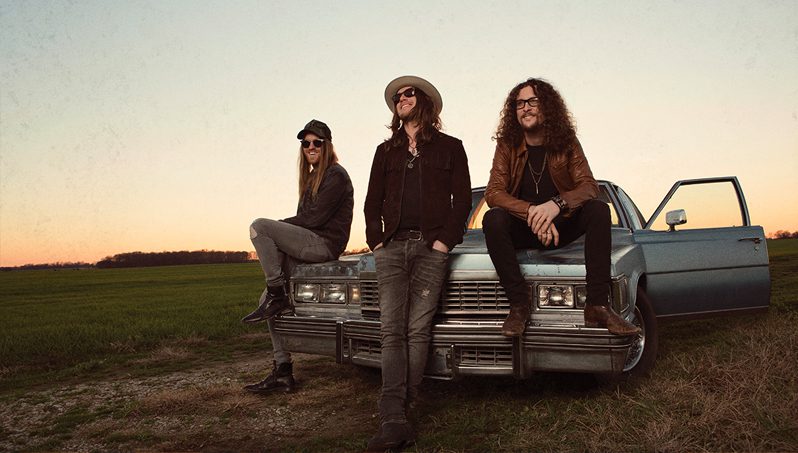 Interview: The Cadillac Three – Southern Comforters
27 April 2017 Interviews news
---
Cadillac Three frontman Jaren Johnston tells Paul Sexton about the moment he realised that the country and rock worlds were coming together.
It was in February this year when The Cadillac Three's repeated UK visits – eight in two years by that point – were rewarded with their biggest audience yet one sizzling night at the Electric Ballroom in Camden. Frontman Jaren Johnston saw two worlds collide. "I saw a Travis Tritt t-shirt and a Pantera t-shirt at the same show," he laughs. "That's when you know you're doing something different."
Bassist, steel guitarist and dobro player Kelby Ray joins in with the memory, underlining how the band have created a scintillating subdivision of Southern rock with deep country roots. "You could see it in the ages of the crowds over there," he beams. "We had kids from 20 to 65, it was all over the map. You get those old Skynyrd and ZZ Top fans, and then the younger fans."
As Ray points out, the band's live UK audience had increased six-fold from their first visit in 2014, when they sowed the seeds of their following at London's Barfly. In the summer, they rocked the Ramblin' Man Fair, and in November, their stature will likely take another giant leap forward when they return for an eight-date tour of Britain and Ireland.
They've become such adopted Brits that Johnston has even been considering getting a flat in London. "Chrissie Hynde's one of my best friends," he says without a whiff of name-dropping.
"She lives there, and she always comes out and hangs. It's just been such a cool thing to see that whole thing grow, kind of by accident. We weren't forcing anything, we just literally did what bands do, you put a record out and kids reacted to it.
"We were always infatuated with Tom Petty and bands that came over there and did what they do, and people appreciated it, and they kept going back. When we did the first trip and saw how cool it was, and how we sold the first show out in, like, 10 minutes, we were blown away.
So we were like 'alright, this is a commitment, two times a year if not more'. Monetarily speaking, it hasn't been easy at the beginning, but it's paying off now."
That upcoming schedule will continue with dates in Germany, Holland and Spain, in a European run that's wrapped around a never-ending domestic tour. Every night, they'll play the hell out of both their earlier anthems and the brilliant sophomore album Bury Me In My Boots. The Cadillac Three are doing something seriously right.
After a brief but warm hello with the band backstage that night at the Electric Ballroom, we sat down for a face-to-face with Jaren and Kelby on Tennessee time, while they were completing the album at Nashville's celebrated Blackbird Studio. As we spoke, drummer Neil Mason was hard at work downstairs adding a final percussion part to what's become a landmark record for the band.
Bury me in my boots
Released in early August, Bury Me In My Boots shows the band's distinguished and in-demand songwriting chops reaching a new plateau. A mature successor to the debut record released in the US, in the first of several incarnations, in 2012, it upped the ante by debuting comfortably inside the mainstream Top 40 on both sides of the Atlantic.
TC3's serrated sound references everyone from Kings of Leon to Lynyrd Skynyrd, with healthy ingredients of an upbringing that embraces country, rock and roots music of many stripes. But more than anything, Bury Me… is clearly the sound of a band with courage in their convictions.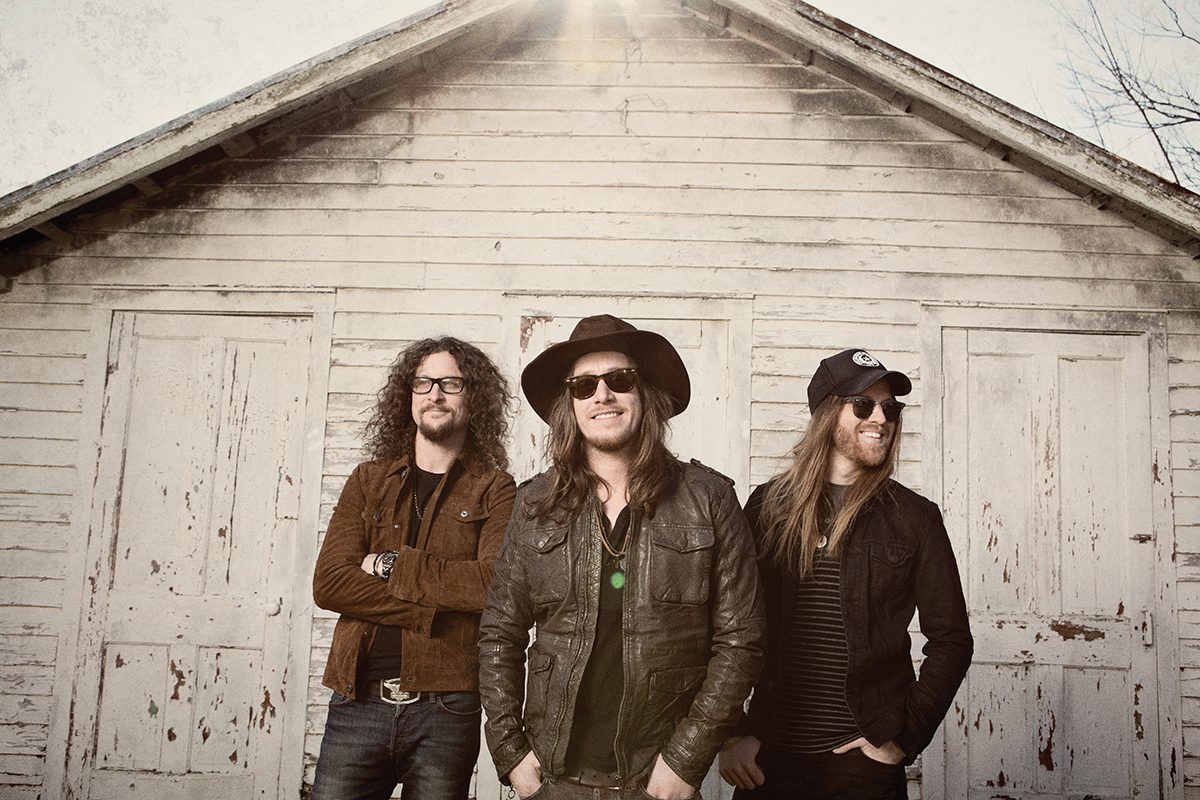 "It shows how we've grown over the last five years, since we recorded that first album in a week," says Ray. Adds Johnston: "It's a nice little salad of where we come from, as far as having recorded that first record so fast. We wrote the songs for that first record in four or five days, and we just put it out. That's what bands do. We didn't have anybody telling us we couldn't do it.
"So this is after three and a half years of touring extensively, and starting to live life on a bus, and writing songs in the back of the bus and kind of living that 'Almost Famous' life, where everybody's always got a guitar, there's always a beer, there's always a girl, and you're always going somewhere.
I think this is a nice little mix of the last few years of living that life." Not that Johnston, Ray and Mason have tried to fix anything that wasn't broken. "As far as production goes, it's still just the three of us playing, with somebody hitting the record button," says Jaren of their inspiringly live studio technique. "Nothing's changed, but every band wants to grow.
"Graffiti and White Lightning were a step in the right direction, but there are some other cool songs, like [album closer] Runnin' Red Lights. It shows a more…" he stops short of using the word mature, but goes on: "I'm not just singing about booze and fighting and trucks. I'm a little older. Things get a little more nostalgic and you start looking back on your life. I'm married now, I own my house and we're living life, and it's a crazy lifestyle. So I think a lot of those stories are in these songs."
That's why he didn't quite make it to the word "mature". The band's conversation, like their lyrics, is peppered with references to good-natured good-timin'. They proudly play what they deftly describe in one of the album's many singalong moments as the Soundtrack To A Six Pack. But in the very next song, the aforementioned White Lightning, they can switch gear and sing sincerely about a girl who "stole my heart faster than a heat-seeking missile on a mission".
Abbey Road studios
Graffiti, an advance rider for the album when it appeared as a single in late January, was written by Mason with Corey Crowder and Luke Dick; the band recorded a live version of it on that early-year UK visit – at Abbey Road Studios, no less. As soon as Johnston heard his bandmate's song, he identified with the lyrical sentiment.
"Neil wrote that one with a couple of buddies, and he played it for me one night on the back of the bus," he recalls. "I was drinking pretty good, but I was immediately drawn to it, because I love the story and I love the idea. I grew up in the ghetto, in East Nashville, which is now the cool area, but there was spray paint everywhere.
"There was this bridge under Shelby Park [with the Cumberland River running alongside], and there's people's names there that you went to school with. Their name's going to be up there until somebody else paints over it. In my eyes, they were small town famous.
"So when I heard that lyric I was like 'Man, that is awesome'. I'd never sung anything I didn't write, so I sat with that for a day or two and I said 'I'm going to sing this and put a vocal on it', and it came out so natural. We went with it first just to kind of get some stuff out there, just because it's a step between what we were doing and what we're doing now."
"Every band loves playing clubs," adds Johnston, "but they also have that dream of being the biggest band in the world, and I think Graffiti is a great example of a band growing."
The Grand Ole Opry
For all their ability to party for America, TC3 are steeped in country history and well-drilled songwriting discipline. Jaren, for example, has spoken of his upbringing around drummer father Jerry Ray Johnston, who frequently performed in the band at the Grand Ole Opry. There, his son was able to expand his autograph collection by meeting Garth Brooks, Don Williams and others.
Jaren even once had a slightly heated encounter with Porter Wagoner, who was less than thrilled that Jerry Ray's boy had encroached into his sacrosanct dressing room area. It seemed only correct, though, when The Cadillac Three made their own Opry debut in 2014.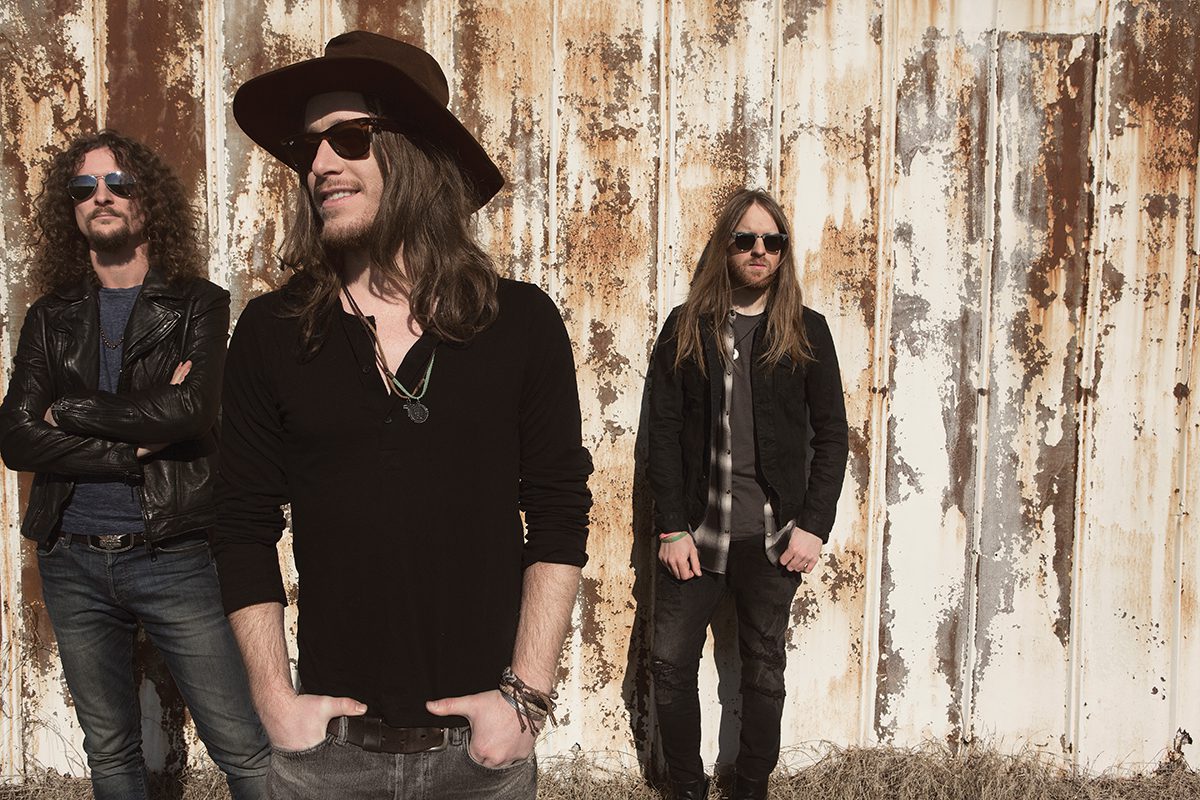 "I gravitated towards country music," says Jaren, "because I always thought, growing up listening to it, that it was so great how they put a really cool life story in there, or even something stupid about a truck, or beer or whatever. I always loved how they put it over a dirty little guitar riff and some really catchy melodies."
That's why Jaren and Kelby's imaginary jukebox would contain some mainstream country artists alongside some rockier options. "There'd be a bunch of Tom Petty, anything from Damn The Torpedoes," muses Johnston. "I think we'd all agree on that one, at least. Garth Brooks, definitely, anything from Ropin' The Wind. Keith Whitley's Don't Close Your Eyes, and Metallica, anything from And Justice For All. I'd also throw in the first two Steeldrivers records, Stapleton's old band. They sound great on vinyl, too."
"I'll throw an old-school one in, The Highwaymen, with Kris, Johnny, Waylon and Willie," says Kelby. "I have that 45 still at home. I grew up listening to that stuff and a lot of 80s country, like Hank Jr, The Dixie Chicks, and Tuesday's Gone, Skynyrd.
"When I was growing up, Hank Jr covered that song, and until I saw Dazed & Confused in high school, I thought it was a Hank Jr song the whole time." That Southern gem even rated a namecheck on the debut album's Get Your Buzz On ('party on the farm 'til the rooster crows, yeah, from Skynyrd to the Rolling Stones, Start Me Up 'til Tuesday's Gone').
TC3 diehards are well aware that their first album emerged in 2012 when they were still called The Cadillac Black, but all three members had done plenty of hard yards before that. Mason, along with Ben Morton, had been a member of Nashville alt-rockers Llama, before the pair joined with Johnston and Ray in American Bang, whose self-titled album for Warner Brothers featured two moderate rock radio hits in Wild and Young and Whiskey Walk.
Country number 1
Around the independent release of the Cadillac Three album, Johnston's profile as a go-to songwriter on Music Row was quite noticeably on the rise. Just before that album came out, he had a Country Number 1 on his hands as the co-composer (with Preston Brust and Chris Lucas, aka LoCash Cowboys) of the Keith Urban hit You Gonna Fly.
In 2013, Tim McGraw released Southern Girl, written by Jaren with Rodney Clawson and Lee Thomas Miller, as a single from his Two Lanes Of Freedom album, and took it Top 5. Simultaneously, there was a tip of the hat to the Cadillac Black/Three album when Florida-born country star Jake Owen covered Johnston and Mason's song from it, Days Of Gold.
Those credentials are testament to this band's instinctive ear for a hit, but Johnston admits he's more likely to keep the good ones these days. "I gave away Raise 'Em Up to Keith Urban and Eric Church," he says, "because we weren't the band yet to do that. Now we do that song almost every night live, and we probably would have had a hit with it."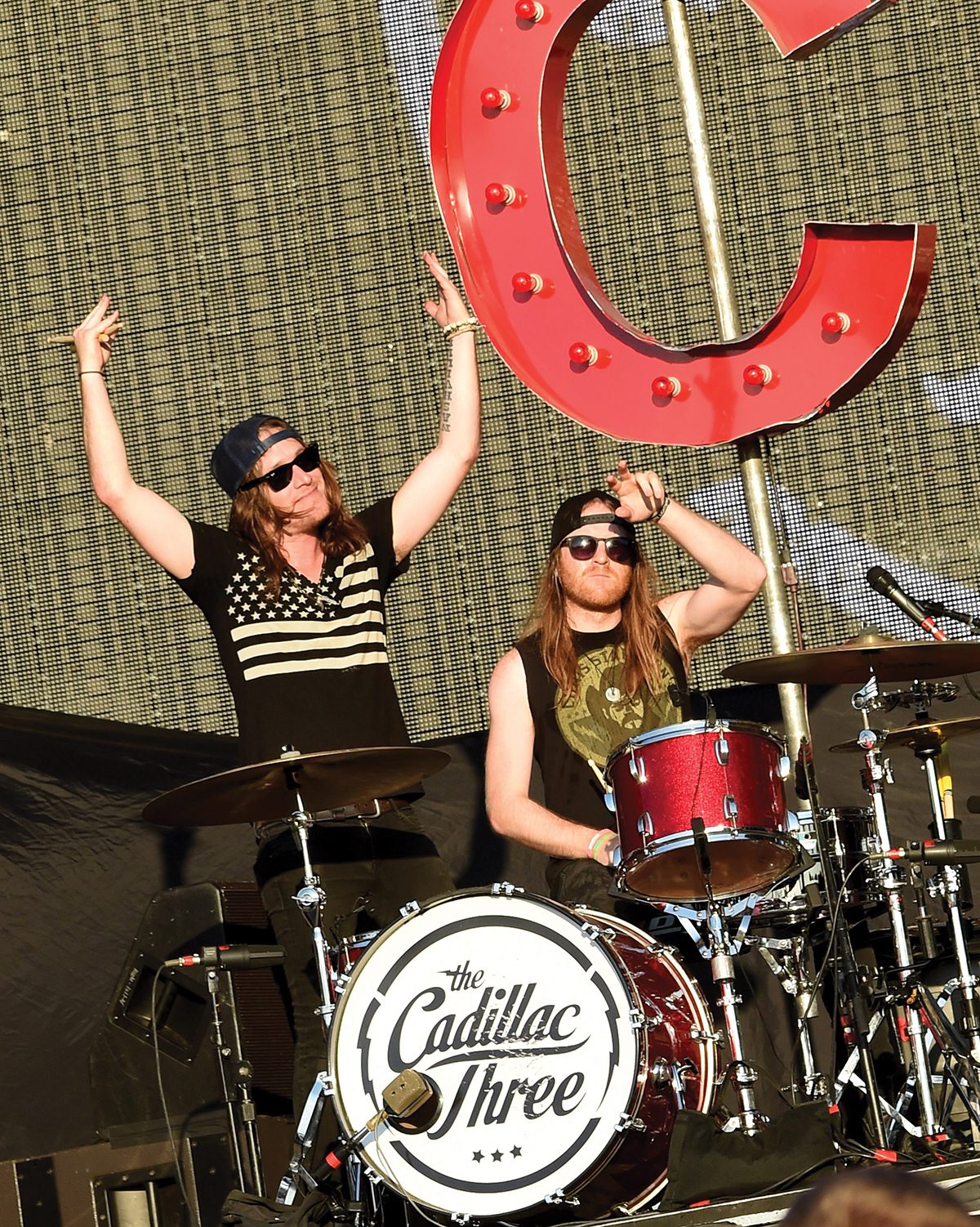 Urban and Church certainly did, taking the song to the top of the country airplay chart last year and selling a quarter of a million downloads of it.
"White Lightning was the same thing. The Band Perry wanted it, and I played it for Neil one day and he said 'Dude, this is really cool, this is too good to give away'. So we pulled it from them. But at the time, I didn't write it for us, I was just writing a song about my wife, and I didn't think I wanted to give that part [of my personal life] away just yet.
"So now we're very conscious of songs that normally we would have given to a bigger artist, because we want to be that artist, and we can be now. We're big enough now and have enough, for lack of a better word, balls to take on those melodies and those stories for ourselves."
That songwriting circle is a reminder of the unique way that Nashville fosters its talent under a very large umbrella – and how the feeling of community there exists almost nowhere else. "We've been lucky enough to make friends with a lot of people," says Jaren.
"A lot of times, the phone rings and it's 'Hey, do you got anything that sounds like this that I could sing?' You send them what you've got, and sometimes it works out and sometimes it doesn't. There's a little bit of that going on in Los Angeles with the pop scene there, but Nashville has such a history of Waylon and Willie and Kris, they were all writing together. If Waylon didn't sing it, Hank would, or vice versa.
"So with us growing up in that era, we were seeing songs getting cut, and my dad pitching songs and being so excited because someone said 'I'll hold that and play it for John Michael Montgomery', or whatever. Seeing that is exciting, because it's all kind of a big game we play. It just kind of pays out nice sometimes."
Guest appearances
Sitting in Blackbird Studio, we talk about their 2013 single The South, one of many salutes to their raising, with guest appearances by their friends Mike Eli and Florida Georgia Line. "We actually recorded that here, we recorded the gang vocals in that room with those guys," says Kelby.
"And drank tequila until we fell down," adds Jaren. At the Electric Ballroom gig, the London crowd joined in passionately with that hymn to the Southern states, where the beer always seems cooler and the women always seem hotter. 'This is where I was born, this is where I'll die,' they roared.
"That song," Johnston tells us, "is like the first time I heard Skynyrd's Sweet Home Alabama. I was born and raised in Nashville, but I heard that song and I was like 'Hell yeah, Alabama! I want to be a part of that'. So I think that's part of what's happening with us over there. People don't understand it as much as they want to, and they want to be a part of it.
"So to me, that's extremely flattering, because you're almost starting a club. Whether it's us or Blackberry Smoke or Whiskey Myers or A Thousand Horses, it's neat that that's happening," adds Kelby of the Southern sing-song: "It's pretty crazy to hear that sung in British accents, too!"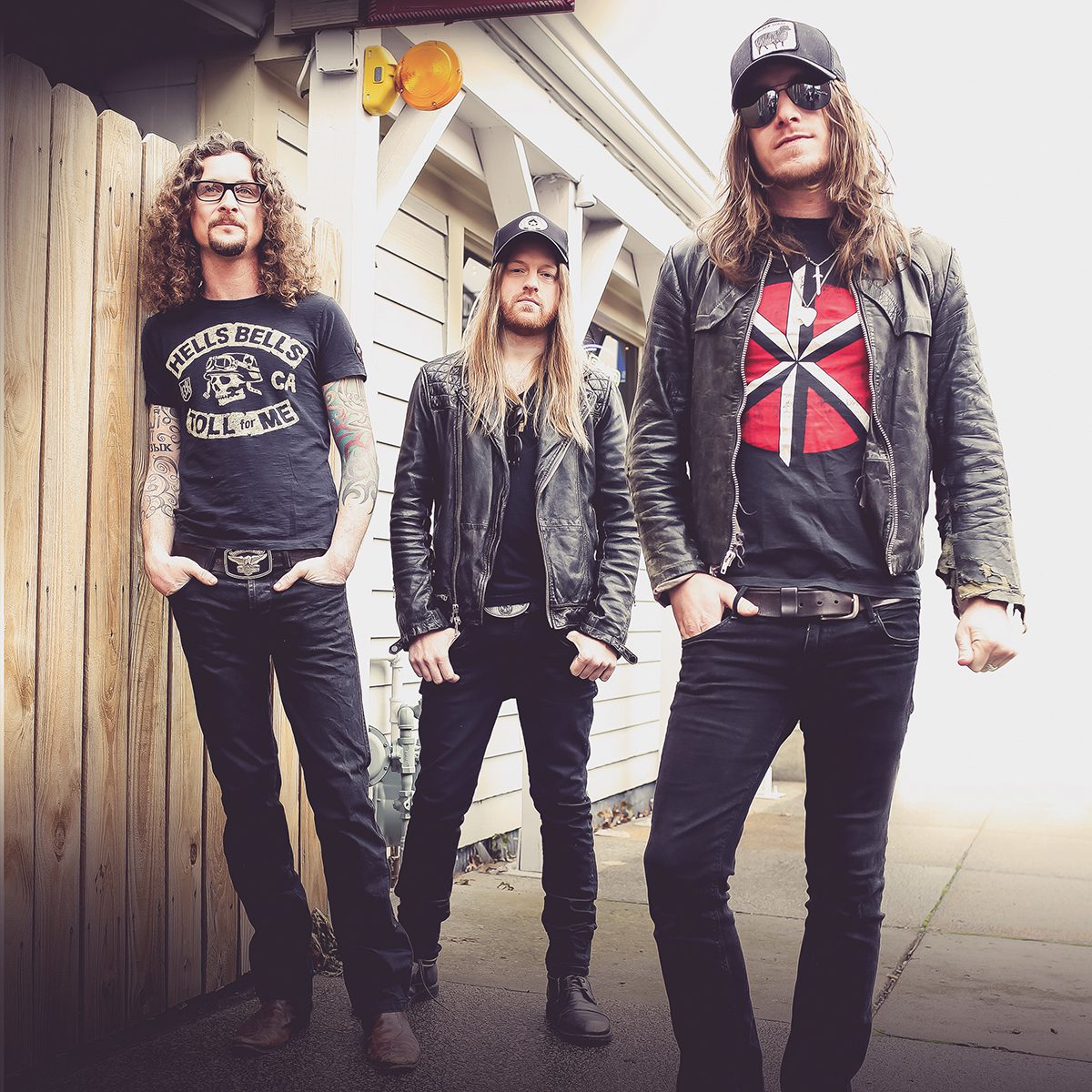 Mention of the fast-rising Whiskey Myers, is a reminder that the Texan five-piece provided high-octane support on that UK visit. Their own new album, Mud, produced by the practically omnipotent Dave Cobb, gets a rave review elsewhere in our debut issue, and TC3 had a specific mindset in inviting the band to travel with them across the Atlantic.
"When we were talking about going over to do our first headlining thing, we thought, 'we can just get a local opener for each show, or we can find a band over here [in the US] that we like'," says Jaren. "We have the same manager as Whiskey Myers, and they took us out to Texas for the first time we ever really toured with this band, so I was like, 'man, it would be neat if there was a movement of this thing'.
"We're all very like-minded guys and we do this because we love it. It's touring and it's like the old-school days. I was like, 'Wouldn't it be neat for somebody to come to a show and have it be more of a Southern rock experience, rather than the Cadillac Three with somebody opening that they don't even know?' You could tell that there was going to be the camaraderie between the two bands, and I think that was pretty cool, so I'm glad it started a little buzz."
Brotherly love
With The Cadillac Three, it's all about the buzz – and the feeling, as in all the best rock outfits, that they'd fight for the band's well-being. Sometimes literally. "Oh yeah, we get into it," says Jaren. Kelby looks at him and adds matter-of-factly: "We used to a lot more. Me and him used to get into it all the time. We're more like brothers than anything. You finally learn to live with your significant others."
After all this talking about music in a studio, you can tell Jaren and Kelby need to play some. Besides which, it's five o'clock somewhere. But not before one last memorable remark by Jaren about his bandmate, and their devotion to the collective cause.
"You just need to know when to feed him," he says.
"If he doesn't eat, he's going to be a jerk. We all get tired, so you know when to back off each other, and you know when to hit him. It's brotherly love at its best."
---