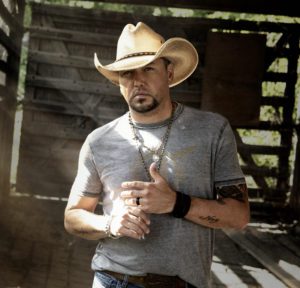 Multi-Platinum entertainer Jason Aldean threw the premiere party for the new music video behind his US Country Radio Top 20 and climbing single 'Got What I Got' during last night's CMA Summer Stay-Cay special, which is now available on all digital platforms. The lyrics behind the R&B infused track and "tender love song" (Billboard) from his sixth consecutive #1 selling album 9 (Macon Music/Broken Bow Records) highlight Aldean's gratitude for his wife, Brittany, and children while sharing snippets of memories from their personal life. The music video for the "reminiscent single" (CMT) was directed by Shaun Silva and filmed in Destin, FL. Fans can watch the 'Got What I Got' music video here.
"We'd been down at the beach during quarantine and have had a lot of time to to appreciate each other," said Aldean. "With a skeleton video crew and social distancing, it was an all-hands-on-deck shoot that made for a little twist at the end."
After almost 15 years at the top of his format, three-time ACM "Entertainer of the Year" Aldean has seen trends come and go. He's helped bring a few out of the shadows, like a Country-music Columbus making the mainstream's first contact with hard rock ("Hicktown"), hip-hop ("Dirt Road Anthem") and R&B ("Burnin' It Down"). But after all that time, he continues to hold his ground making modern albums with an old-school soul—most recently with his ninth studio album, 9, which debuted at the top spot on Billboard's Country Albums chart. Notably, all eight of Aldean's previous studio albums have been certified GOLD or PLATINUM by the RIAA, while bolstering 15 billion streams and more than 18 million albums sold as well as 23 radio chart-toppers. For more information, visit www.JasonAldean.com.


See more news here.