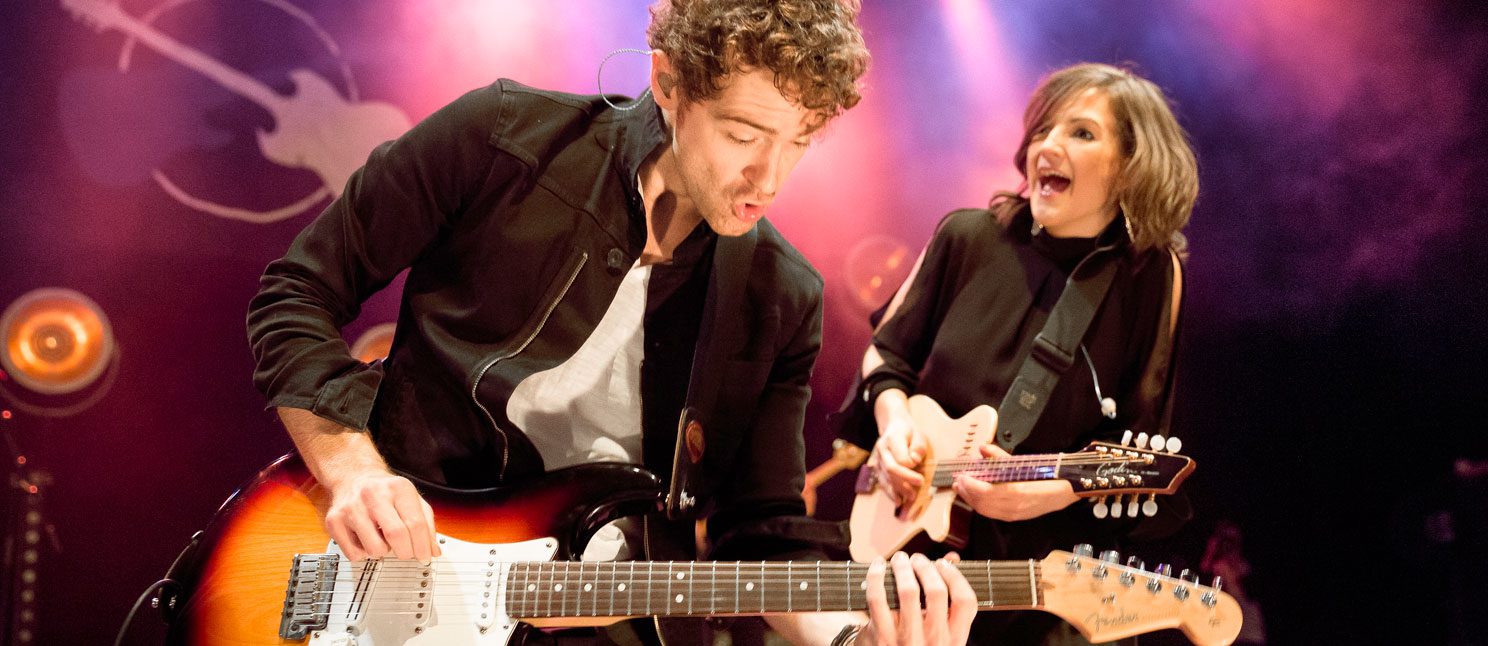 John & Jacob and Striking Matches
29 January 2016 Live Reviews
---
Review Date: 22 November, 2015
Reviewed By: Ian Horne
Location: London, O2 Shepherd's Bush Empire
Justin Davis and Sarah Zimmermann, otherwise known as Striking Matches, finished up their UK tour in November with a stellar set at the O2 Shepherd's Bush Empire. Utilising the acoustics and facilities of the venue, the duo were able to put on a show that serves as a strong marker for the progress they're making, both in overseas popularity and as artists.
It may well have been a Sunday night, but the looming prospect of Monday was lightened from the offset, with support act John & Jacob (John Davidson and Jacob Bryant) lighting up the stage as the warm-up act. This set, a generous half hour of material as slick as the red suits being worn, came close to meriting the entrance fee alone, and made it clear that the double act are ones to watch in 2016.
And then, after a relatively lengthy pause, Striking Matches emerged, starting with energetic performances of Trouble Is As Trouble Does and Miss Me More, before launching into Hanging On A Lie. The rising stars hit every note sweetly and Davis's guitar picking, in particular, was breathtaking. Zimmermann pointed out that he's been steadily improving with every gig, and he'd surely saved the best till last.
The gig turned out to be a gift that kept on giving, and the collaboration with John and Jacob for a cover of Fleetwood Mac's Never Going Back Again was first rate. Sometimes people can get fussy when artists cover the songs of legendary acts, but surely nobody could complain having heard this version. Davis and Zimmermann then slowed things down for When The Right One Comes Along, their most popular song to date. With the obligatory mobile phone flashlight fiesta out of the way, they picked up the tempo again and appeared for the expected encore after finishing their main setlist with Make A Liar Out Of Me.
All things considered, this was a gig that will have satisfied all newcomers, and indicates that the pairing could be set for some serious mainstream exposure. I've attended several of their shows over the past year and each has been better than the last. This one was such a tour de force that I can't wait to see what they can do when they next visit the UK.
Photo: Westney Photography
---
Editor John & Jacob, live, livereviews, O2, O2 Shepherd's Bush Empire, Striking Matches