Kate Rusby
ANGELS & MEN
Pure Records
***1/2
Subtle and delicate tones that warm the heart
This Christmas album marks Kate Rusby's 25 years in the business. It's no wonder the artist has had such a lengthy career, owing to her gentle tone of voice and emotive delivery.
'See Amid The Winter Snow' is my favourite song on the album, which captures the holy atmosphere of Christmas with the band playing to suit Kate's peaceful and dreamy vocals, which have earned the singer high praise in the world of folk music. Another firm favourite is 'Let The Bells Ring', which has a sentimental feel to it, as it tells the story of Christmas coming to an end and another year emerging. It's an original song penned by Kate herself that urges, "Let the bells ring/there's nothing more I fear". A perfect crescendo ends the rueful piece, making this track especially prominent.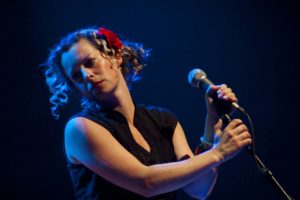 Special guests on this album include banjo player Ron Block (Alison Krauss Band) and mandolin maestro Sierra Hull, both from across the Atlantic. Produced by husband Damien O'Kane, there are a mixture of festive songs old and new, guaranteeing that there's something for everyone (that's assuming your not Scrooge!)
This is Kate Rusby's 15th solo album; I've not had the pleasure of hearing all of these but this will certainly suffice as a backing track to my Christmas.
Editor.