Not to be missed in November…
Katy Hurt is hitting the road this November with a touring version of her Katy Hurt & Friends show, which played to a sold-out audience at Freedom Bar on 4th July.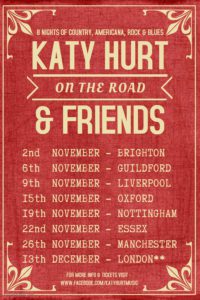 The show's unique concept consists of two full band headline sets from Katy and resident tour guest Sonia Leigh, along with an acoustic Songwriter's round, featuring guests from a selection of over 20 top UK and US artists who will join them throughout the tour.
Katy has spent the summer performing at over 60 festivals and events around the country since the launch of her last EP "Pieces of Me", a selection of songs that have impressed fans by combining the honest lyrical content of modern country music with the riffs, solos and raucous vocals of southern rock, a là Lynyrd Skynyrd or Cadillac Three.
BBC Radio 2's Paul Sexton recently described Katy as "one of the most exciting prospects on the burgeoning British country scene", going on to say "Hurt's confident, distinctive EP Pieces Of Me is the latest evidence of a career that's already produced an iTunes UK Country No. 1 in last year's 'Love You More,' among other successes". Acknowledging her skill as a songwriter he also noted she is "a vivacious and magnetic performer…Come and check her out now whilst you can still get to the front row".
To coincide with the Katy Hurt & Friends tour, Katy has also just released her latest single "Cheap". Co-written and produced with guitarist Gab Zsapka, Cheap is a feel-good, rock and roll throwback track. The single is accompanied by her first official music video recorded live at the legendary Metropolis Studios in London. You can check it out here… get ready to start tapping your feet!

Upcoming Dates 2017:
02/11 – The Prince Albert – Brighton
http://www.wegottickets.com/event/416846
03/11 – Kensington Rooftop Gardens
06/11 – The Star Inn – Guildford
TICKETS COMING SOON
09/11 – Studio 2 Parr St – Liverpool
http://www.wegottickets.com/event/416887
15/11 – Cellar Bar – Oxford
http://www.wegottickets.com/event/416886
17/11 – St James Wine Vaults – Bath
http://www.wegottickets.com/event/419444
18/11 – Nashville Nights – Under The Bridge London
19/11 –The Maze – Nottingham
http://www.wegottickets.com/event/416888
22/11 –Bassment Bar – Chelmsford Essex
http://www.wegottickets.com/event/416889
26/11 –Gullivers – Manchester
http://www.wegottickets.com/event/416890
03/12 – Paradise London Live at Omeara – London
13/12 – Zigfrid von Underbelly – London
http://www.wegottickets.com/event/419362
Check out Cheap on Spotify:

www.katyhurt.com
https://www.facebook.com/KatyHurtMusic
https://twitter.com/KT_Hurt13
https://www.instagram.com/katy_hurt/