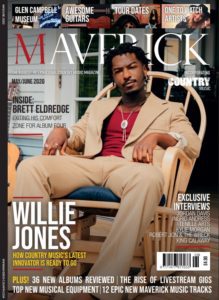 The latest issue of Maverick Magazine is now available for digital download. Get the latest trends and news straight to your inbox now!
Getting exhausted with working from home or being stuck indoors? Despite the lockdown shutting down gigs and festivals, Maverick Magazine is determined to bring the music industry to you. Our latest issue is now available with exclusive interviews with Willie Jones, Brett Eldridge, Jordan Davis and more!
In the latest issue we discover what bands and musicians have been doing during the lockdown and how virtual concerts have helped keep the industry alive. Don't miss out on Robert Vincent describing the topical meaning behind his latest song and why he felt the need to express his solidarity. Find out more about what's been going on behind closed doors in our Album Reviews and One to Watch sections and don't miss Eric Dahl's exclusive lifestyle features which highlight the best products in the industry right now. 

Get your subscription here.