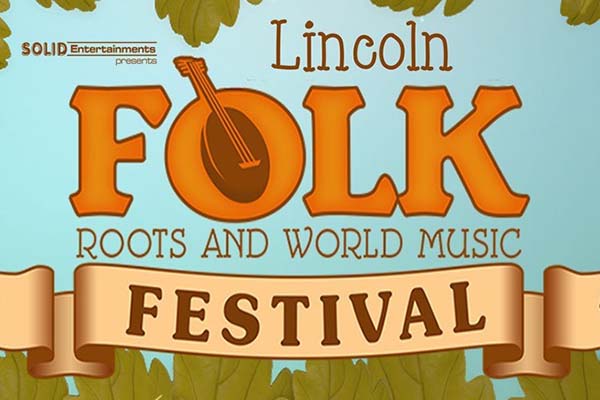 Lincoln Folk, Roots & World Music Festival
---
The Drill Hall
Sunday 31st July 2016
2 p.m. to 10.00 p.m.
Bio and Line-up
Lindisfarne – the legendary 70s folk-rock pioneers return to form with a classic six-piece line up of long-time members fronted by original founder-member Rod Clements on vocals, mandolin, fiddle and slide guitar.

With a repertoire of unforgettable songs like Meet Me On The Corner, Fog On The Tyne, Lady Eleanor and Run For Home and a reputation for live performance second to none, Lindisfarne's power to galvanise festival and concert audiences remains undimmed and is guaranteed to get the crowd on its feet and singing along.
Lindisfarne 2016 are:
Rod Clements (1969-present) Vocal, mandolin, fiddle, guitars
Dave Hull-Denholm (1994-present) Vocal, guitars
Steve Daggett (1986-present) Vocal, keyboards, guitars
Charlie Harcourt (1973-present) Guitar, vocal
Ian Thomson (1995-present) Bass, vocal
Paul Thompson (ex-Roxy Music) Drums
Julie Felix – recently celebrated 50 years in the world of music last year.
In 1964 Julie arrived in England after leaving California and became the first solo folk artist to be signed to a major British record company when she signed with Decca. In 1966 Julie became the resident singer on the amazingly popular TV programme "The Frost Report", and quickly became a household name.
She went on to appear in her own TV series on BBC1 and BBC2 and recorded hit singles on Mickey Most's RAK label.
After a break from the music world in the 1980's, Julie began singing for Latin American Refugees, for woman's and gay rights and for peace projects including protests against the war in the Gulf.
Julie created the Remarkable Records label and released 'Bright Shadows', her first album for 10 years. In June 2013, Julie performed at the prestigious Leicester Square Theatre to celebrate her 75th birthday and in October she was invited to Buckingham Palace to meet the Queen, Prince Philip, Prince Charles and Camilla.
Polly And The Billets Doux – Polly and the Billets Doux are something brilliantly different.
Known for their flawless and energy-filled live performances, the genre-defying quartet Polly and the Billets Doux boast a genius blend of Folk, Pop, Rock N' Roll, Soul, Country, Blues and even Gospel. They have a solid reputation and extensive history of headline tours up and down the country; from Ullapool to Brighton, and almost everywhere in between.
Polly and the Billets Doux released 2013's 'Head of Steam' EP, which charted at 17 on the Radio 1 Indie Chart followed by their critically acclaimed album which featured in 'The Word' Magazine's Best New Music.
Polly and the Billets Doux have also been championed by Bob Harris & Terry Wogan on Radio 2, Tom Robinson on Radio 6 as well as live sessions with Cerys Matthews and'Loose Ends' on Radio 4. The album attracted critical acclaim from The Sunday Times and The Daily Mirror. The last few years have seen major festival appearances including Glastonbury, the Big Chill, The Secret Garden Party, and Cambridge Folk and a Support slot with The Fun loving Criminals.
After a well received headline tour of Ireland the band were back on the road shortly after with a new album 'Money Tree' winning great press support inc cover-disc features on UNCUT and R2. This saw the band embark on their longest tour to date including an extensive headline tour of Germany. Their reputation as a formidable force on the stage is spreading quickly.
It's going to be a big year for this vibrant, exciting and hugely promising band.
http://pollyandthebilletsdoux.co.uk/
Said The Maiden – are Jess Distill, Hannah Elizabeth and Kathy Pilkinton, three friends who discovered a mutual love of folk music when they reunited several years after spending their school years together in St. Albans, Hertfordshire.
The group sing traditional songs from around the UK and America, often in three part acapella harmony but also using guitar, violin, mandolin, woodwind, accordion and percussion to embellish their sound.
From tentatively performing a few songs at their local Redbourn Folk club in 2012 and later being asked to appear at one of the club's guest nights, the group soon secured support and headline slots at folk clubs and festivals around the country, including Folk By The Oak, Folkeast, Gate to Southwell, Shepley and Bunkfest. These opportunities have in turn led to invitations to support many fantastic artists including The Fisherman's Friends, Jim Moray, Megson, Martin Carthy, Sam Carter, Hannah James and Sam Sweeney, Treacherous Orchestra and Clannad.
They were also honoured to join legendary fiddler Dave Swarbrick on a successful UK solo tour in the spring of 2014, and released their debut album 'A Curious Tale' in June of the same year.
In May 2015 Said The Maiden was awarded Bristol Folk Festival's prestigious Isambard Folk Award, and as a result opened for folk super-group The Full English at the 2015 Bristol Folk Festival. Most recently the group was voted for by festival-goers at the Great British Folk Festival 2015 as 'best act' on the Introducing Stage on the opening night, and will be performing on one of the festival's main stages in December 2016.
http://www.saidthemaiden.co.uk/
The Life And Times Of Brothers Hogg – Born from the fires of facial hair and fiddle, The Life and Times of the Brothers Hogg are a collaboration of jaundiced punk rockers, eighties throwbacks, jigs, reels and troubled songwriting, fused together amidst the maelstrom of traditional music and real ale.
More recently the Brothers have been gifted again in the trouser front, through the joining of vocal and percussion maestro Nena 'throw another shrimp on the Barbie mate' Mager and string twanging Shane 'should it be that colour' Thornberry.
With a back catalogue of songs containing Greek myth and tragedy to murder and substance abuse these guys can only entertain and leave you wanting more (and lets face it, you could probably have some).
The brothers began their sentimental journey with the passing of a Great lady and her dearest memories. Adhering to the traditions of respect and servitude the band moves forwards casually but purposefully.
From the roots of new country and Americana to the traditions of English folk and sentiment they continue to produce innovative and individual melodies and lyric.
Brothers Hogg are; Daz Capp, Simon Huxford, Shane Thornberry, Nena Mager, Abby Knevett
Gilmore & Roberts – Contemporary folk/acoustic duo Gilmore & Roberts combine award-winning songwriting with astounding musicianship and their trademark harmonies to create a powerful wall of sound.
Nominated three times at the BBC Radio 2 Folk Awards, Katriona Gilmore (fiddle, mandolin) and Jamie Roberts (guitar) met while studying at Leeds College of Music and released their debut album in 2008.
Since then, the duo have toured Canada and mainland Europe, played some of the UK's biggest acoustic festivals, toured with folk rock legends Fairport Convention and won countless accolades for their genre-spanning work.
2015 saw the release of their fourth album, Conflict Tourism, which appeared on several end-of-year Best Album lists and received national airplay on both BBC Radio 2 & BBC 6music. Produced by Mark Tucker and featuring Matt Downer (Jamie Smith's Mabon), Phil Henry (Phillip Henry & Hannah Martin) and James 'Hutch' Hutchinson (Bonnie Raitt), Conflict Tourism packs a considered punch from start to finish.
"Conflict is universal – everyone, everywhere, experiences it every day, in its smallest forms" says Katriona. "We liked the idea of being tour guides through a minefield of different decisions and drama."
"And good tour guides are passionate about what they're showing you" adds Jamie. "They're not detached from the subject. It's personal – it's people and stories. That's the starting point for every song."
Katriona Gilmore grew up in Knebworth, Hertfordshire, learned violin at school and started playing local folk clubs with her guitarist father at the age of 14. She joined folk pop sensations Tiny Tin Lady in 2006, and in 2011 was invited to be part of a new lineup of The Albion Band. Katriona has featured on many acclaimed albums as a session musician and has appeared onstage with such diverse acts as The Troggs, Kim Richey and Matt Berry.
Jamie Roberts was brought up in Barnsley, South Yorkshire in a musical family – his sister Kathryn Roberts is a well-respected singer on the UK folk scene. Jamie joined young English traditionalists Kerfuffle in 2007 and more recently formed The Dovetail Trio with Rosie Hood and Matt Quinn. Alongside his regular projects, he has performed with Nancy Kerr's Sweet Visitor Band and  Blackbeard's Tea Party amongst others.
http://www.gilmoreroberts.co.uk/
Early Bird tickets are only £21.00
To book, please call 01472 349 222 or go online at http://www.lincolnfolkfestival.co.uk/
 https://www.facebook.com/Lincoln-Folk-Festival-196344734069155/
"Let's Keep the Music Live"
---
admin events, featured, Lincoln Folk Roots & World Music Festival, news