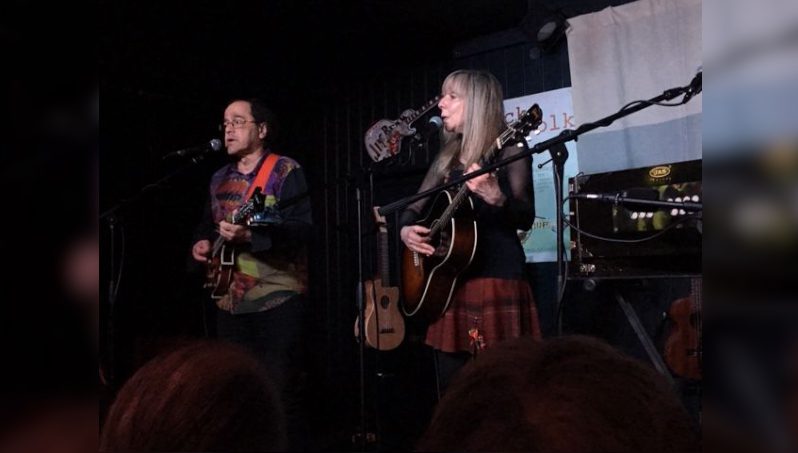 Live review: Charlie Dore and Julian Littman @ Twickfolk, London – 24th February
18 March 2019 news
---
Charlie Dore and Julian Littman
Twickfolk, The Cabbage Patch Pub, London
24th February 2019
Charlie Dore and Julian Littman have played music and written songs together since they met at the Arts Educational School in London in the early 1970s. Their biggest commercial success was in 1979 with Pilot of the Airwaves, a bigger hit in the USA (No.13) and Canada (No. 5) than in the UK where it gained considerable airplay but lingered in the mid '60s as regards chart position. Dore has also produced hits for a number of other successful artists including Lisa Stansfield, UB40, Paul Carrack, Status Quo and Celine Dion.
Their Twickfolk appearance drew a large crowd for the duo's 14-song set on a cool late February evening at the Cabbage Patch pub. They chose to play from the eight albums they have worked on together since 'Where to Now' launched Dore's career in 1979. As well as fine songwriters, they have a wide range of instruments on stage at their disposal, including guitar, mandolin, ukulele, electric piano and harmonium.
Dore and Littman started the gig with Firewater, a song from her 2014 album, 'Milk Roulette', describing the burning emotion of a love on the verge of losing control. A strong opener, Dore provided acoustic guitar accompaniment to her own lead vocals with Littman playing harmonium and singing backing vocals.
Liontamer, from 2011's 'Cheapskate Lullabyes', relates the tale of someone searching for love and needing the confidence of a strong helping hand, with incisive lyrics such as "Need a soul mate, not a cell mate/Want a soothsayer, need a guardian/I was thinking that you might apply."
Dore's current album, 'Dark Matter' is partly based on scientific conundrums, picked up through regular reading of her partner's 'New Scientist' magazine. The opening track, Breakfast of Neutrinos, begins autobiographically as Dore confesses her childhood disinterest in school science lessons, "In 1969 I slept all through my science class, dreaming of the summer and the boy who cut the grass."
Through the perceived dullness, Dore hung on to one word, A neutrino is a tiny particle that passes through us without ever interacting. Dore built a love song based on this principle. With Littman on ukulele and Dore on guitar, she lightly prefaced the song with "It does sound a bit like some kind of breakfast cereal!"
Nothing To Be Scared Of, another song from 2017's 'Dark Matter', is a gentle song fantasy about death and immortality where Dore confesses she would like to live indefinitely and not die. The melody is delicate with Littman again on harmonium and Dore accompanying her vocals on electric piano.
The theme continues with Personal Hell, a mid-tempo piece that explores the unusual idea that before you die you have to watch back a film of your life in real time, potentially a tough call! The dark themes here are mollified by sharply intelligent lyrics and beautiful melodies.
After the interval, the duo changed direction with a humorous Italian-styled folk tune, Cleaning Up My House. An eccentric and comic courtship is outlined in the gentle tale of Dennis and Rose, a story of a painfully shy man who visits and buys from a greetings card shop, to get close to his much-admired shop assistant.Fortunately, it's a tale with a happy ending!
Maximum Bob is very different. Based on an Elmore Leonard crime novel, it features a crooked lawman and the equally inept crooks out to get him. Dore plays harmonium and Littman is on electric mandolin for this, the final song from their main set.
By way of encore, they couldn't leave the highly enthusiastic Twickenham audience without playing their eternally popular and chart making hit, Pilot of the Airwaves. The chorus was taken up with gusto by the Twickfolk crowd, who were word perfect. This was a very fine concert of lyrically astute songs, great tunes and multi-faceted musicianship. 'Dark Matter', their latest album, shows that Dore and Littman have lost none of their skills at creating memorable music.
Simon Beards
---