Darius Rucker & Russell Dickerson
Royal Albert Hall, UK
Sunday 28th October  
The Royal Albert Hall is a notably iconic venue in London, UK, and to headline is a major achievement for any artist. Taking to the stage on the 28 October was Grammy winning artist Darius Rucker, and he didn't disappoint.

Opening with Homegrown Honey, Rucker was greeted with just as warm a welcome as you would expect – and the love from the crowd only grew. 
With such an extensive back catalogue, the hits kept coming. From Southern State Of Mind to For The First Time, Rucker had the entire place on their feet within just a few songs. Any initial resistance to the majority standing crowd was futile come the third or fourth song of the set, as everyone was up.

One song that Rucker himself introduced as "one of those songs you write that ends up being a game changer", If I Told You, certainly went down well with the audience.

Taking a break from his own tracks, Rucker spoke about how some songs are just good songs, no matter the genre. This prompted an interesting line up of Friends In Low Places segued into No Diggity. An interesting combination, but one that the crowd seemed to enjoy.

Rucker also introduced his latest UK release, a song he recorded with Charles Kelley of Lady Antebellum, and Jason Aldean: Straight To Hell. Despite only just being released in the UK, the dedicated crowd already knew the words well enough to sing along. 
Rucker then invited support act Russell Dickerson out onto the stage again to perform a song with him, after which, he went on to sing his final song before the encore. 
He introduced this song by saying that it is not a part of their usual set, but that he was inspired to sing it in Manchester the night before, and so wanted to replicate that. Rucker, his band, and the crowd then broke into a hearty rendition of Oasis' Champagne Supernova. 
As Darius Rucker left the stage, I can honestly say I have never heard such a deafening call for an encore. Expecting a highly anticipated version of Rucker's most famous song, Wagon Wheel, the whole venue roared. 
It was a surprise, then, when Rucker and his band returned to sing an impromptu verse and chorus of Adele's Someone Like You;a set addition I don't think even the band were prepared for. That said, it went down well with a crowd hanging off Rucker's very move. 
He then went on to sing Hands on Me, cruelly delaying the inevitable peak everyone awaited. 
And, of course, he delivered. Rucker and his talented band ended the night with a crowd-pleasing rendition of Wagon Wheel, much to everyone's delight. 
Rucker described at one point, the significance of this performance, sharing how the Royal Albert Hall was the last venue on his bucket list that, until tonight, had yet to be ticked off. "This is one of the greatest nights of my musical career; playing at the Royal Albert Hall." 
It seemed to be as monumental a night for him as it was for his huge crowd of fans that sold out the venue. So much so, in fact, that they had to open up the choir seats to meet the high demand.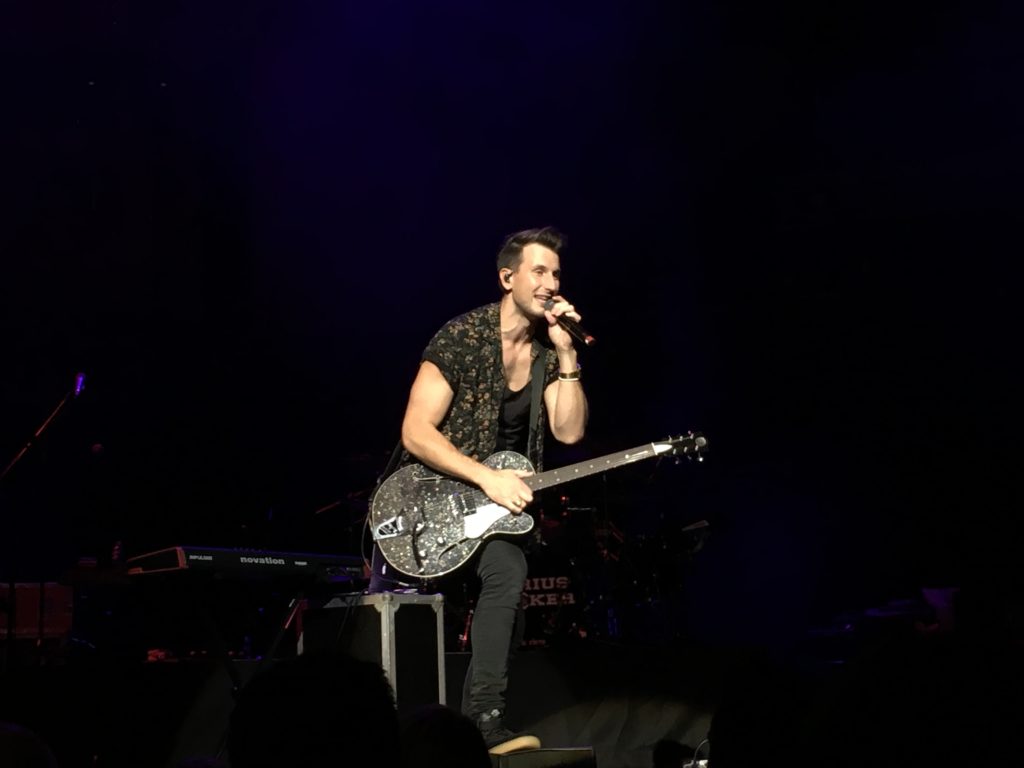 The audience were in for a treat as soon as the entered the venue, with Russell Dickerson kicking off proceedings in a brilliant way. Dickerson is a country showman: confident, talented, and endearing. He can bound around the stage like he owns the place, with the talent to match, making his perceived self-assured persona not only likeable, but infectious. 
Opening with Twentysomething, it didn't take much to have the crowd on his side. His bountiful energy was also matched by his genuine humility, pausing to express his gratitude to be performing on such a hallowed stage a number of times throughout his 45-minute set. 
Dickerson has a voice that he commands with such ease, holding notes far longer than the crowd could match in their eager singalongs. 
He was clearly having a blast, huge smiles beaming across his face, particularly as he got among the crowd to have a dance party in the centre of the floor. 
He did an amazing job of warming up the crowd ahead of Darius Rucker's headline set. In fact, he gave Rucker a bit of a run for his money. 
Assessing the night as a whole, the buzz of adrenaline was palpable, and the roar of the crowd almost unmatched in my experience. Both artists brought their A-game, clearly aware of the gravity performing at such a venue entails, and they did not disappoint.


There was a lot of fun to be had at the Royal Albert Hall on this final night of Country Music Week, and it was had by all – both performers and audience alike. 

 Danielle Smith