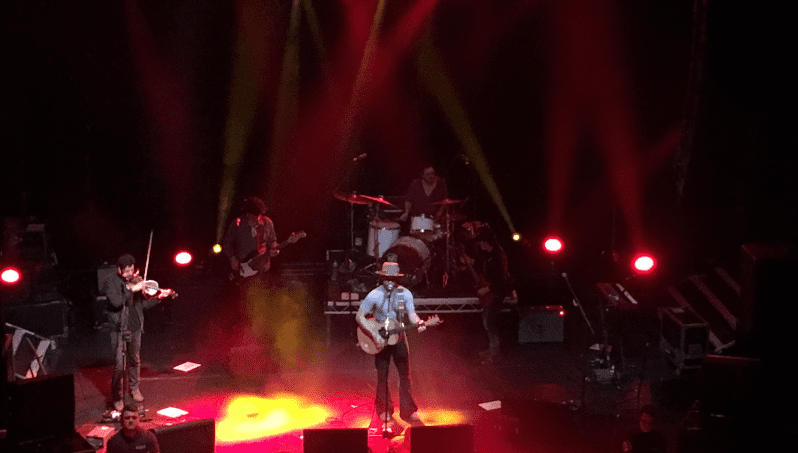 Live review – Drake White & The Big Fire @ Koko, UK
30 October 2018 Live Reviews news
---
Drake White & The Big Fire
Koko, London
Wednesday 24th October
From the outset, Drake White's energy is palpable. As he strides onto the stage at Camden's Koko, joining his incredibly talented band, The Big Fire, his cool, calm persona soon gives way to an excited, erratic-dancing, performer. His spirit and liveliness is infectious.
Opening his set with Heartbeat, the first track off his debut album, Spark, the hits just keep coming. White is not afraid to lose himself in the music— it's a freedom you don't always see these days. From the opening song to the final bow at the end of his second encore, White intersperses his powerful vocals with bursts of dance, legs flailing unpredictably. His second song of the night is Story, another upbeat, fast-tempo track, in which White's vocal talents are matched by the wonderful fiddle section.
Keeping up his high-energy set into the third song of the night, Equator is a feel-good track if ever there was one. This got the crowd dancing along and proved to show off White's fun personality even more.
Taking a slight break from the fast-paced numbers, White introduced the next song with a story he'd recounted when I first heard this song at a songwriters round in London. Despite knowing the background to the song, it's always good to hear from the artist how their songs came about. Back To Free was inspired by one of his band member's children, and the performance of it was powerful.
Taking a detour from the 'Spark' album which dominated the first part of the set, Drake White introduced some new material, telling the crowd that he and the band had recently recorded some live music which would be coming out soon. The first of these was Raised Right, a catchy track that makes me eager for the upcoming release. Not a stark departure from his back catalogue, but hey, if it ain't broke, don't fix it.
After a brief blues break when The Big Fire, with White at the helm, channelled James Brown with a rendition of I Got You (I Feel Good), the band left the stage for White to do a few songs just him and his guitar. One of these was Girl In Pieces, a track off his aptly titled 2018 EP, 'Pieces'.
When The Big Fire returned, so did the 'Spark' repertoire, with Livin' The Dream. It wasn't long before the night was coming to its extended 'wrap-up' section, with an initial encore performance of perhaps White's most known song, Makin' Me Look Good Again. The only commentary necessary for this one: what a voice! This was followed by a lively rendition of It Feels Good.
As the band, and White, left the stage for the second time, I fully expected the house lights to come up and for the night to be at an end, but that didn't happen. The band re-emerged – this time joined by hugely talented support act Ryan Kinder, to perform an unexpected cover of With A Little Help From My Friends.
Drake White's exuberant stage presence makes it nigh on impossible to attend one of his gigs and not leave feeling happy and energised. White stated during this show, "my goal is to do this 'til I die", and I, for one, hope he keeps to his promise.
Danielle Smith
---