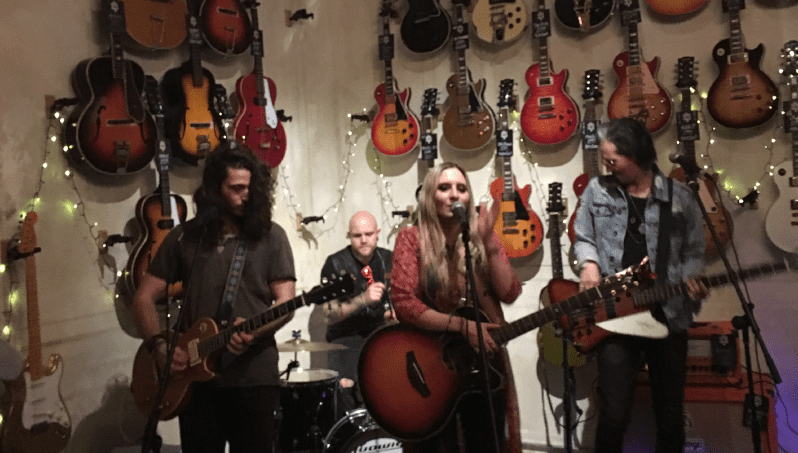 Live Review – Katy Hurt @ Sixty Sixty Sounds, London, UK
3 December 2018 Live Reviews news
---
Katy Hurt
Sixty Sixty Sounds, London
1 December 2018
Katy Hurt rounded off 2018 with a bang as her final show of the year emphasised further why she is seen as one of UK country's brightest talents.
Performing in Sixty Sixty Sounds – a premium guitar shop in Leicester Square – Hurt performed for over an hour and set the tone from the get-go with the frenetic Sunkissed, before launching into recent country rock single Revved Up.
What makes Hurt so exciting as an artist is her versatility and range – frequently throughout the night, she demonstrates her devastating vocal skills and the ability to hold a difficult note for a prolonged period of time like it's a walk in the park, while her guitar playing is very much on point.
For the first third of the set, Hurt is backed with her excellent band, but opted to slow things down and go acoustic for a brief segment. Doing so, Hurt got the opportunity to make the most of playing at a premium guitar shop and cherry picked her dream Gibson guitar to play.
In her solo segment, Hurt performed Light and Growing Up, before performing her new single Natchez. Guitarist Gab Zspaka returned to the stage to accompany Hurt on guitar for the track, as both went unplugged to bring a real feel of intimacy to proceedings.
The full band returned to the stage for Before the Ice Melts as the band stepped up the tempo for the home straight, with See Ya Later in particular proving to be a standout track.
Hurt closed the night on My Place and spent a lot of time after the gig to speak to those in attendance, all of whom who were very appreciative of watching a top drawer performance.
Prior to Hurt's performance, Jake Morrell took  who was celebrating the fact that his latest single Home had been played on BBC Radio 2 that morning. Morrell played a number of songs from his 'Englishman' EP and was brilliantly received by those in attendance.
Katy Hurt played:
Sunkissed
Revved Up
Sleeping Next 2 U
Drink
Fire
Old School
Small Town
Light
Growing Up
Natchez
Before the Ice Melts
Ride Home
See Ya Later
Unfinished Business
My Place
---