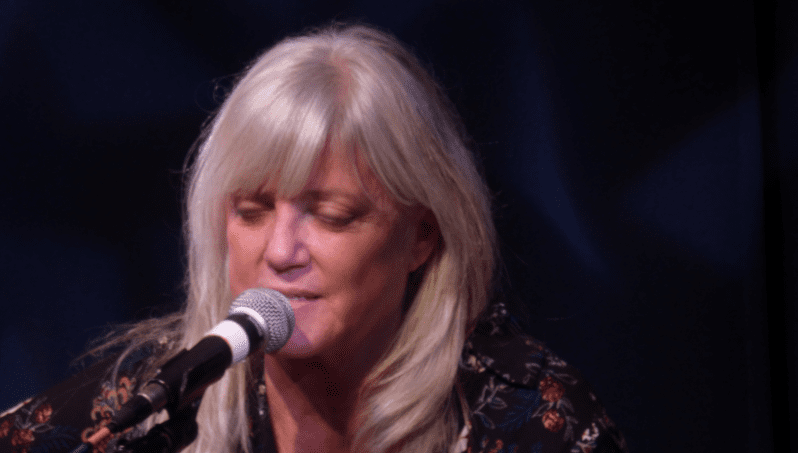 Live review – Kimmie Rhodes @ The Forge, Basingstoke
10 October 2018 Live Reviews news
---
Kimmie Rhodes (with Bob Harris)
The Forge, Basingstoke
5 October 2018
When the people at Maverick approached Kimmie Rhodes with a view to including an article in a forthcoming magazine, she persuaded them it would be great if she could write the piece herself.
Her good friend Bob Harris read the article in the July/August 2015 edition and was so impressed, he suggested she write an autobiography. And so, 'Radio Dreams' was born.
With his own work 'Still Whispering After All These Years' already on the bookshelves, the inevitable outcome was a tour featuring intimate and spontaneous conversation with music.
Having written the book, Kimmie realised she needed a song to go with it and so kicked things off with the appropriately titled Radio Dreams, a great country number written with her song writing compatriot Gary Nicholson.
Hailing originally from Lubbock, Texas, but for many years a part of the vibrant Austin, Texas music scene, she is an enthusiastic supporter of The Buddy Holly Educational Foundation and paid homage with her rendition of Raining in My Heart.
Bob Harris was keen to learn of the artist's early career and Kimmie gave us The Old Rugged Cross, the first song she had sung for a very impressed Willie Nelson.
Much chatter meant things were starting to get behind time so Kimmie speeded into the break with I Just Drove Byand from the very early days, Just One Love.
Harris paid tribute to Kimmie's son Gabe Rhodes who assumed production responsibilities after the untimely passing of husband Joe Gracey in 2011 and after Love Me Like a Song, Gabe took centre stage with Further to Fall.
Donovan'sCatch the Windreminded Bob Harris that Kimmie had taught his son, budding guitarist Miles, chords to the song, but highlight of what was an amazing evening was Rodney Crowell's Til I Gain Control Again, a magical duet with son Gabe.
Kimmie has for years lived in awe of Emmylou Harris, now another close friend, and no show would be complete without Love and Happiness, her duet with Emmylou raising Kimmie's musical profile even further.
Fearful that some in the audience might have nodded off through all the conversation, she upped the tempo with Bells of Joya number written for an Austin gospel choir, before she closed with her song of positivity, Yes from the latest album 'Cowgirl Boudoir'.
Kimmie of course has the voice of an angel and highly talented son Gabe must now be in the premier league of acoustic/slide guitarists.
Bob Harris O.B.E. has been a household name to music lovers for some five decades and his legendary 'whispering' is simply infectious.
Clearly enjoying his 'master of ceremonies' role, Bob spent the evening totally engrossed in the music. Anyone in the audience not familiar with Kimmie Rhodes cannot fail to have been impressed.
John Roffey
---