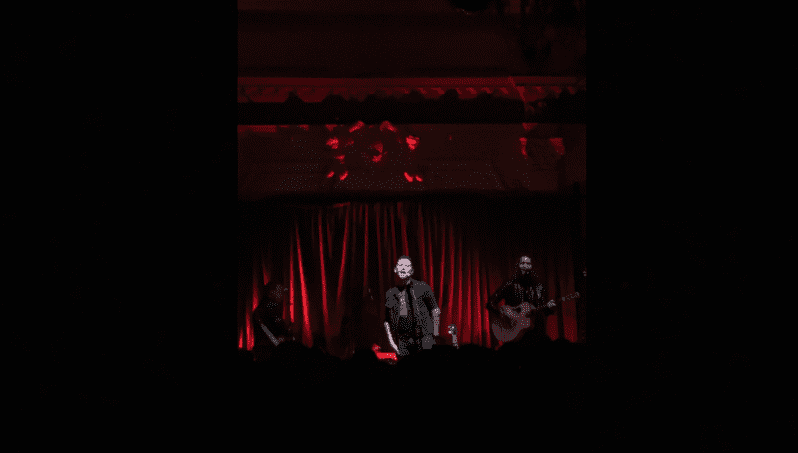 Live review: Scotty McCreery @ Bush Hall, London – October 26
31 October 2019 Featured Live Reviews news
---
It's been almost eight years to the day since Scotty McCreery won American Idol and put his name in lights across the whole nation, with his country music playing and charm dazzling the whole country.
Since that day, McCreery has bolstered his reputation in the UK with a number of hits, but had yet to venture over to the UK for a show in any capacity.
On October 26 2019, that changed as McCreery walked out to a completely sold out Bush Hall in London, which needed another date to be added due to the exceptional demand surrounding his arrival.
Support on the day came from Temecula Road, who returned to the same venue they performed at earlier on in the day for the Country Hits Radio Hub to perform an identical set, just to more people. Much like earlier that day, their set was well received and they got a great reception from the audience.
It was time for McCreery though and the cheers that erupted when he walked out on stage told him all he needed to know about how the UK audience was feeling and he did his very best to make it a hugely fun and entertaining evening for all.
See You Tonight brought rapture and the UK audiences that are normally so reserved when it comes to watching artists were loving every second of it, with that energy feeding McCreery in a venue way too small to contain him.
Be it the title track of his second album, Seasons Change, or The Trouble With Girls or Boys From Back Home, everything McCreery touched turned to gold on the night and you could tell he was taking great pleasure in how things were going.
Even though McCreery won American Idol, it was only in 2018 that he had his first US Country No. 1 in Five More Minutes and he explained that the track was about his late grandfather, who he says would've been extremely proud to see McCreery in the UK given his affection for it.
The track was met with jubilation, with everyone singing along, before McCreery and his band delved deep into the country music playbook to put together a five song medley from days gone by, sparking line dancing and mass singalongs in the process.
McCreery then told the audience that him and his band hadn't played I Love You This Big – his first single and the track that won him American Idol – in a fair while, but said that he was asked before the show to play it by someone in the audience and upon receiving the request, said that he would play it.
He then brought that member of the audience, who had Down's Syndrome, up to sing with him and the roar of appreciation that went up when he sang into the mic with McCreery was comfortably the highlight of the night – McCreery making a new friend and the audience member leaving with the biggest smile you can imagine.
The night went pretty much as expected, in all honesty – McCreery came, saw and conquered, the crowd went wild and begged for a future return, everyone left happy and McCreery's UK adventure got off to the best possible start.
When McCreery comes back, it's almost certain he'll be in a much bigger room – maybe even around the corner at Shepherd's Bush Empire – and will almost certainly sell it out, but whether he can capture the magic that he conjured up at Bush Hall will be his biggest challenge, as this was certainly a night to remember.
Scotty McCreery played:
See You Tonight
Wherever You Are
Boys From Back Home
Mama Loved Papa (Garth Brooks cover)
This Is It
Seasons Change
Take It Easy (Eagles cover)
In Between
Check Yes or No (George Strait cover)
You Make That Look Good
The Trouble With Girls
Walk in the Country
Blue Jean Baby
Five More Minutes
Hello Darling (Conway Twitty cover)/Forever and Ever Amen (Randy Travis cover)/Folson Prison Blues (Johnny Cash cover)/Chattahoochee (Alan Jackson cover)/Sold (The Grundy County Auction Incident – John Michael Montgomery cover)
I Love You This Big
Home in My Mind
Feelin' It
————————————————————————
Your Man (Josh Turner cover)
---