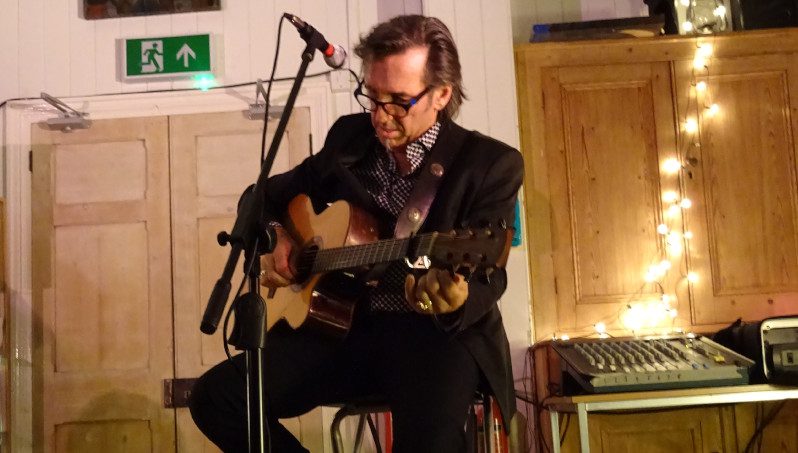 Live Review – Stephen Fearing @ Old Town Hall, UK
22 November 2018 Live Reviews news
---
Stephen Fearing
Old Town Hall Weymouth
Saturday 3rd November
Probably just as well known as the 'folk arm' of Canadian folk rock/alt country trio Blackie and the Rodeo Kings, Stephen Fearing has forged an award winning solo career on the folk and festival circuit and closed his UK tour in the quaint surroundings of the Old Town Hall, Weymouth.
Travelling light with just his acoustic guitar and multi-stickered guitar case, he could be forgiven for promoting his latest venture, 'The Secret of Climbing', a limited edition, vinyl-only release that captures the subtle emotions of Stephen's vocals and masterful finger picking guitar work in their purest form, "unobscured by computers and studio wizardry".
The album features some of the artist's previous work in this 'stripped down' form with the lead track Long Walk to Freedom celebrating the writings of Nelson Mandela, a highlight in what was a very enjoyable evening.
Opening with a couple of his 'travelling' numbers, As the Crow Fliesand The Big East West, Fearing quickly slipped into country mode with The Things We Did a catchy foot-tapper with its innovative 'who writes an obituary for the obituary writer' theme.
Never afraid to dip his toe into the political waters, Blowhard Nation questioned whether things in the US could really get any worse! The stand out number was undoubtedly Dog on a Chain, written in the car whilst waiting for fellow Blackie and the Rodeo Kings compatriot Tom Wilson to join him for a song writing session.
This song fused into the instrumental James Medley with its clever changes of tempo from country through to ragtime and pure jazz. The evening was never going to pass without a couple from the Rodeo Kings' catalogue and Black Sheep, a powerful number from 'Kings and Queens', an album that featured the likes of Emmylou Harris and Rosanne Cash, fitted into the set perfectly.
Fearing is clearly a very talented and seasoned performer who can effortlessly switch from folk rock to poignant ballads like Love Only Knows and The Wheel of Love, written after a row with his wife.
After closing with Every Soul's a Sailor, the title track from his 2017 offering, Fearing was persuaded to return for what had to be an instrumental as his voice was 'shot up'. Supposed to last just one minute, an elongated version of Whoville proved a fitting climax to a fine evening.
If Stephen Fearing is under the radar, check him out; he's a talent that deserves to be heard.
John Roffey
---