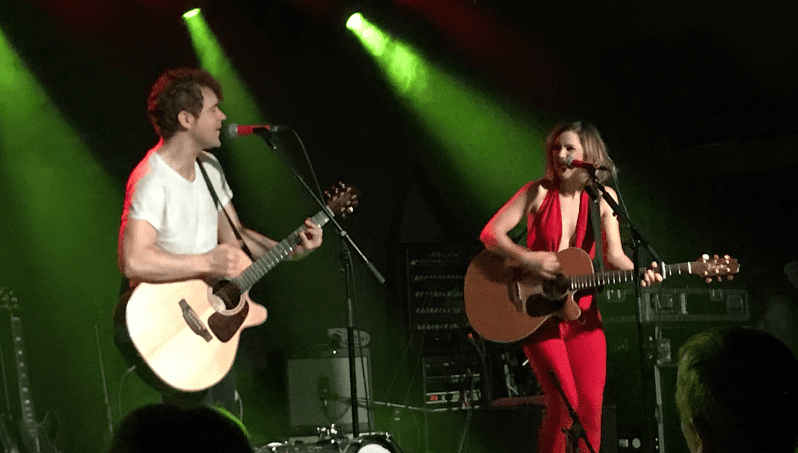 Live review: Striking Matches @ The Garage, London – October 23
31 October 2019 Featured Live Reviews news
---
With support from American singer-songwriter Tyler Rich, Striking Matches made a triumphant return to the UK during Country Music Week. Playing Islington's The Garage, Justin and Sarah described how playing in London was like 'coming home' – and they were welcomed with open arms.
Opening with one of their long guitar riffs that they have come to be known for, they segued into their first track of the night, Retrograde. This song, like most they played, was almost double the length of the recorded track, with both Justin and Sarah breaking into guitar solos throughout each one. While somewhat indulgent, these long instrumental breaks are exactly what Striking Matches' fans have come to expect and love – and it was clear they were more than happy to be indulged.
The duo have recently released the first of three EPs in their 'Morning, Noon, and Night' series. Playing a number of tracks from 'Morning' throughout the show, the pair promised 'Noon' would be coming out early next year. Burning Down was the first they played from this EP, followed by Don't Hold Back later on in the set. Burning Down, in particular, was a highlight of the night.
While the pair opened with both on electric guitars, the majority of the night was spent with them each playing an electro-acoustic, showing off their intricate and masterful talents even more. One key song to really show off their incredible guitar skills was the undeniable crowd favourite, Trouble Is As Trouble Does, from their debut album, 'Nothing But The Silence'.
Another from this album was Make A Liar Out Of Me, with Sarah Zimmermann going crazy on the slide guitar at the end – arguably one of the prime reasons Striking Matches' shows are so popular; seeing anyone display such mastery over their instruments is astounding.
Breaking from the energetic instrumentals for a moment, Justin introduced the next song, Every Word, telling the crowd how his 90-year-old grandad is currently very unwell. By the end of this emotional song, Zimmermann was in tears, with Justin also showing his emotion, before he thanked the crowd for letting them be so raw.
Keeping in line with the more stripped back songs, When The Right One Comes Along was another guaranteed crowd pleaser, with what seemed like the whole venue singing along throughout.
Ending the night with an encore of I Ain't Leaving Without Your Love, there were shouts from the crowd of "you've already got all our love", indicating the passion this dedicated groups of fans has for the duo. And it's fair to say the love is mutual, with Justin declaring: "this is our favourite place to play in the world".
Danielle Smith
Striking Matches played:
Retrograde
Medicine
Burning Down
Trouble Is As Trouble Does
He Only Loves Me When It's Raining
Don't Hold Back
Make a Liar Out of Me
Every Word
While My Guitar Gently Weeps (The Beatles cover)
When the Right One Comes Along
Cross Road Blues (Robert Johnson cover)
Desire
——————————————————————–
I Ain't Leaving Without Your Love
---