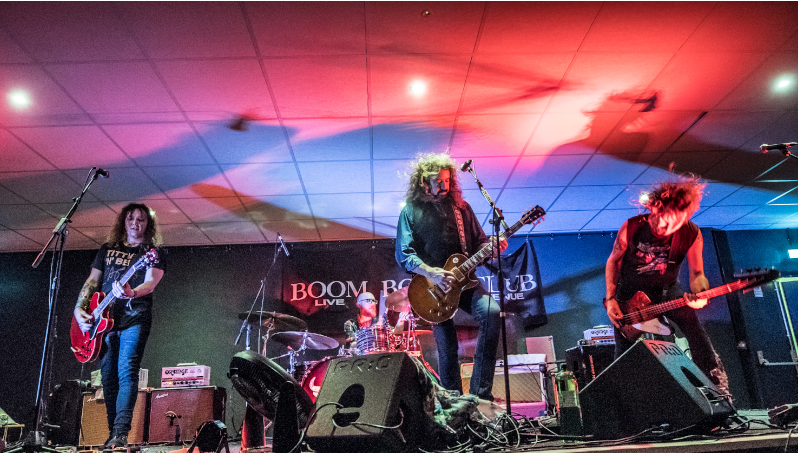 Live review: Warner Hodges @ Boom Boom Club, Sutton, UK
29 October 2018 Live Reviews news
---
Warner E Hodges
Boom Boom Club, Sutton, Surrey
23 October, 2018
It all started so, well…sensibly. The crashing, exuberant twin-guitar thrill of Right Back Where I Started, the lyrics "power chords on speed" particularly apt.
Hodges has been through a world of country and rock, notably as guitarist in post-punk Nashville country ensemble Jason and the Scorchers and, over the last several years, as duelling partner with former Georgia Satellite Dan Baird in his band Homemade Sin.
Tonight's not a quiet night off from the real job. "If you were looking for Americana on a stool, that ain't what I'm gonna do," he chortles in a down south accent that belies the fact that he was born on a US army base in Germany.
And he's true to both his word and the title of his new Nashville-recorded album, 'Right Back Where I Started'. Armed with a rip-roaring British guitar/bass/drums band, there's almost two solid hours of what might have been southern rock, but what was certainly a lot more.
There's John Fogerty's It Ain't Me, the Scorchers' If Money Talks, Hodges' one gentle song, Time Marches On, and more – a melee of chugging guitar and razor-sharp breaks, dancing bass and neat, solid drums.
Then it starts to get weird, as Hodges relives his youth… something, I'm not quite sure what, by AC/DC, the band that inspired him to play, a majestically doomy Wizard from the first Black Sabbath album, and a never to be beaten version of Back In The USSR.
A set that's like a home-made cassette keeps on rolling, through Tom Petty's Running Down a Dreamthen finishing with a rollicking take on Country Roads, that I'd like to think would have had John Denver laughing rather than crying.
Given how many youngsters play country that veers towards heavy rock, they could look to Hodges for true inspiration.
Nick Dalton
---