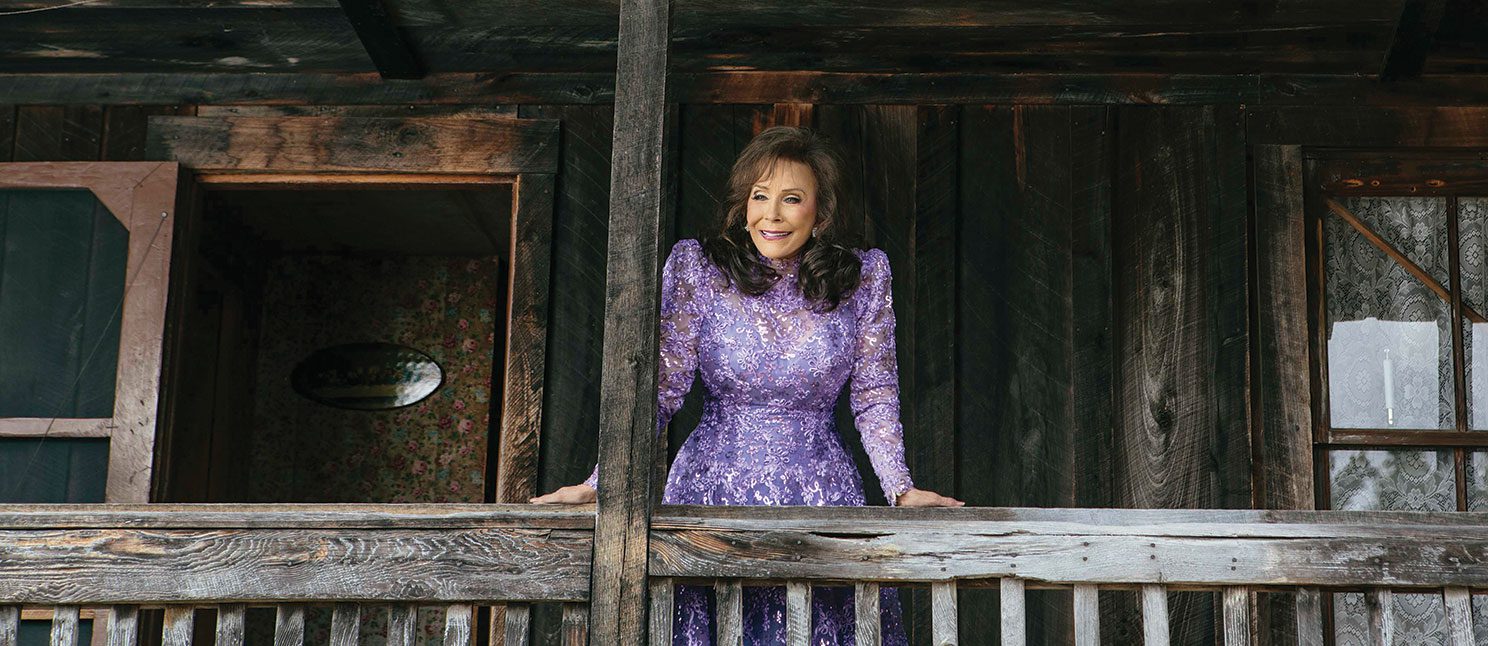 Loretta Lynn
15 April 2016 Features Interviews
---
Dolly. Tammy. Willie. Hank. Waylon. Merle. Country superstars instantly recognisable just from their first name. Here's another one: Loretta. The only female artist to chart in six decades, The Coal Miner's Daughter, Loretta Lynn is still going strong as a pioneering and formidable singer, songwriter and performer, turning 84 years old on April 14.
'Loretta Lynn: Still a Mountain Girl', a documentary about her life and career, was screened on BBC 4 in March, after premiering on national US TV. A Broadway musical based on her memoir, 'Coal Miner's Daughter', is also on its way. In 1980, Sissy Spacek starred in the Oscar winning film treatment of Loretta's auto-biography. Loretta published a second memoir, 'Still Woman Enough', in 2002.
A listen to her sparkling brand new record, FULL CIRCLE, messes with your head somewhat; hearing that distinctive voice and a tone more like a woman of less than half her age, from a woman born when Herbert Hoover was US president, and George V. was on the throne here. FULL CIRCLE takes listeners on a journey through Loretta's musical story, from the Appalachian folk songs and gospel music she learned as a child, to new interpretations of her classic hits and country standards, to songs newly-written for the project. Everything It Takes, is a sweet duet with Elvis Costello, and Lay Me Down, a tune written by her son-in-law, a blissful duet with her old friend Willie Nelson.
I caught up with Loretta on the phone at her Hurricane Mills home in Tennessee, a 1,600 acre ranch she and her husband bought many years ago, part of which is now a major tourist attraction with museums, a live music venue and major events regularly staged there.
But the space and splendour of her beautiful home is a far cry from her childhood. Born Loretta Webb, named after film star Loretta Young, the second of eight children and the daughter of a coal miner, she was raised in poverty in remote Appalachian Kentucky hamlet, Butcher Hollow, Van Lear, in a one room mountain cabin with her parents and seven brothers and sisters.
The family had little, but they always had music and all of them sang. Her part Cherokee mother used to stand Loretta on her Singer sewing machine and make paper dresses for her, while teaching her how to sing. One of those songs, In The Pines, is one of the highlights of the new album.
Loretta married Oliver 'Dolittle' Lynn when she was 15 years old – many sources wrongly state she married at 13, but a check of official records confirms she was two years older – and it was he who bought her first guitar, a $17 Harmony in 1953. It was Oliver who urged her to get up on stage and perform after hearing her sing around the house.
She admits that she never wanted to be a singer, cried with nerves when she first went on stage, but after three years of teaching herself the guitar, she decided on a game plan to focus on singing for just two years to buy the couple a house, and then retire!
Theirs was a turbulent marriage, fuelled by his heavy drinking as an alcoholic, his violence and constant womanising. It is on record that he left her once while she was giving birth. As Loretta reveals, they often came to blows, with her giving back as good as she got! Pouring a hot pan of corn over his head in one incident.
She used their behind-closed-doors life stories in the songs she wrote, with regular topics centred around boozing and philandering men, and rival mistresses. Her hit song Fist City, was a perfect and forthright example of Ms Lynn warning off the many persistent females she encountered.
But Loretta and Oliver, who she called 'Doo', stayed together for 48 years, had six children and she was devastated when he died in 1998, unable to continue working for a while, stricken with grief. Until her comeback with the album STILL COUNTRY in 2000. That preceded the surprise double Grammy-winning smash hit album VAN LEAR ROSE, produced by Jack White.
She formed her own band, Loretta and the Trailblazers, featuring her brother Jay Lee on guitar, in 1956. Loretta signed her first recording contract in 1960, for her first record HONKY TONK GIRL. She arrived in Nashville 55 years ago, became a big part of the Nashville country scene and charted her first of 16 number one hits in 1967.
To read the full interview, purchase the May 2016 issue here
---