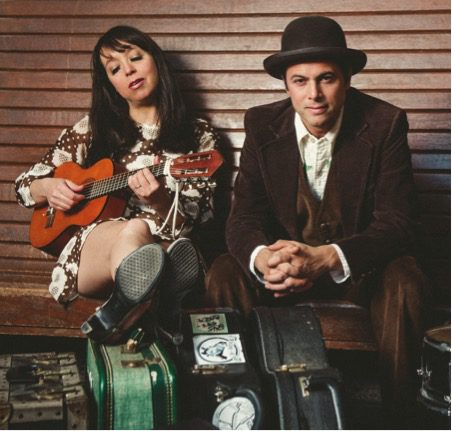 Mike + Ruthy Band
---
The Mike + Ruthy Band has been making a huge Stateside impact since forming in Woodstock, NY, back in 2013.
Mike Merenda and Ruthy Ungar (daughter of Grammy-winning composer/fiddler Jay Ungar who wrote the universally-known fiddle tune, Ashokan Farewell) had previously spent seven-years together touring globally with Tao Rodriguez-Seeger (Pete's grandson) in The Mammals.
The new band made its UK debut at Glasgow's Celtic Connections festival back in January and went on to be hailed as one of the event's outstanding visiting attractions after artistic director, Donald Shaw had selected them as one of his Top Ten highlights. They wowed the crowd as predicted when they played Glasgow's Old Fruitmarket, with reviewers describing the show as everything from "glorious and exuberant," to "excellent" and "absolutely terrific."
When The Mike + Ruthy Band released the Bright As You Can album, it won instantaneous admiration on both sides of The Atlantic. Splicing styles from old-time to Motown, spare acoustic balladry to driving rock 'n' roll, allied with superb original song-writing, The Boston Globe called it 'one of the year's standout Americana albums," while Pop Matters said it had put them "in the vanguard of today's vibrant folk revival."
In America, the hugely-influential No Depression said: "It's a record that will grab you and won't let you go," and at the end of 2015, the publication's editor, Kim Ruehl, made it her stand-out release of the year.
Renowned for their high-octane live shows, the line-up includes fiddle, banjo, ukulele, guitar, pedal steel, bass and drums, fronted by stunning vocal harmonies.
They will have a full brass section when they return to play The Summertyne Americana Festival at Sage, Gateshead, on July 22, and make a main stage appearance at Cambridge Folk Festival on July 29 and 30.
UK dates as follows:
Fri July 22: Summertyne Americana Festival, Gateshead
Sat 23: The Atkinson, Southport
Sun 24: CCA Glasgow
Tues 26: Performing Arts Centre, Kilbarchan
Wed 27: Birnam Arts Centre, Perthshire
Fri 29/Sat 30: Cambridge Folk Festival
---
Editor Celtic Connections, Donald Shaw, Mike+Ruthy, news, tour